News of all that's transpired on and off the football field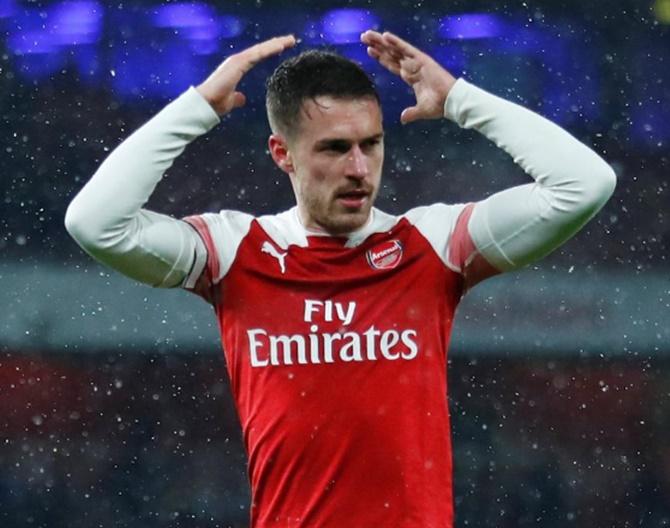 Arsenal midfielder Aaron Ramsey is leaving the club after 11 seasons to join Juventus, the Serie A club said on Monday as it confirmed the Welshman had signed a four-year contract.
The 28-year-old will join the Turin side in July and become the third Welshman to play for them after John Charles, who played for them from 1957 to 1962, and Ian Rush.
Ramsey has made 256 Premier League appearances since joining Arsenal from Cardiff City in 2008 but he has struggled for a place in the starting line-up under Unai Emery this season and failed to agree on a new deal with the London club in the final year of his contract.
The impasse enabled him to negotiate a pre-contract agreement with foreign clubs since Jan. 1.
The BBC said that Ramsey will earn over 400,000 pounds a week at Juventus, making him the highest-earning British player ever based on basic salary.
Ramsey has made 22 league appearances for Arsenal this season, starting in nine of those and scoring twice, including a splendid strike against Fulham in October that was regarded by many as an early contender for goal of the season.
He had month-long loans to Nottingham Forest and Cardiff City during the 2010-11 season to help him regain match fitness as he recovered from injury.
Ramsey published a statement on Twitter thanking Arsenal's "loyal and supportive" fans.
"You welcomed me as a teenager and have been there for me through all the highs and lows I've encountered during my time at the club," he said. "It is with a heavy heart that I leave after 11 incredible years in North London."
Arsenal said in a statement that Ramsey had made a "fantastic contribution" to the club.
"He has always been a consummate professional and will always have a special place in the hearts and memories of Arsenal fans around the world," it said.
'I love Australia', refugee Bahraini footballer declares as he arrives home from Thai prison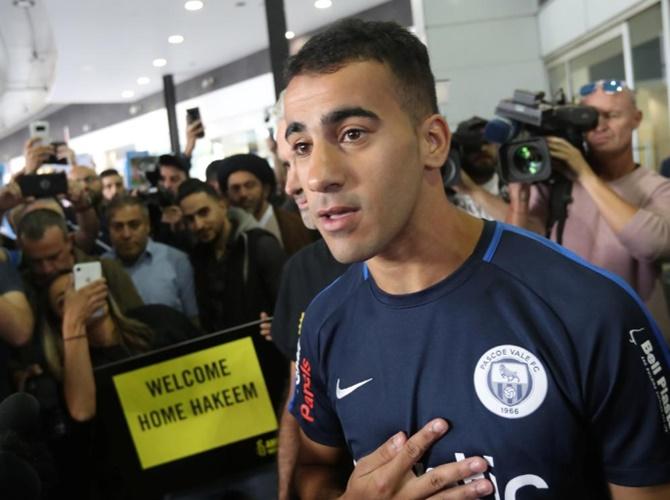 A refugee Bahraini footballer who was held in a Thai prison for more than two months at the Gulf state's request arrived in his adoptive hometown of Melbourne on Tuesday, television pictures showed, to cheers and the great relief of his wife.
Hakeem Al Araibi, 25, who fled Bahrain in 2014 and received refugee status in Australia, was released from prison on Monday. Authorities in Bahrain accused Araibi of crimes committed during the Arab Spring protests of 2011, charges which he denied.
"Australia is my country. I don't have citizenship yet, but my country is Australia ... I love Australia, I will die in Australia," Araibi said after he disembarked in Melbourne airport from a Thai Airways flight from Bangkok.
Hundreds of supporters clamoured to embrace him, TV footage showed. He wore the playing shirt of Pascoe Vale, the semi-professional team he plays for in Melbourne, Australia's second-largest city.
He thanked his supporters, who cheered: "Welcome home Hakeem!"
Araibi was arrested at Bangkok airport in November while on honeymoon following an Interpol notice issued at Bahrain's request.
His arrest drew widespread international condemnation. Bahrain, under heavy diplomatic pressure, agreed to drop its bid to have him extradited from Thailand.
Australian Prime Minister Scott Morrison twice wrote to his Thai counterpart to urge the release of Araibi, while Foreign Minister Marise Payne travelled to Bangkok to personally press for the refugee's release.
While diplomatic pressure was being applied behind the scenes, a groundswell of public pressure grew with the intervention of current and former football stars.
Craig Foster, a former Australian captain, led efforts, drawing support from Australia's leading goal scorer, Tim Cahill, and former Chelsea striker Didier Drogba.
Embracing Araibi, Foster said the support of Australia demonstrated the best of the country.
"To fight incredibly hard for not just a young player who virtually no-one knew, but a refugee who was under our protection... speaks volumes about the character, the values and the pride that we have as Australians," Foster told reporters in Melbourne.
England's World Cup-winning keeper Banks dead at 81
Gordon Banks, the goalkeeper in England's 1966 World Cup-winning team, has died at the age of 81, his former club Stoke City said.
Banks won 73 caps for England between 1963 and 1972 and made nearly 200 appearances for Stoke before his playing career was brought to an end due to a car crash that cost him the sight in one eye.
He was widely regarded as one of the greatest goalkeepers to have played the game and will perhaps be best remembered for the diving stop he made to deny Brazil's Pele at the 1970 World Cup, which later became known as the "save of the century".
"It is with great sadness that we announce that Gordon passed away peacefully overnight," Banks' family said in a statement posted on Stoke's official website.
"We are devastated to lose him but we have so many happy memories and could not have been more proud of him."
Banks began his career at Chesterfield in 1958 and moved to Leicester City the following year. He won his first England cap in 1963, four years before he joined Stoke.
Derby boss Lampard plays down talks of Chelsea return
Chelsea's 6-0 defeat at Manchester City at the weekend left Derby County coach Frank Lampard shocked but the former midfield great has distanced himself from talks of returning to Stamford Bridge as a possible replacement for manager Maurizio Sarri.
Chelsea suffered their worst-ever Premier League defeat at City on Sunday and Sarri is now the bookmakers' favourite to become the next Premier League manager to be sacked, with Lampard and Zinedine Zidane the favourites to replace him.
Lampard, Chelsea's all-time leading scorer with 211 goals, said he was focused on doing his best for Derby and backed Chelsea to bounce back quickly from the defeat, which pushed them down to sixth in the table.
"It's certainly a club I respect and a manager that I respect so it wouldn't make me smile or anything different because my job is here," the former England international told British media.
"I'm working very hard and my whole thoughts are with Ipswich Town away on Wednesday, and travelling down to Brighton in the FA Cup (fifth round) at the weekend."
Lampard, whose team are seventh in the second-tier Championship, said Chelsea had been beaten by a 'great team' in champions City.
"It's not nice and it doesn't happen to Chelsea much, so when it does it's a shock," he added.
"With all top teams, the important thing is that you come back strong, no matter what type of defeat. It is what makes top teams, resilience, and Chelsea as a club will have it."
Two players in hospital after fire strikes another Brazilian club
A fire broke out at the training centre used by Rio de Janeiro football club Bangu on Monday, sending at least two players to hospital with smoke inhalation but causing no serious injuries.
The incident occurred three days after 10 Flamengo youth players died and three others were injured when their lodgings caught fire.
Bangu, one of the oldest and most traditional clubs in Rio, were training at a military athletics centre when the blaze started after lunch.
The fire was quickly brought under control but two players were taken to hospital suffering from the effects of smoke inhalation, the military said in a statement.
Bangu could not be reached for comment about the blaze, which TV Globo said may have started in an air conditioning unit.
Friday's fatal fire at the Ninho do Urubu also started when an air conditioning unit caught fire.
Flamengo did not have permits to build the temporary lodgings in the training centre that caught fire, although the club denied there was any relation between their ignoring the warnings issued by the city government and the fire itself.
TV Globo said Flamengo had lacked permits for other parts of the centre for more than a year.
Prosecutors met with Flamengo directors on Monday and said the club had promised to negotiate settlements with the bereaved families of the 10 boys and also to make sure they had all the necessary permits in order.
The officials said they would begin reviews of Flamengo's training centre and other clubs' lodgings immediately.
"Our visit tomorrow will review all that," said Fabio Vilella, a prosecutor with the Rio employment division. "First to see if the training centre is or isn't in a fit state to function.
"And preventively so that further tragedies do not occur, not just in Flamengo but at other clubs, we are going to mount a sweep of other training centres."
Five of the dead teenagers were buried on Monday in towns and cities across Brazil.
The boys, all aged between 14 and 16, were at Flamengo training with the youth team and hoping to make it to the professional ranks.
One of the three boys injured in the fire was released from hospital on Monday but two others are still under observation, one of them in serious but stable condition.