News of all that's transpired on and off the football field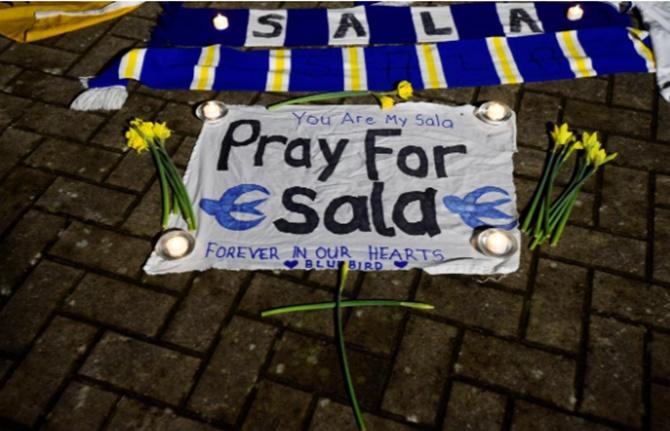 Hopes of finding soccer star Emiliano Sala alive were fading on Wednesday, as a recording emerged of a fearful voice message he apparently sent from his stricken plane before it disappeared over the English Channel.
Search teams were reviewing satellite imagery and mobile phone data as four aircraft scoured seas off the channel island of Alderney, where unidentified debris was earlier spotted.
But with Cardiff City-bound Sala and his pilot already missing for 40 hours, rescuers said chances of finding either of them alive were almost vanishingly slim.
"We're up there looking for stuff that we don't expect to find," John Fitzgerald, chief officer of the Channel Islands Air Search told Reuters.
"If there was anything on the surface I think we would have found it on the first night because the weather conditions were really good."
The 28-year-old Argentina-born forward was en route from Nantes in western France to Cardiff for his debut with his Premier League club.
In a chilling voice message sent to friends, which Argentina's Clarin newspaper said was authenticated by Sala's father Horacio, the player expressed concerns about the single-engine Piper Malibu aircraft he was flying in.
"I'm in the plane and it looks like it's going to fall apart," he said. "Dad, I'm really scared."
Britain's Air Accident Investigations Branch said it had opened an investigation into the disappearance of the U.S. registered aircraft.
Air traffic controllers had guided searchers along the path it took before it disappeared from radar screens at just over 2,000 feet (600 metres), Fitzgerald said.
"R.I.P. Bro"
Sala joined struggling Cardiff from FC Nantes last week for a club record fee of about 17 million euros ($19 million), having scored 12 goals for the French club this season.
Both clubs were fearing the worst.
Cardiff City fans laid tributes outside their stadium to a player they barely knew but had built high hopes around.
"Sala a Bluebird. R.I.P. Bro. Big Love," read one, in reference to the team's nickname.
In Nantes, supporters laid rows of yellow flowers and held club scarves aloft in the city centre late on Tuesday.
Police on Tuesday said the chance of finding survivors was slim and the prospect appeared bleaker a day later, with the water temperature in the Channel barely 10 degrees centigrade (50 degrees fahrenheit).
"There's no chance. You'd have to be really, really fit to survive even four or five hours in the water," Fitzgerald said.
He said the pilot had filed a 'VFR' flight plan, which requires aircraft to avoid bad weather, have sight of the ground, and stay out of certain air corridors.
The plane had been cruising at 5,000 feet (1,525 m) when the pilot requested to descend to a lower altitude on passing Guernsey. It lost radar contact at 2,300 feet, Guernsey police said.
British media on Wednesday cited Cardiff chairman Mehmet Dalman as saying the club had not organised Sala's travel plans. "He declined and made his own arrangements."
Higuain nears Chelsea switch but won't face Spurs in Cup - Sarri
Gonzalo Higuain will join Chelsea in the next few hours but the deal has come too late for the Argentina striker to face Tottenham Hotspur in the League Cup semi-final, second leg on Thursday, manager Maurizio Sarri has said.
Higuain is set to switch to the Premier League club from Juventus for the rest of the season after his year-long loan spell with AC Milan was cut to less than six months.
The 31-year-old did not sign before Wednesday's midday deadline and cannot therefore play against Spurs at Stamford Bridge in a match Chelsea trail 1-0 from the first leg.
"I know they have been trying to sign the contract with him today... they are still a few hours from getting it done," Sarri told reporters on Wednesday. "For tomorrow, I think, it's impossible."
Higuain's spell at Milan started with six goals in seven games but he has only scored once in his last 12 appearances.
Sarri hopes he will rediscover the form that saw him score 38 times in their final season together at Napoli in 2015-16.
"He has had some difficulties recently, but we're hoping we can raise him back to his best form," the Italian coach added.
"He's still scored eight goals in a team that isn't at the same level as Juventus.
"He's a very strong striker. Especially in my first season in Naples. He scored 36 goals in 35 matches in Serie A. For sure, he is one of the best strikers in my career."
Sarri is keen to boost his goalscoring options after dropping misfiring Spain forward Alvaro Morata and deploying playmaker Eden Hazard as a 'false nine' in recent games.
Asked if the arrival of Higuain was a sign that the club are behind him, Sarri said: "I hope so. I think the club agree with me when I told them my opinion about the team.
"The January market is very difficult, especially for a striker. It's very difficult in January to find one of the most important strikers in the world."
Chelsea are in the fourth and final Champions League qualifying spot in the Premier League standings, three points ahead of Arsenal who beat them 2-0 on Saturday.
Beckham to take stake with 'Class of '92' in Salford City
Former England midfielder David Beckham will take a 10 percent share in non-league club Salford City, joining up with his former 'Class of '92' Manchester United team mates in the project, the club said on Wednesday.
Beckham will join Gary and Phil Neville, Ryan Giggs, Nicky Butt and Paul Scholes alongside businessman Peter Lim who will remain the largest shareholder with the remaining 40 percent.
Salford are currently third in the National League, the fifth-tier division, having been taken over by the former United players in 2014. Gary Neville said the club's aim was to emulate the model of Bournemouth, who rose from the fourth tier to the Premier League on the back of a modest following.
The 43-year-old Beckham was the only member of the famous group of young players, who enjoyed so much success under Alex Ferguson, not to have invested in the team.
"It's a really special club and a special group of people. My early years in Manchester were all spent in Salford. I grew up there in many ways so to be able to finally join the lads and the club today is a great feeling," Beckham said in a club statement.
The former Real Madrid and LA Galaxy midfielder also has a minority ownership stake in future Major League Soccer team Inter Miami.
Beckham must undergo the Football Association's "fit and proper ownership" test after the club submitted documentation on his involvement to the governing body.
"When the lads got involved in Salford we spoke about us all getting involved. Now I'm able to get involved now Miami is set up," he said.
"What I've seen them do with the club and the stadium, it's special. We all have ambitions and goals and we've got to have big ones."
Former United captain Gary Neville, now a television pundit, heads the group of players and told a news conference that none of them take a "hands on" role in the club.
Giggs is manager of the Wales national team, Phil Neville is manager of England's women's national side and Butt heads United's academy.
Scholes, also a television pundit, has recently been linked with the manager role at League Two (fourth tier) club Oldham Athletic.
Gary Neville told a news conference, which Beckham did not attend, that the club aim to get into the Football League.
"The next step is getting into the Football League and we know how difficult that is. It would be a dream to be a Premier League club.
"You look at Bournemouth with 10,000 fans in the Premier League. You look at how they operate, with the manager (Eddie Howe) there a long time. We look at them as an example. But it would be a mistake to look beyond Halifax on Saturday," he said, referring to the upcoming National League game.
"We've grown our fanbase above and beyond where we expected to be. We're risk takers. We're bold. Peter (Lim) gives us that ability to be bold. There is no end game. We want to take this as far as possible.
"We could put our money into many different things but we've chosen to put it into a football club in the north-west of England," he added.
Real's Solari calls for clarity on VAR
Real Madrid coach Santiago Solari has called for more clarity and explanations for decisions taken by Video Assistant Referees (VAR) in Spain following a number of incidents since the system's introduction this season.
The implementation of VAR in La Liga has caused controversy on occasion, with decisions questioned by coaches throughout the league, including Solari.
At the weekend, Real's arch-rivals Barcelona were beneficiaries of a VAR decision that ruled forward Luis Suarez had not fouled the Leganes goalkeeper when he made it 2-1, despite replays appearing to show otherwise.
"It's a system that all of football is delighted to have received but now we're all a bit confused by it," Solari told a news conference.
"We all want it to be applied and applied well – the less we talk about VAR and referees, the better. What is confusing is the discretion in its application. It's the first year of it, and we hope that it can all improve and become more clear.
"What we want is clarity and to understand it, nothing more. We were all delighted for the introduction of VAR and now there's confusion. It needs to be perfected and improved."
Real face Girona in Thursday's Copa del Rey quarter-final first leg with a number of players set to miss out through injury, including forward Gareth Bale and midfielder Toni Kroos.
Doubts also remain over the futures of defender Marcelo and midfielder Isco after rumoured rifts with the Argentine coach.
"What happens behind closed doors stays there. If I talk to players, that's where it stays, nothing more," Solari said.
"We have internal competition and it's an essential part of football, that everyone feels that they have the chance to play or lose their spot in the team, this makes that competition stronger."