News of all that's transpired on and off the football field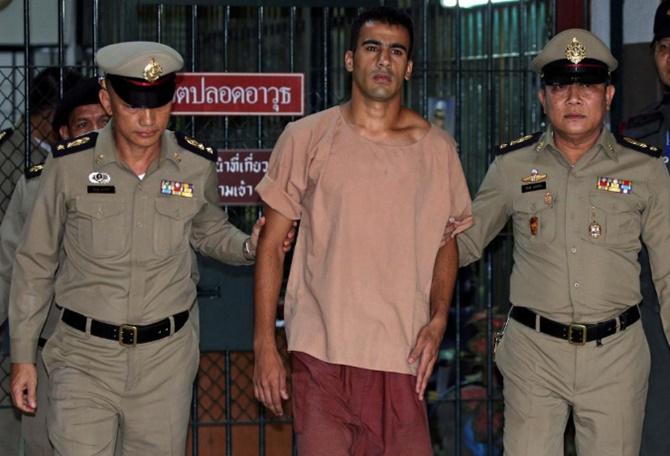 Football Federation Australia have ramped up their campaign to free jailed Bahraini refugee player Hakeem Al Araibi and pledged A$10,000 ($7,263) on Tuesday to kickstart a fundraising drive to help efforts to have him returned to Australia from Thailand.
Araibi was arrested in Thailand last November on behalf of the Bahraini government. A Bangkok court on Monday ordered him to continue be detained for another two months until an extradition hearing could be held.
The FFA and Australian Government, as well as football's world governing body FIFA and the international players' union FIFPro have all advocated for the release of Araibi, who has said he fears for his safety if he is returned to Bahrain.
"Hakeem Al-Araibi is a permanent Australian resident and footballer at Pascoe Vale FC," FFA chief executive David Gallop said in a statement on Tuesday.
"After a thorough process, he was assessed by the Australian Government to be a refugee. This is a fundamental human right that must be protected."
"We ask that the Government of Thailand release Hakeem to safely return to his family and home in Australia as a matter of urgency."
Teams from Australia's top level men's A-League and women's W-League were photographed ahead of their matches last weekend behind #SaveHakeem banners.
"The level of support for Hakeem went up another level over the weekend," Gallop added.
"More and more fans and players are actively calling for Hakeem to be released, both in Australia and around the world.
"I urge this vocal support to continue."
Araibi, who fled Bahrain in 2014 before being granted permanent residence in Australia, where he played for Melbourne's second tier Pascoe Vale soccer club, was arrested on an Interpol notice issued at Bahrain's request.
Interpol later cancelled the notice.
Araibi was tortured by Bahraini authorities because of his brother's political activities during the Arab Spring uprising in 2011, New York-based Human Rights Watch has said.
Bahraini authorities deny allegations of torture.
Araibi was convicted of vandalising a police station in Bahrain and was sentenced to 10 years in prison in absentia.
He denies wrongdoing, saying he was playing in a televised soccer match at the time of the alleged vandalism.
Mourinho fined for tax fraud in Spain in lieu of jail time
Former Real Madrid manager Jose Mourinho has accepted a one-year prison sentence for defrauding the Spanish state of 3.3 million euros ($3.77 million), a Spanish court filing showed on Tuesday, although the Portuguese will not serve any jail time.
The filing said the tax ministry and Mourinho's defence team had agreed to exchange the 12-month prison sentence with a daily fine of 250 euros for 24 months, equivalent to 182,500 euros, as under Spanish law jail terms under two years can be served under probation.
The court filing said Mourinho leased his image rights to companies based in the British Virgin Islands and Ireland in 2004 but left those earnings out of his tax returns from 2011 and 2012, when he was coach of Real Madrid and a fiscal resident in Spain, "with the aim of obtaining illicit profits".
As well as the one-year prison sentence, Mourinho has been fined 1.9 million euros, 60 percent of the amount defrauded, as well as 121,764 euros in interest.
The 56-year-old and his representatives could not immediately be reached for comment.
Mourinho is one of the most successful coaches in modern European soccer, winning league titles with Chelsea, Inter Milan, Real Madrid and Porto. He also won the Champions League in 2004 with Porto and in 2010 with Inter Milan.
He was sacked in December by Manchester United after the Premier League club, who won the last of their record 20 top flight league titles in 2013, endured their worst start to a season for 28 years.
Atalanta win at Cagliari to close in on Champions League places
Dark horses Atalanta moved within one point of the Champions League places when they followed up last week's cup win over Juventus by beating Cagliari 1-0 in Serie A on Monday.
Hans Hateboer headed in Timothy Castagne's cross five minutes after halftime to give the Bergamo-based team, who have never qualified for the Champions League, their fifth win in six matches in all competitions.
Alessandro Deiola headed against the crossbar in stoppage time for the Sardinians who finished the game with 10 men when Cyril Thereau went off injured with three substitutions already made.
Atalanta, who handed Juventus their first domestic defeat of the season when they won 3-0 in the Coppa Italia last Wednesday, have 35 points, level with AS Roma and Lazio and one behind Milan who occupy the lowest of the four Champions League slots.
Lazio won 1-0 at relegation-threatened Frosinone with a first-half goal from Felipe Caicedo, the Ecuadorean blasting the ball in from Luis Alberto's pass.
The goal came minutes after Frosinone were awarded a penalty for a foul by Bastos on Camillo Ciano, only to see it revoked following a VAR review.