News of all that's transpired on and off the football field.
The US women's national soccer team sued the US Soccer Federation on Friday with allegations of gender discrimination just three months before they open their World Cup title defence in France.

All 28 members of the United States squad were named as plaintiffs in federal court in Los Angeles on International Women's Day and includes complaints about wages and nearly every other aspect of their working conditions.
The players, a group that also includes stars Megan Rapinoe, Carli Lloyd and Alex Morgan, said they have been consistently paid less money than their male counterparts even though their performance has been superior to the men's team.

"Each of us is extremely proud to wear the United States jersey, and we also take seriously the responsibility that comes with that," US co-captain Morgan said in a statement.

"We believe that fighting for gender equality in sports is a part of that responsibility. As players, we deserved to be paid equally for our work, regardless of our gender."

According to the lawsuit, filed three years after several players made a similar complaint with the US Equal Employment Opportunity Commission, US soccer has "utterly failed to promote gender equality."

The US Soccer Federation did not immediately respond when asked to comment on the lawsuit.

The players said that US Soccer president Carlos Cordeiro previously admitted the women's team should be valued as much as the men's squad but the federation "has paid only lip service to gender equality."

The lawsuit outlines years of institutionalized gender discrimination, claiming travel conditions, medical personnel, promotion of games and training are less favourable for female players compared to their male counterparts.

The US women's team has enjoyed unparalleled success in international soccer, including three World Cup titles, four Olympic gold medals and numerous other triumphs in international competitions.

When the women's team clinched their most recent World Cup title in 2015, it was the most watched soccer game in American TV history with an audience of approximately 23 million viewers.

"In light of our team's unparalleled success on the field, it's a shame that we still are fighting for treatment that reflects our achievements and contributions to the sport," said US co-captain Lloyd.

"We have made progress in narrowing the gender pay gap, however progress does not mean that we will stop working to realize our legal rights and make equality a reality for our sport."
AS Roma appoints Ranieri as new coach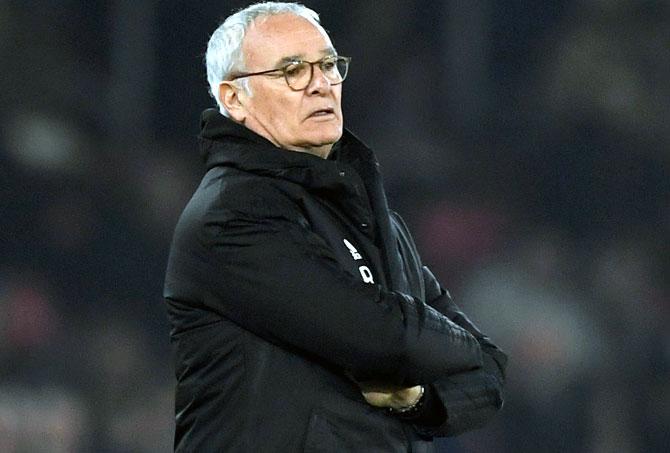 Italian soccer club AS Roma has appointed Claudio Ranieri as new coach, replacing Eusebio Di Francesco, a club statement announced on Friday.

Ranieri was previously in charge of Roma for one-and-a-half seasons between 2009 and 2011, taking them to second place in 2009-10 after they had led the league table until the last few matches.

Ranieri's contract will expire on June 30, 2019.
UEFA justifies United's penalty decision against PSG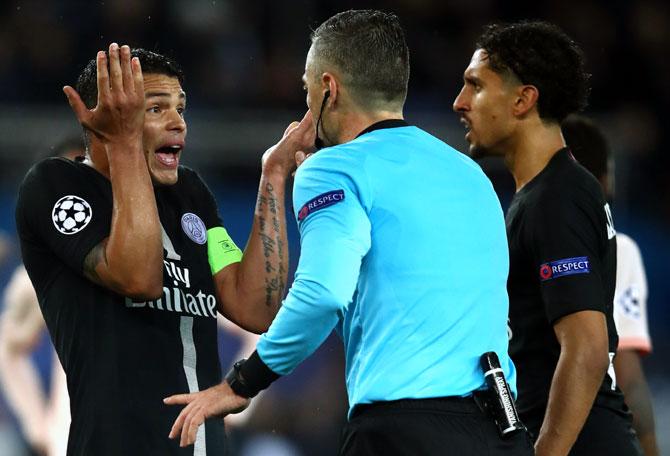 Presnel Kimpembe's handball which led to Manchester United's extraordinary 3-1 victory over Paris St Germain in the Champions League was referred to video technology as it was "a serious missed incident", UEFA said on Friday.

The competition organisers released a statement on their website detailing the use of the Video Assistant Referee (VAR) after the system played a decisive role during the week's last-16 second-leg games.

The most debated decision saw PSG defender Kimpembe penalised for deflecting a shot from United's Diogo Dalot with his arm.

That prompted a review which led to Marcus Rashford scoring a penalty in stoppage time to complete one of the most remarkable comebacks in the competition's history.

"The VAR, after checking various different angles available to him, recommended to the referee an on-field review following the penalty area incident," UEFA said in a statement.

"Following the on-field review, the referee confirmed that the distance that the ball travelled was not short and the impact could therefore not be unexpected.

"The defender's arm was not close to the body, which made the defender's body bigger thus resulting in the ball being stopped from travelling in the direction of the goal. The referee, therefore, awarded a penalty kick."

Porto also benefited from two decisions that were subject to VAR reviews in their 3-1 win over AS Roma after extra time.

Porto were awarded a penalty in the 117th minute for a holding offence by Alessandro Florenzi on Fernando.

UEFA said the referee confirmed to the VAR that he had not seen the incident and asked for images to be prepared to allow him to conduct an on-field review, which resulted in him awarding the spot kick.

Roma then had an appeal in the opposite area turned down when Patrik Schick was felled by Moussa Marega which UEFA said had been witnessed by the referee and deemed not to be a foul.

"A VAR check was conducted, and the various images were studied carefully by the VAR, who did not find any clear evidence," UEFA said.

Dasun Tadic's strike in Ajax Amsterdam's 4-1 win over Real Madrid was also reviewed by VAR as the ball looked to have gone out of play in the build-up.

UEFA, however, said there was no conclusive evidence that the whole ball had crossed the line when the video was studied.
Belgium's Fellaini announces international retirement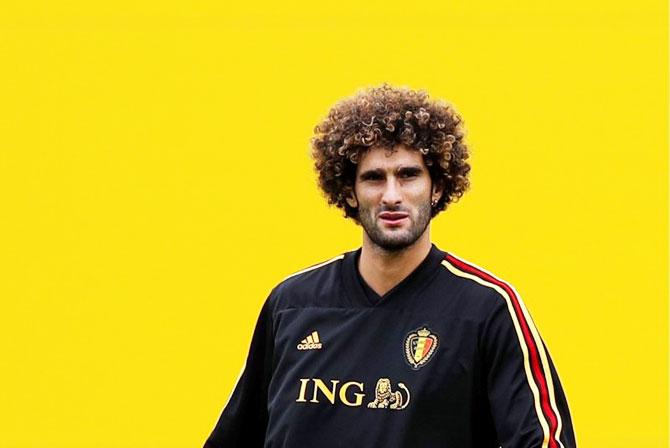 Belgium midfielder Marouane Fellaini announced his retirement from international soccer on Friday, ending a 12-year career with the national team.
The 31-year-old scored 18 goals in 87 appearances for Belgium and represented them at two World Cups, helping them finish third in Russia last year.
"After 12 years of representing Belgium at the highest level, I have decided to retire from senior international football," Fellaini said in a statement on Twitter.
"I feel the time is right for me to step down and allow the next generation of players to continue this very successful period in Belgian football history.
"I have many amazing memories... and I am very proud Belgium is currently number one in the FIFA rankings."
Fellaini joined Chinese Super League side Shandong Luneng in February, ending a five-and-a-half year spell at Premier League side Manchester United. He scored the winning goal on his CSL debut against Beijing Renhe this month.
Manchester United fan stabbed in Paris
A Manchester United fan was stabbed in Paris after the team's Champions League victory over Paris St Germain, BBC reported on Thursday.
The 44-year-old supporter underwent emergency surgery on chest injuries following an incident in a taxi, the report said.
"We are in touch with the French authorities following an incident involving a British man in Paris on 6 March and stand ready to offer assistance if required," the Foreign Office said in a statement.
United beat French champions PSG 3-1 on Wednesday after losing the first leg 2-0 to reach the Champions League quarter-finals on away goals.
UEFA opens investigation into Man City over FFP
UEFA has opened a formal investigation into Premier League champions ManchesterCity over potential breaches of its break-even rule known as Financial Fair Play (FFP), European soccer's ruling body said on Thursday.
German publication Der Spiegel reported in November that City's Abu Dhabi owners inflated sponsorship agreements in order to comply with FFP requirements.
"The investigation will focus on several alleged violations of FFP that were recently made public in various media outlets," UEFA said in a statement.
The English champions responded with a statement on their website.
"ManchesterCity welcomes the opening of a formal UEFA investigation as an opportunity to bring to an end the speculation resulting from the illegal hacking and out of context publication of City emails," the statement said.
"The accusations of financial irregularities are entirely false. The Club's published accounts are full and complete and a matter of legal and regulatory record."
Der Spiegel's report, based on documents received by the whistle blower platform Football Leaks and reviewed by Reuters, alleged that some of City's Abu Dhabi sponsorships were three times more lucrative than independent experts deemed they were worth.
UEFA said following the publication that it could re-open investigations on a case-by-case basis.
ManchesterCity are one of several clubs owned by City Football Group, a holding company in which Abu Dhabi United Group owns an 87 percent stake with the remaining 13 percent held by the China Media Capital consortium.
The FFP rules are intended to prevent clubs receiving unlimited amounts of money through inflated sponsorship deals with organisations related to the owners.
Clubs can be barred from European competition if they are found to have breached the rules.
'Burglars gave wife and step-daughter a fright'
LeicesterCity manager Brendan Rodgers said his wife and her daughter were left frightened after burglars broke into his Glasgow home but he would not let the incident tarnish his memories of his time at former club Celtic.
Scotland Police are investigating Wednesday's break-in at Rodgers's home where his wife and her six-year-old daughter were awakened by the intruders. The two were forced to barricade themselves in the bathroom until the burglars fled.
"It's obviously something that's not nice for any family to go through. It gave the girls a fright. We've dealt with it... they're both safe," Rodgers told reporters on Thursday.
"We are looking to buy a home here in Leicester. They will move down very soon. We will throw our lives into here and I look forward to that."
The Northern Irishman's decision to leave Celtic before he accomplished a 'treble-treble' did not sit well with the club's supporters, who called him a "fraud" for trading "immortality for mediocrity", a suggestion he brushed aside last week.
"The only thing I want to say on it is that probably the last 10 days there's been a lot around my move to here and obviously the events of the last couple of days," Rodgers added.
"We had an amazing time as a family in Scotland, in Glasgow in particular. The people there were amazing, the experiences that we had on and off the field will live with us.
"We're not going to let something like this, or some of the reaction over the last 10 days cloud any of that."
Rodgers takes charge of Leicester at home for the first time in the Premier League on Saturday when they host Fulham. He began his tenure with a late 2-1 loss at Watford last Sunday.
Roma part company with coach Di Francesco
Serie A club AS Roma parted company with Eusebio Di Francesco on Thursday, one day after being knocked out of the Champions League by Porto, as the coach paid for his team's inconsistency.
"Di Francesco has left the club with immediate effect," the club said in a statement, without making it clear whether he had resigned or been sacked.
"The club would like to thank Eusebio for his work during his time at AS Roma and wish him success in the future."
Italian media reported that Claudio Ranieri, fired by English Premier League side Fulham last week, was a possible replacement.
Ranieri was previously in charge of Roma for one-and-a-half seasons between 2009 and 2011, taking them to second place in 2009-10 after they had led the league table until the last few matches.
Roma lost 3-1 at Porto in the second leg of their round of 16 tie on Wednesday and were knocked out of the Champions League 4-3 on aggregate, the decisive goal coming from a penalty three minutes from the end of extra time.
Although Roma are fifth in Serie A, they have had a rollercoaster season with defeats by Udinese, Bologna and SPAL, all teams in the lower half of the table, and squandered two-goal leads against Cagliari and Chievo.
They were thumped 7-1 by Fiorentina in the Coppa Italia last month and on Saturday they suffered a painful 3-0 derby defeat by Lazio.
They have 44 points from 26 games, three behind Inter Milan who are in the lowest of the Champions League qualification slots.
Di Francesco, a player in the Roma team which won the Serie A title in 2001, was in his second season as coach of the club.
He led them to third place in Serie A last term and the Champions League semi-finals after a memorable win over Barcelona in which they overturned a three-goal first-leg deficit, and had hoped to build on that this season.
"Since returning to the club, Eusebio has always acted professionally and put the club's needs ahead of his own," said club president James Pallotta.
There was a lot of sympathy for Di Francesco after the club sold three key players -- goalkeeper Alisson and midfielders Radja Nainggolan and Kevin Strootman -- before the beginning of the season.
New arrivals Javier Pastore, Bryan Cristante and Steven Nzonzi struggled to make a significant impact while captain Daniele De Rossi has been troubled by injuries.
The brightest spot for Roma has been the emergence of 19-year-old midfielder Nicolo Zaniolo, signed from Inter Milan in the close season.