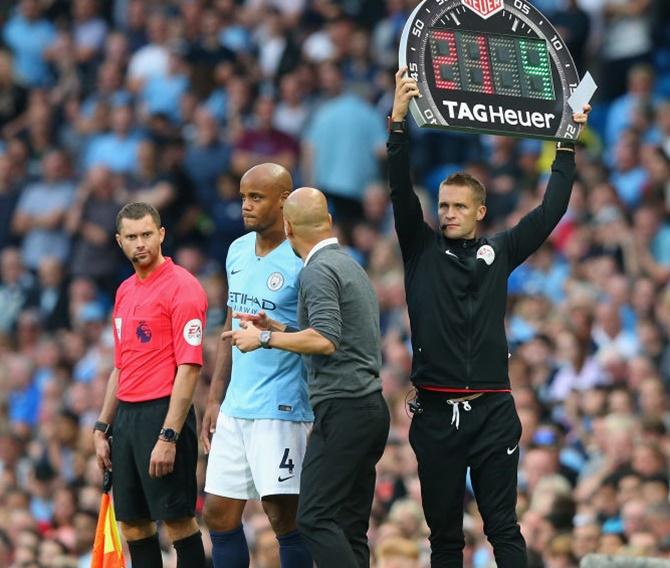 Football's rule-makers are keen to clamp down on time-wasting tactics, with a ban on injury-time substitutions one of the areas being considered to increase the actual playing time during matches, the Times reported on Friday.
The International Football Association Board (IFAB) has observed that in a quarter of Premier League matches, changes are being made after 90 minutes.
The new proposals could be discussed by the IFAB as soon as next month in preparation for their annual meeting in March.
"Looking at ways to cut down on time-wasting, speed up the game and increase playing time is one of our priorities," an IFAB member told the Times.
"A rule to say there should be no substitutions during added-on time is an interesting one and could work well. Referees add on 30 seconds for a substitution but in practice it can eat up a lot more time than that.
"There would, however, need to be trials to see if there are any unforeseen ramifications."
The discussions come after fresh numbers revealed a worrying lack of playing time per match.
The average playing time for a Premier League match is 55 minutes and nine seconds this season, while Cardiff City's clash against Burnley saw just over 42 minutes of game time.
FIFA rejects La Liga plans to play Barcelona game in US
La Liga's plans to host the Girona versus Barcelona domestic league game in the United States in January hit another stumbling block when soccer's world governing body FIFA said on Friday it opposed the idea.
The Spanish league drew controversy when it signed a 15-year deal with Relevent Sports in August to expand its presence in the US, including taking one regular-season match per campaign over the Atlantic.
The Spanish FA opposed the idea from the off and on Friday FIFA President Gianni Infantino also rejected the idea, saying league matches had to be played on home soil.
"The FIFA council of course discussed this matter and this proposal to host an official game of La Liga outside of Spain, in Miami in particular," Infantino said after a council meeting in Rwanda.
"The council emphasised the sporting principle that official match leagues must be played within the territory of the respective member association. So the council has clear views on that," said Infantino, adding that he agreed with the opinion expressed.
The decision was a further blow to La Liga president Javier Tebas, who last month said he was "90 percent sure" the game would take place in the U.S.
a Liga is expected to appeal, with a spokesman saying: "Should we receive official notification from FIFA that they prohibit the match, we will take the case to the Courtof Arbitration for Sport urgently."
FIFA approves prize money increase for 2019 Women's World Cup
FIFA will raise the prize money for the Women's World Cup from $15 million to $30 million starting with next year's edition in France, president Gianni Infantino announced on Friday, though critics immediately said the increase was not enough.
Following a FIFA council meeting in Rwanda, the Swiss-Italian also said that $20 million would be made available for pre-tournament preparations, meaning that $50 million in total would be allocated across the 24 participating nations.
The prize money is double the amount awarded in the 2015 World Cup in Canada and for the first time clubs will be rewarded for their players taking part in the tournament, as is the case in the men's edition.
"It's a very important message for women's football. It will certainly boost this World Cup even more," Infantino told a news conference.
However, global footballers' union FIFpro said the changes were not enough to redress the inequality between men's and women's football worldwide.
"FIFPro notes the willingness of FIFA to increase prize money for the Women's World Cup and make structural improvements to support women's football. However, despite these changes football remains even further from the goal of equality for all World Cup players regardless of gender," a FIFpro statement said.
FIFA set up task force over new tournament plans
FIFA have set up a task force to examine president Gianni Infantino's plans for a new Club World Cup and Global Nations League, a member of the FIFA Council told Reuters after a meeting on Friday.
"On the question of Club World Cup and the Nations League we decided to build a task force to have more information, to share different views on this topic from club leagues and national associations," a member of the FIFA council, who declined to be identified as he was not authorised to speak, told Reuters.
Infantino's plans had been opposed by the major European club leagues.
Zhang, 26, appointed Inter Milan president
Inter Milan have appointed 26-year-old Steven Zhang as their new president, the Serie A club said on Friday.
Zhang, who becomes the 21st president in the club's history, is the son of Zhang Jindong, chairman of China's electronics retailer Suning Holdings Group which bought a majority stake in the club in 2016.
He has been on the board of directors for the last two years and has effectively been responsible for the day-to-day running of the club.
Inter announced the appointment by posting a video on social media
"The club, its people and the city have been waiting for you," it said. "Welcome, President Zhang."
"When I close my eyes, I see a city with so much history and more to be written," said Zhang in the video.
"People with ideas, with the will to improve what's around them and themselves.
"A club that plays beyond the field to win the hearts of everyone. But then I open my eyes and see that all this is already here. I'm ready, are you?"
Zhang will replace Indonesian Erick Thohir who has been president for the last five years.
Gattuso rages after Milan's 'embarrassing' Europa performance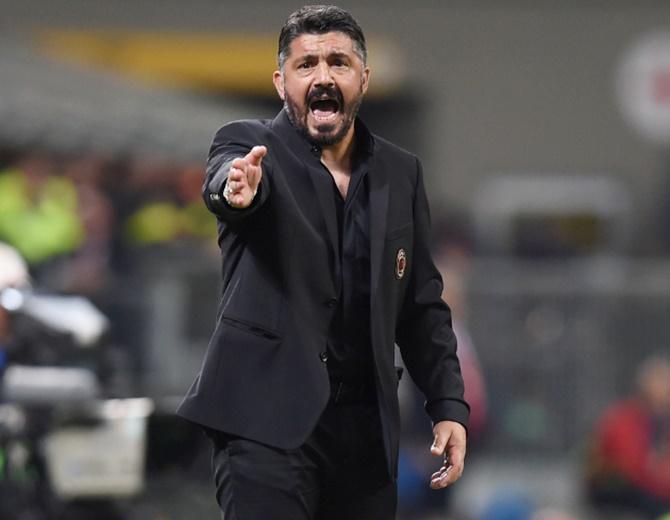 AC Milan coach Gennaro Gattuso says his side can forget about success in the championship if they continue to deliver the kind of "embarrassing performance" that saw them beaten 2-1 at home by Real Betis in the Europa League.
Italian media said Gattuso had a long meeting with Milan's director of sport Leonardo Araujo after Thursday's defeat and had been given two more matches to put things right.
Milan are 12th in Serie A with 12 points from eight games and have dropped to second in their Europa League group behind Betis. The host Sampdoria in their next league game on Sunday and then Genoa the following Wednesday.
"It's only right that my position is under discussion," Gattuso said. "It's difficult for a coach to sleep after a performance like this, one of the worst.
"It was a terrible, embarrassing performance.
"I saw a team that was switched off and that has given me cause to reflect," he added. "I'm worried, disappointed and angry, especially with myself.
"This team cannot think about doing well in the championship with that sort of mentality. I can't accept a performance like that."
The defeat to the Spanish side came on the heels of Sunday's 1-0 derby loss to Inter Milan.
Romania to play behind closed doors after racist incidents
Romania must play next month's home match against Lithuania behind closed doors following 'racist behaviour' in the crowd during the game against Serbia, UEFA said on Friday.
UEFA said the Romanian football federation had also been fined 50,000 euros ($56,835) for what it said were racist banners and chants during the 0-0 draw at Bucharest's National Stadium on Oct. 14.
The federation was fined a further 23,000 euros for a pitch invasion and fireworks set off by fans.
Romania host Lithuania on Nov. 17 in their final group match in the third tier of the Nations League.