News of all that's transpired on and off the football field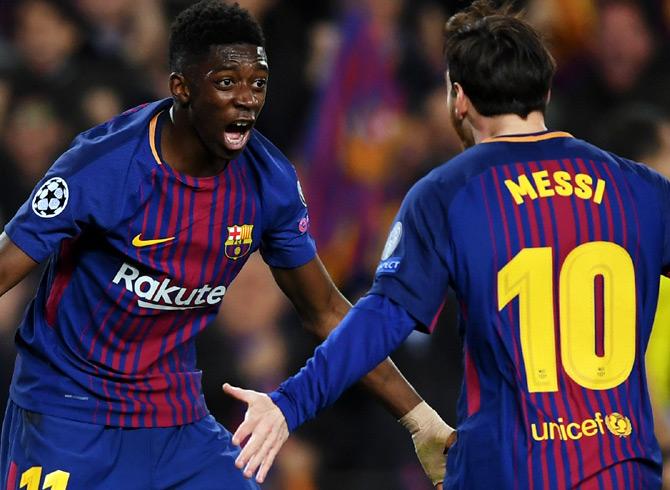 Barcelona's struggling French forward Ousmane Dembele should follow the example of his more experienced club mates to work his way back into the team, striker Luis Suarez said on Monday.
Dembele was left out of the squad for Barca's 4-3 defeat by Real Betis last Sunday after failing to turn up to training three days earlier and, according to Spanish media reports, failing to inform the club of his whereabouts for 90 minutes.
The 21-year-old France international has struggled to fully adapt at Barca since signing from Borussia Dortmund in August 2017 for a then club record fee of 105 million euros ($119.01 million) with a view to filling the void left by Neymar.
His playing time has been limited by a series of hamstring injuries and he has also fallen foul of the club's disciplinary code, including turning up late for a team meeting before a Champions League game at home to Inter Milan in October as well as his recent no-show for training.
Speaking before Uruguay's international friendly with France in Paris on Tuesday, Suarez said Dembele did not have a bad relationship with his fellow Barca players but he challenged his team mate to get his head down and concentrate more.
"Perhaps he needs to focus more and be a little more responsible in some areas. He's very young and he can look up to the more experienced players that surround him," Suarez said.
"But he still deserves to be in the team. It's not the case that he hasn't adapted to the dressing room. The relationship he has with his team mates is good, he's happy, but some of us have told him and he knows that it's a privilege to be where we are."
Last week, Barca defender Gerard Pique said he and the club's other senior players needed "to help Dembele to understand that football is a 24-hour job and he has to live accordingly".
Juventus head Agnelli denies Super League involvement
Juventus chairman Andrea Agnelli said on Monday that the Italian champions were not involved in talks over a breakaway European Super League and remained committed to UEFA competitions.
Earlier this month, German magazine Der Spiegel reported that plans for a European Super League were back on the agenda after several previous discussions came to nothing.
Der Spiegel and European Investigative Collaborations, a network of international media, citing leaked documents, reported that a fresh plan had recently been drafted by Spanish company Key Capital Partners for Real Madrid.
The plan foresees 11 top European clubs creating a Super League in 2021 when the current agreement on the Champions League format and revenue sharing ends.
Juventus were named as one of 11 prospective founders for the closed breakaway league but Agnelli told the BBC that the Italian club had not been involved.
Agnelli, who is also chairman of the European Club Association, which represents more than 200 European clubs, said: "I can confirm we have never seen, never discussed, never been involved in the creation of this document.
"We are fully engaged with UEFA in shaping the game going forward," he added.
UEFA president Aleksander Ceferin told the BBC that European soccer's governing body continued to look at new ideas for its club competitions but that a Super League was ruled out.
"The Super League will not happen. It is in a way a fiction now or a dream," said Ceferin.
"We have some ideas. All I can say is that any Super League is out of the question. Participation stays. And everybody will have an opportunity to compete in every European competition," he added.