News of all that's transpired on and off the football field
The rescheduled second leg of the Copa Libertadores soccer final between River Plate and Boca Juniors was postponed again on Sunday hours before it was due to start, after Boca complained the match could not be played under fair conditions.
The decisive leg had been set to be played on Saturday but was suspended until Sunday after Boca players were injured when their bus was attacked by River fans outside their Monumental stadium in Buenos Aires.
"We don't want there to be any excuses that conditions were not equal for both teams," Alejandro Dominguez, the president of the South American soccer confederation CONMEBOL, said on TV.
"We want both teams to have time to recover."
"A sad day for South American soccer," he later tweeted.
CONMEBOL said officials would meet with the heads of both clubs on Tuesday to discuss a date for rescheduling.
Saturday's mayhem and questionable management of the stadium caused a national outcry. "Embarrassing" rang out top headline of the news site of local paper Clarin. The front page of a Peruvian sports tabloid called El Bocon went with a blunt one-word headline: "IDIOTS".
The stadium was shut for several hours late on Saturday when city authorities said it apparently violated safety rules by allowing too many fans to enter, and by locking emergency exits.
Early on Sunday the Boca Juniors club requested the second leg of the Copa Libertadores final be suspended, saying the game could not take place unless conditions were equal for both teams.
It was the first time Argentina's two biggest clubs had met for the title. The crosstown showdown had been billed as the greatest final in the competition's 58-year history.
But Saturday's scheduled final will instead be remembered for the violence that left players bleeding and almost all the windows on one side of the Boca bus shattered.
The incident was a black eye for some of the Argentine security forces who will be responsible for keeping the city calm during a meeting of the leaders of the G20 bloc of industrialized nations on Friday.
"We are prepared for the G20. We have faith," Jorge Faurie, Argentina's foreign minister, said on television.
Faith in CONMEBOL was meanwhile running short among fans.
"We're furious. You waste so much time and money. It takes a while to get here. The police treat you badly. You have to park far away. You don't know if your car is going to get broken into," said Ayrton da Silva, who was at the stadium when the postponement was announced.
"CONMEBOL's organization?" said his exasperated father Luiz da Silva. "The likelihood of this game being postponed was 85 per cent. How do you take this decision now? It should have been made at 10 o'clock this morning. But well, this is Argentina."
Some fans came from overseas to see the game. City authorities scrambled to explain what had happened.
"There is something that is very difficult to guard against. Human stupidity," Buenos Aires Mayor Horacio Rodriguez Larreta told reporters. He blamed soccer hooligans, known as the "barras bravas" in Argentina for the mess.
"They are the mafia of Argentine soccer," he said.
'Stick to politics' Milan's Gattuso tells Italian Deputy PM
Italy's Deputy Prime Minister Matteo Salvini was told to stick to politics by AC Milan coach Gennaro Gattuso after commenting on the team's performance in the 1-1 Serie A draw away to Lazio on Sunday.
Salvini, also leader of the League party, told reporters as he was leaving the Stadio Olimpico that he could not understand why Gattuso had not made any substitutions.
"If I were Gattuso I would have made some changes, the players were tired," said Salvini, a Milan supporter.
In reply, Gattuso, who was a fiery combative midfielder in his playing days, said "this country is incredible.
"I don't talk about politics because I don't understand anything about it," he added.
"I tell him to stick to politics because, with all the problems we have in our country, if the deputy PM (still) talks about football, it means we are in a really bad situation."
Sunday's result left Milan in fifth spot, a point and a place behind Lazio in the standings after 13 games.
Coach Inzaghi sent off after celebrating late equaliser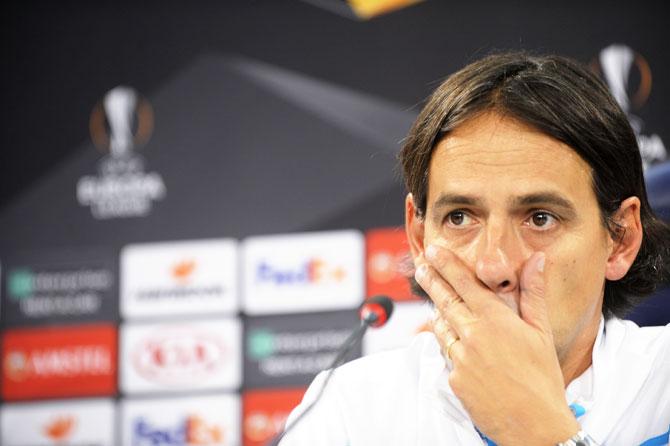 Lazio coach Simone Inzaghi was sent off and initially refused to leave the touchline after over-celebrating his team's stoppage-time equaliser in a dramatic 1-1 draw against makeshift AC Milan in Serie A at a wet Stadio Olimpico on Sunday.
After goalkeeper Gianluigi Donnarumma kept Milan on level terms with two outstanding saves, Franck Kessie had put the visitors ahead in the 78th minute only for Joaquin Correa to rescue a point for dominant Lazio in the 94th minute.
The Argentine's goal led to wild celebrations on the home bench with Inzaghi, who had cut an angry figure on the touchline throughout the match, being sent off for leaving his technical area.
At first, he stayed in his area before finally being coaxed to depart after a few minutes of protesting.
"I didn't understand the reason for the sending off, then he (referee Luca Banti) explained that I had left the technical area," said Inzaghi.
"I apologised, I was so keen on this game and my boys were there.
"I was probably a little nervous and frustrated because we were losing a game we didn't deserve to lose. Correa's equaliser was well-deserved."
The draw meant Lazio stayed in fourth place in Serie A with 23 points, one ahead of their opponents who are fifth. The top four teams qualify for the Champions League next season.
Gladbach beat Hanover 4-1 to tighten grip on second place
Borussia Moenchengladbach cruised to a 4-1 win over Hanover 96 on Sunday thanks to their prolific attack as they secured a fifth win in the last six matches to tighten their hold on second place in the Bundesliga.
First half goals by Thorgan Hazard and Michael Lang cancelled out Bobby Wood's shock lead for Hanover after 22 seconds.
Captain Lars Stindl scored against his former club in the 58th to give the hosts a two-goal cushion as they remained unbeaten at home this season.
Substitute Denis Zakaria slotted in their fourth goal in the 77th two minutes, with Gladbach attacking at will and their speed wreaking havoc in the Hanover defence.
They have now scored 30 goals from 12 matches, second only to leaders Borussia Dortmund's 35.
Gladbach are on 26 points, four behind Dortmund, who beat Mainz 05 2-1 away on Saturday. Champions Bayern Munich are in fifth on 21 after they were held to a shock 3-3 home draw against promoted Fortuna Duesseldorf on Saturday.
Atlanta close in on MLS Cup place after win over Red Bulls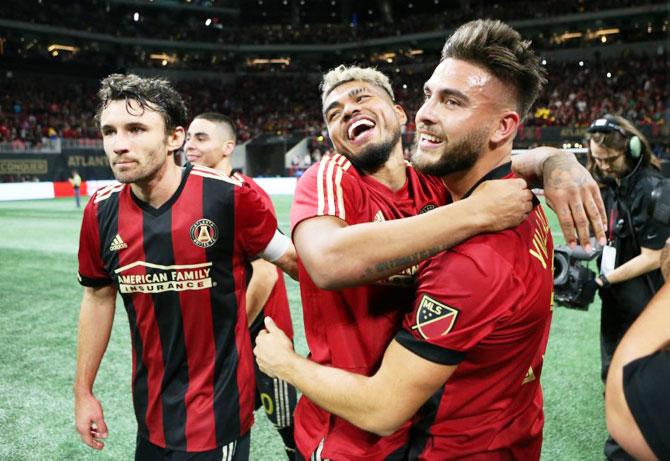 Atlanta United have one foot in the Major League Soccer (MLS) championship match after beating New York Red Bulls 3-0 in the first leg of the Eastern Conference final on Sunday.
In the Western Conference, the Portland Timbers and Sporting Kansas City battled to a 0-0 draw in their opening leg.
Josef Martinez, who set an MLS record with 31 regular season goals, put Atlanta ahead in the 32nd minute before second-half goals from Franco Escobar and Hector Villalba gave them a comfortable lead to take to New York for Thursday's return leg.
The Red Bulls had a goal by Bradley Wright-Phillips disallowed early in the second half after a video review determined Alex Muyl was offside.
The Red Bulls or United will host the MLS Cup on Dec. 8 as both teams had more points in the regular season than the two Western Conference semi-finalists. The Timbers, looking to reach the Cup final for the second time in four years, were disappointed not to take advantage of their home ground on Sunday but were confident of getting a result in Kansas City.
"Definitely we wanted to get a win at home, but also they didn't get any goals," Timbers coach Giovanni Savarese told the Oregonian.
"Now, we have to go there, make sure that we prepare with the days that we have and give everything we have to try to go through."
Scolari's Palmeiras win Brazil title with match to spare
Palmeiras won the Brazilian championship with a match to spare when they won 1-0 at Vasco da Gama on Sunday, bringing their coach Luiz Felipe Scolari another major title at the age of 70.
Scolari, Brazil coach when they won their fifth World Cup in 2002 and also in charge of the side humiliated 7-1 by Germany on home soil in 2014, took over for a third spell at Palmeiras in July when they were seventh, eight points behind the leaders.
Under the leadership of the man who also took Portugal to the European Championship final in 2004 during his long, distinguished career, Palmeiras won 16 of their next 22 league matches and drew six, conceding just nine goals.
Substitute Deyverson scored the winner in the 71st minute of Sunday's match at Sao Januario after he turned in Willian's pass from close range and was then booked for the almost inevitable shirtless celebration.
The only black mark for Palmeiras was a yellow card for midfielder Felipe Melo in the first half, the former Brazil player reacting as if he had been head-butted after minimal contact from Vasco's Kelvin.
The win left Palmeiras with 77 points, five clear of Flamengo who won 2-0 at Cruzeiro, as they clinched the Brazilian title for the tenth time overall and the second time in three seasons.
Those 10 titles include four in the 1960s when the competition bore more resemblance to a knockout contest, although they are now recognised by the Brazilian Football Confederation (CBF).
Scolari previously led Palmeiras to a Copa Brasil title in 1998 and the South American Libertadores Cup title in 1999 during his first stint at the club and another Copa Brasil title in his second in 2012.
'Big Phil' has won the Brazilian championship once before, with Gremio in 1996.
FIFA's home city of Zurich set to get a soccer stadium
Zurich, the home city of soccer's governing body FIFA, is finally set to get a purpose-built soccer stadium after voters gave the green light to the project in a local referendum on Sunday.
The Zurich city government said that 54 percent of voters were in favour of building an 18,000-capacity stadium on the site of the old Hardturm ground which was closed and demolished in 2007.
The stadium will be shared by local clubs Grasshoppers and FC Zurich and will be privately financed, the clubs have said.
In a previous referendum in 2013, voters rejected plans to build the stadium using public money.
The two clubs currently use the Letzigrund athletics stadium as their home ground but the venue is often criticised for its lukewarm atmosphere and for the distance between spectators and the pitch.
The old Hardturm stadium was opened in 1929, was home only to Grasshoppers and hosted matches at the 1954 World Cup.
Grasshoppers have won a record 27 Swiss titles but none since they moved to the Letzigrund.