News of all that's transpired on and off the football field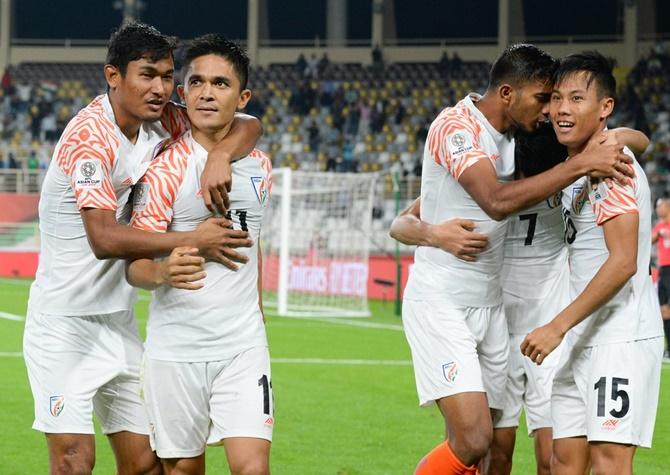 The Indian football team slipped out of the top 100 in the latest FIFA rankings following their back to back group league defeats during the AFC Asian Cup in the UAE.
Skipper Sunil Chhetri and Co. slumped six places to be ranked 103 with 1219 points in the FIFA rankings released on Thursday.
India also dropped out of the top 16 in the AFC rankings, plummeting to 18th.
India had crashed out of the Asian Cup after losing to UAE and Bahrain, despite thrashing Thailand 4-1 in their opening group to make a good start to their campaign.
Following India's exit, Stephen Constantine stepped down from his role as India chief coach.
The country will now need to play friendlies in March against higher-ranked countries to improve its ranking ahead of the draw of the second round of 2022 FIFA World Cup Qualifiers, which is likely to be held in April.
India had regained its place in the top-100 in March last year, after breaking the top 100 bracket for the first time in 21 years in 2017.
India best ranking is the 94th place attained in February 1996.
Body found from wreckage of plane, says probe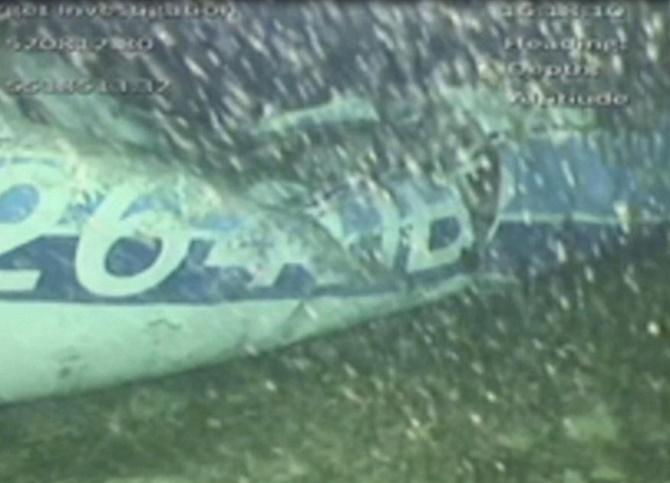 A body has been recovered from the wreckage of the plane that was carrying Argentina-born professional soccer player Emiliano Sala and pilot David Ibbotson, the Air Accidents Investigation Branch (AAIB) in Britain said late on Wednesday.
The agency did not disclose the identity of the body.
Sala, 28, had been en route from Nantes in western France on January 21 to make his debut for Premier League team CardiffCity when the plane disappeared over the English Channel.
The wreckage was found on Sunday following a privately-funded underwater search. Two seat cushions were discovered on the French coast that likely belonged to the aircraft.
A body was visible inside when the wreckage was on the seabed near Guernsey, air accident investigators had said on Monday.
The body was "successfully recovered" but attempts to recover the aircraft wreckage were unsuccessful, the AAIB said in a statement on Wednesday. The overall operation was brought to an end due to "poor weather conditions," the agency said.
Sala had agreed to join Welsh club Cardiff for a club-record fee of 15 million pounds ($19.63 million) from French Ligue 1 club Nantes. He and the pilot are believed to have died as the single-engined Piper Malibu aircraft crashed into the sea.
On Saturday at Cardiff's home Premier League match against Bournemouth, the Cardiff players held up a T-shirt bearing the image of Sala, who never played a game for the club, after the team scored in the fifth minute.
Fans were handed daffodils as they entered the Cardiff City Stadium. In the 28th minute, a round of applause swelled around the stadium as fans sang Sala's name.
On January 30, Nantes paid tribute to their former player. Referee Frank Schneider stopped play in the Ligue 1 match against St Etienne for a minute of applause during which Nantes coach Vahid Halilhodzic was in tears.
Qatar climb 38 places in FIFA rankings after Asian Cup triumph
Qatar have moved up to 55th in the FIFA world rankings, their best position in 26 years, after their breakthrough Asian Cup triumph in the United Arab Emirates last week.
The 2022 World Cup hosts' remarkable run at the continental championship, where they won all seven games and conceded only one goal, allowed them to move up 38 places from 93rd in the world.
Qatar beat regional heavyweights Saudi Arabia, Iraq and South Korea on their way to the final, where they stunned four-times champions Japan 3-1.
The Qataris are still only the fifth-highest ranked team from Asian Football Confederation, behind Iran (22), Japan (27), South Korea (38) and Australia (42).
Belgium continue to lead the world rankings ahead of last year's World Cup winners France and Brazil, with no changes to the top 20 due to the lack of fixtures involving teams from the European and South American confederations.
Valencia demand apology from Getafe president for 'racist' comment
Valencia demanded an apology from Getafe president Angel Torres on Wednesday after he made a comment they described as 'racist' about defender Mouctar Diakhaby during a radio interview.
"Valencia regret and condemn the racist term used for the player Mouctar Diakhaby," Valencia said in a statement on Wednesday.
Getafe and the Spanish FA (RFEF) could not immediately be reached for comment.
Valencia beat Getafe 3-2 on aggregate in the Copa del Rey quarter-finals but last week's second leg at Mestalla was overshadowed by the fight that broke out at the end of the match between the players and coaches from both sides.
French defender Diakhaby was banned for four matches for his involvement in the brawl.
The club also complained about insults from Torres towards their coach and technical team.
"We demand in relation to all of this ... an immediate apology and public rectification," Valencia added.
Reports in Spain say the RFEF are investigating the comments made by Torres.
VAR should be used sparingly in the Champions League, says ref boss
The VAR system should be used sparingly, as a "parachute" for the referee, when it is introduced into the Champions League for the first time next week, European refereeing boss Roberto Rosetti said on Wednesday.
Rosetti, UEFA's chief refereeing officer, avoided direct criticism of the way VAR has been used in domestic competitions but said that he wanted to get back to the original idea which was deploy it only to correct glaring errors.
VAR was widely considered a success at last year's World Cup in Russia but has been contentious in some of the domestic leagues where it has been introduced such as Italy's Serie A, where officials have been criticised for being overzealous.
In one of the most unusual decisions, bottom-of-the-table Chievo had a goal chalked off in a game against Fiorentina last month.
Chievo's Emanuele Giaccherini had the ball in the net after Fiorentina goalkeeper Alban Lafont sent a goal kick straight to him but the VAR spotted an encroachment because a Chievo player had his foot on the line of the penalty area.
Sampdoria's 4-2 win at Empoli in December featured five VAR reviews while Juventus and Sampdoria were both awarded soft penalties with the help of the pitchside monitor in the Turin side's 2-1 win.
VAR will be introduced into the Champions League for the round-of-sixteen ties which start on Tuesday and used for the rest of the competition.
UEFA had backed down from using it earlier because its president Aleksander Ceferin said it caused "confusion" and needed more time to be implemented.
"I don't want to enter into domestic issues but I want to underline that we need to come back to the origin of the project," said Rosetti.
"We need to intervene for clear and serious mistakes."
"We want clear evidence, clear images....and serious missed incidents," he added. "The main goal is to be consistent."
Rosetti said that for factual decisions such as offside or whether an incident was inside or outside the penalty area, a recommendation from the video assistant referee would be enough.
For incidents involving interpretation, such as fouls and handball, referees would be expected to view the incident themselves on the pitchside monitor.
"VAR has to be an insurance for the referee, a parachute for the referee, so my wish is that in 31 matches, there are no interventions," he said. "If something happens, we have to be ready."
Bournemouth fan faces ban for pie throwing
A Bournemouth football fan faces being banned from stadiums after throwing a pie on to the Stamford Bridge pitch during his side's League Cup match against Chelsea in December.
Adam Cox, 27, failed to appear at City of London Magistrates Court for his hearing but was convicted in his absence of "throwing a missile on to a football playing area".
It was unclear whether the pie was aimed at a particular player or whether it struck anyone.
The court heard that Cox had served a three-year football banning order, applied in 2012, for a similar matter.
A warrant was issued for Cox, of Christchurch, Dorset, regarding the imposition of a new football banning order.