News of that transpired on and off the football field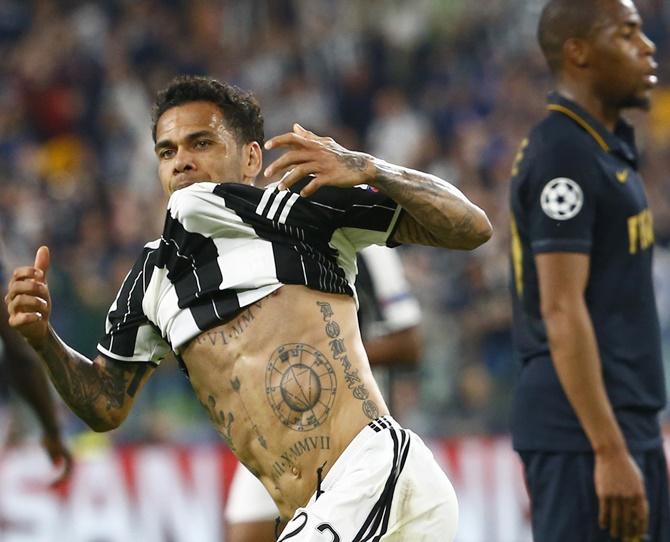 IMAGE: Juventus' Dani Alves is under Manchester City's radar. Photograph: Stefano Rellandini/Reuters
Manchester City have approached Juventus with eyes set on Dani Alves, as Pep Guardiola has prepared to offer him a two-year contract as he steps up his recruitment drive for next season.
City are in the search for defensive options after letting Bacary Sagna and Gael Clichy leave when their contract terminates at the end of this year, reports The Guardian.
The club's move for Tottenham's Kyle Walker failed to obtain any result, with Spurs holding out for a fee in excess of 40m pounds for the England international.
Alves still has one year left on his contract and City have been told a bid of around £5m pounds would be sufficient to persuade the Turin club to sell the 34-year-old.
Earlier this month, Alves praised Guardiola, his former coach at Barcelona, saying: "If you turn the word 'computer' backwards, it spells 'Steve Jobs'. If you turn the word 'football' backwards, it spells 'Pep'. He is a genius. I'll say it again. A genius."
Football games could be reduced to 60 minutes
A proposal to reduce each half of a game to 30 minutes is likely to be considered by the world football's rule-makers, in a bid to prevent time-wasting and make the sport more attractive.
The International Football Association Board (IFAB) has outlined a draft of the proposed changes to the rules of the game in a new strategy document titled 'Play Fair!'
Adopting two halves of 30 minutes with the clock stopped when the ball goes out of play is one of dozens of ideas put forward by IFAB in an attempt to make football more attractive, reports The Guardian.
IFAB says the Fair Play! has three aims -- to improve player behaviour and increase respect, to increase playing time and to increase fairness and attractiveness.
"Many people are very frustrated that a typical 90-minute match has fewer than 60 minutes of effective (actual) playing time (EPT) i.e. when the ball is in play. The strategy proposes measures to reduce time-wasting and 'speed up' the game," IFAB said in the document.
IFAB further informed that some of the proposals could be implemented immediately and require no law changes, while some are "ready for testing/experiments" and some are "for discussion".
Other ideas up "for discussion" include referees blowing for half-time or full-time only when the ball goes out of play, and a penalty kick being either scored or missed/saved, with players not allowed to follow up to score, in order to stop encroachment into the penalty area.