News of all that's transpired on and off the football field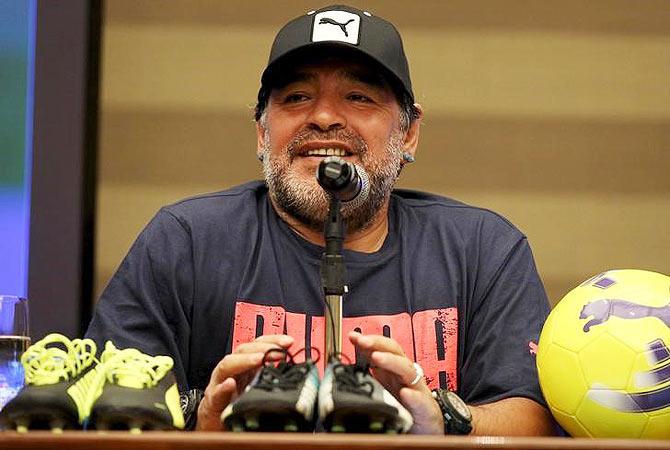 Diego Maradona criticised the faltering Argentina team on Wednesday and appealed for another chance at managing the national side.
A day after they lost 4-2 to Nigeria in a friendly in Russia, Maradona, who last managed Argentina at the 2010 World Cup, hit out the current set up in a short Instagram message.
"I am angry because they have thrown away our prestige, but it's not the fault of the lads," he said. "I WANT TO COME BACK!!!"
Maradona, who is currently coach of United Arab Emirates side Al Fujairah, posted statistics of 11 recent Argentina managers that showed his success rate was 75 per cent, greater even than that of Cesar Luis Menotti, who won the World Cup in 1978, and Carlos Bilardo, who lifted the trophy in 1986 when Maradona was at his brilliant playing best.
"Who won most??" Maradona wrote.
"We draw our own conclusions."
The former Boca Juniors and Napoli striker led Argentina to the quarter-finals in Germany, where they were knocked out by the host nation.
Current Argentina coach Jorge Sampaoli has had an inconsistent start to his tenure since taking charge in June, winning four of his first eight games, but only one of four competitive fixtures.
The Argentines only qualified for next year's World Cup finals thanks to a hat-trick from Lionel Messi in their last game against Ecuador.
Coach Ventura parts company with Italy after World Cup fiasco
Gian Piero Ventura is no longer Italy's soccer coach, the Italian football federation (FIGC) said on Wednesday, two days after the national team failed to qualify for the 2018 World Cup.
The FIGC statement did not say if the 69-year-old Ventura was sacked or if he had resigned.
Italy were held to a 0-0 draw at home by Sweden in the second leg of their European playoff on Monday, losing 1-0 on aggregate, and will miss the finals for the first time since 1958.
Liverpool manager Klopp admitted to hospital due to illness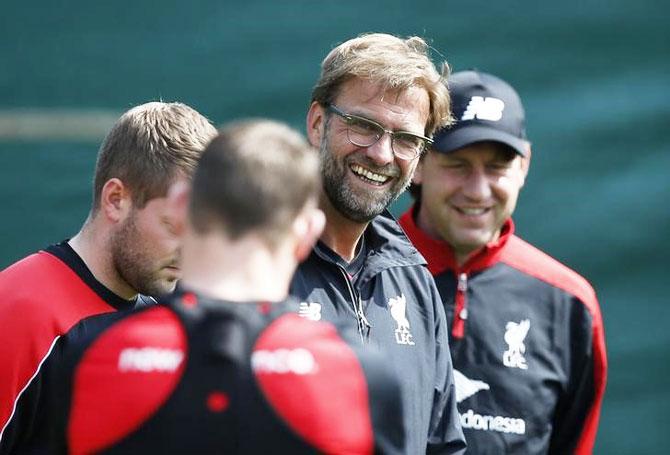 IMAGE: Liverpool manager Juergen Klopp. Photograph: Andrew Yates/Livepic/Action Images via Reuters
Liverpool manager Juergen Klopp went to hospital after feeling unwell and missed Wednesday's training session, the Premier League club said.
"Juergen Klopp has attended a hospital appointment today as a precautionary measure, after feeling ill," the club said in a statement.
"He is being assessed by doctors and will be absent from training on Wednesday as a result."
No details were given about Klopp's illness but the club confirmed the 50-year-old German is expected to be released on Wednesday evening and may require further check-ups.
Liverpool host Southampton in the Premier League on Saturday.
Wenger open to international role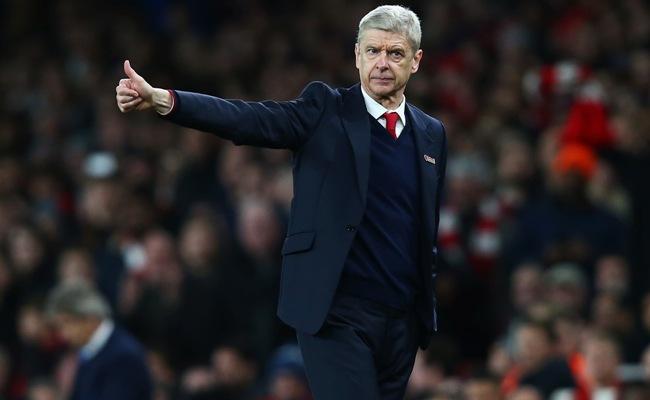 IMAGE: Arsenal manager Arsene Wenger. Photograph: Clive Rose/Getty Images.
Arsenal manger Arsene Wenger is focused on managing the Premier League club but is not ruling out taking over an international team in the future.
Wenger has led Arsenal to three league titles and seven FA Cup trophies during his 21-year tenure and signed a new two-year contract at the north London club in May.
Media reports have linked the 68-year-old to several national team managerial roles, including England and France, on multiple occasions.
"Maybe, yes, I will do it at some stage but until now I like to be involved every day in the life of a club because the real test is there...," Wenger told beIN Sports.
"But I will not always have the physical strength to do that so maybe I will move into (international coaching). It's a fact my life is linked with football, in what way will be linked to my physical state.
Asked whether he could be on the bench at the 2022 World Cup in Qatar, he said: "Maybe, you never know."
Arsenal host Tottenham Hotspur on Saturday.
Australia beat Honduras 3-1 to qualify for World Cup
Australia beat Honduras 3-1 in the second leg of their intercontinental playoff on Wednesday to qualify for next year's World Cup in Russia.
Captain Mile Jedinak scored a second half hat-trick to put the Socceroos on course for a 3-1 aggregate victory after the first leg in San Pedro Sula last week finished goalless.
Alberto Elis netted an injury time consolation goal for the visitors.
Former Chelsea striker Drogba to retire in 2018
Former Chelsea striker Didier Drogba will retire from the sport following the conclusion of the next United Soccer League (USL) season in November 2018.
The Ivorian won four Premier League titles among 14 trophies in a Chelsea career spanning more than 380 appearances, and the 39-year-old is currently playing for Phoenix Rising in the second tier of United States professional soccer.
"Ah, do you want a scoop? I think next year will be my last season," Drogba told French news outlet RMC Sport. "At some point, you have to stop. I need to have time for my other projects. It's good to play, but at 39, it holds me back a bit."
Drogba has enjoyed an illustrious club career, playing more than 670 games for eight different teams, including French side Olympique Marseille and Turkey's Galatasaray
Bayern's Ribery back in training after injury
Bayern Munich winger Franck Ribery returned to training on Wednesday following a six-week injury break due to a knee injury.
The 34-year-old Frenchman, at Bayern since 2007, is desperate to return to action as he battles for a contract extension at the end of the season.
Ribery tore the lateral collateral ligament in his left knee in the German champions' 2-2 draw at Hertha Berlin on October 1.
"Playing on Saturday against Augsburg is a bit early for him," the club said in a statement.
Spaniard Juan Bernat, however, who has yet to play this season after being injured during the pre-season, sounded confident of a possible return on Saturday.
"Maybe I can be part of the team at the next game," Bernat said.
"I am feeling good."
Bundesliga leaders Bayern are four points clear of RB Leipzig and six points ahead of Borussia Dortmund.
Kompany feels no pressure to win back Man City spot
Defender Vincent Kompany has missed Manchester City's last eight Premier League games with a calf injury but the skipper says he is under no pressure to win back his place in the side.
The Belgian, who last played in the 2-1 win at Bournemouth in August before suffering a setback on international duty, has since returned to training as the league leaders prepare to visit 12th-placed Leicester City on Saturday.
"I'd feel under pressure if I had been out boozing every day but I haven't," Kompany told Sportsmail.
"At the moment, when I put my boots on I feel light, I feel good, I feel I am not carrying an injury and that makes me confident. I'd like to be less injured... but I wouldn't change anything about the way I feel when I get back.
"I'm a grafter and I back myself. I'll get there."
The 31-year-old has spent plenty of time on the sidelines in the past few seasons and suggested that every injury felt like a "failure" although helping others in his situation had eased the disappointment to some extent.
"An injury is a failure. It's not one you are responsible for but you always think 'what could I have done better?'... I do believe there are other players injured who look at the way I deal with it and it's good to be able to help them."