News of all that's transpired on and off the football field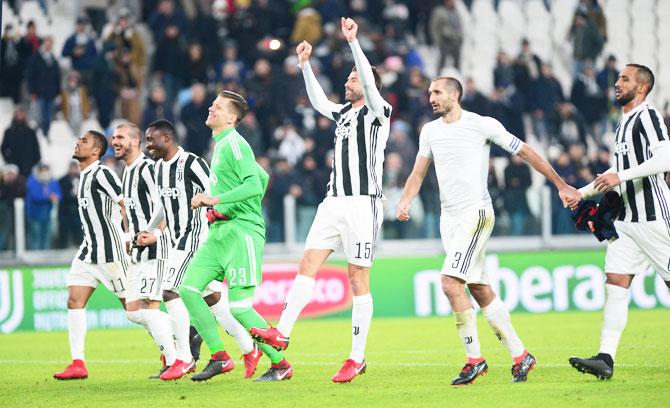 IMAGE: Juventus' Giorgio Chiellini, Wojciech Szczesny and teammates celebrate after the match against Genoa. Photograph: Massimo Pinca/Reuters
Juventus moved back within a point of Serie A leaders Napoli with a 1-0 win at home to Genoa on Monday although it was hardly a convincing display from the defending champions.
Douglas Costa scored in the 16th minute, ending Genoa keeper Mattia Perin's run of four successive clean sheets in the league, to keep his second-placed team on Napoli's heels.
Napoli and Juve have each won their last five Serie A games, to reach 54 and 53 points respectively, with Lazio and Inter Milan now trailing the Turin side by 10 points.
Costa found Mario Mandzukic on the left and he wrong-footed the Genoa defence with a neat pass back to the Brazilian who was left unmarked to slip the ball past Perin from close range.
Genoa were penned into their half for most of the opening period although Diego Laxalt threatened with a long-range drive which fizzed over Wojciech Szczesny's crossbar.
Juventus continued to dominate possession after halftime but could not to find the killer second goal.
Genoa grew in confidence and pushed forward near the end, causing rare panic in the Juve area before Giorgio Chiellini cleared the ball, but they never looked truly threatening.
Final decision on video replays likely on March 3, says IFAB
Soccer's law-making body IFAB said on Monday a final decision on the use of the video replay system (VAR) designed to help referees make key decisions would be made in March.
VARs have been on trial in various competitions around the world, including Serie A, the Bundesliga and the Confederations Cup, since last year with mixed results.
An IFAB spokesman said that a full meeting of IFAB in Zurich on March 3 would give the verdict and, if approved, would then pave the way for global soccer body FIFA to use them at the World Cup in Russia.
FIFA president Gianni Infantino has said on various occasions that he wants to use VARs at soccer's flagship tournament.
However, trials involving VARs have not gone entirely smoothly and there are doubts about whether the problems can be ironed out for a major tournament such as the World Cup where many teams, officials and fans will not be familiar with the system.
Lazio coach Simone Inzaghi said after a Serie A match last month that VARs had taken the excitement out of the game.
"Players don't hug each other after scoring a goal any more, instead they look straight towards the referee," he said.
"For me, it's removing the adrenaline and my enjoyment of football."
During last year's Confederations Cup, referee Wilmer Roldan needed two reviews of an incident to send off the correct Cameroon player amid chaotic scenes in a match against Germany.
IFAB said on Monday that it was encouraged by a study by Belgium's Catholic University of Leuven into the VAR trials.
According to the study, VAR has been used in 804 competitive games with an average of just under five checks by the video official per match. "The vast majority were background checks which did not interfere with the game," said the study.
The study said that 533 of those matches had no review, where play is stopped for either the referee or the video assistant to look at the replay. Only 42 matches had more than one review.
The study said that the accuracy of decisions involving match-changing incidents -- such as goals, penalties and direct red cards -- was 98.9 percent in matches where VAR is used.
The median time for a review was 39 seconds when the decision is based only on communication with the VAR and 79 seconds with the use of a pitchside monitor, the study said.