News of all that's transpired on and off the football field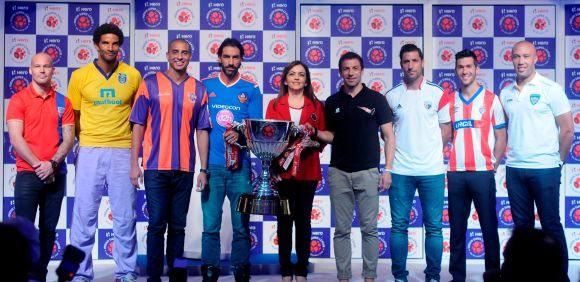 IMAGE: ISL players during the unveiling of the trophy in Mumbai.
Mohun Bagan on Tuesday said it found the Asian Football Confederation (AFC) on the same page in their demand of having a unified league even as the Indian football stakeholders meeting at the Asian apex body's headquarters in Kuala Lumpur failed to break the Indian Super League logjam.
In what seemed to be a blow for the Indian Super League, the AFC has "accepted" the idea of having one pan-India league, according to a statement issued by Mohun Bagan following the meeting where the club was represented by its director Debashis Dutta.
Mohun Bagan have also requested AIFF to convene a meeting on June 12 as proposed by AFC to discuss this year's league structure.
The meeting had an in-depth discussion on the current scenario of Indian football structure, the release said.
Further deliberating on the proceedings, the Mohun Bagan statement said one league system would enhance the performance of the national team and would help in developing players and coaches.
"AFC urged the AIFF to conduct a meeting with all I- League clubs to discuss this year's league structure," it said.
"AFC further elaborated that a road map should be made immediately after the conclusion of the U-17 FIFA WC for next year league structure."
The AFC's intervention had come after impasse prevailed over the inclusion of Mohun Bagan and East Bengal into the lucrative ISL for the upcoming season.
The big two clubs of Indian football are adamant on their demand of not paying the hefty franchise fee of Rs 15 crores as they have also sought money from the central pool.
Real Madrid reject Utd's 52m pound bid for Morata?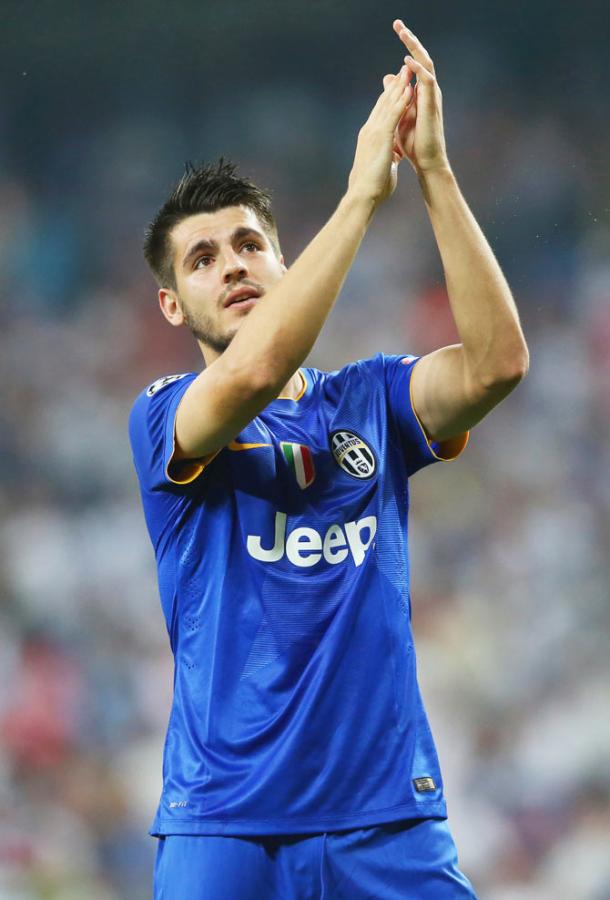 IMAGE: Alvaro Morata was at Juventus before being picked up by Real Madrid last season. Photograph: Alex Livesey/Getty Images
Real Madrid have rejected a 52-million pound offer from Manchester United for star striker Alvaro Morata, it has been reported.
Madrid are holding out for as much as 78 million pounds.
United's original offer did not include David De Gea, the goalkeeper being a long-time target for the Spanish giants, reports Sport24.
Morata scored 20 goals in all competitions last season for the La Liga and Champions League winners.
It appears Morata has been identified as being the man the Premier League giants want to lead their forward line.
Manchester United boss Jose Mourinho is looking to strengthen his front line with uncertainty continuing about the future of injured striker Zlatan Ibrahimovic, with Morata being his prime target.
It is also reported that United are also interested in Torino's Andrea Belotti, who has a 87.3 million pound release clause written into his contract.
Spain's Morata made his first team debut in 2010, before leaving for Italy and Juventus in 2014 for 17.5 million pounds.
The Madrid-born won two Serie A titles, two Coppa Italia titles and made the 2015 Champions League final during his two seasons at Juventus before Real Madrid bought him back from for 26 million pounds in 2016.
Sneijder to set Dutch appearance record on his birthday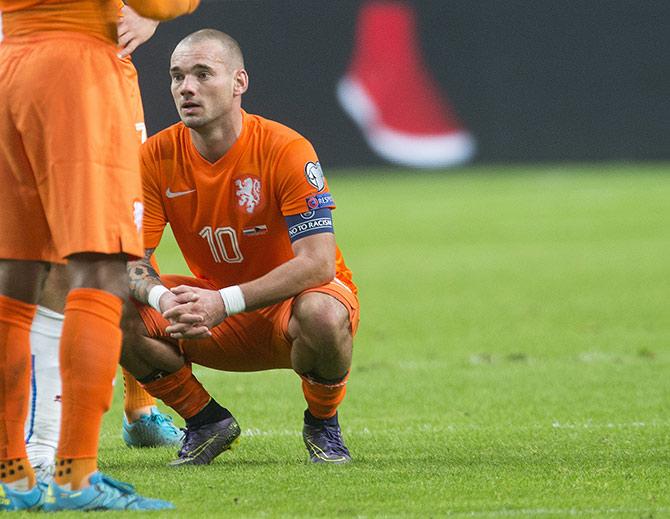 IMAGE: Wesley Sneijder of the Netherlands reacts. Photograph: Toussaint Kluiters/United Photos/Reuters
Netherlands playmaker Wesley Sneijder will break his country's appearance record on his birthday against Luxembourg in a World Cup qualifier on Friday after a frantic dash over the last few days to ensure he could combine the milestones.
Netherlands coach Dick Advocaat has confirmed that Sneijder will start the match in Rotterdam on the day he turns 33 to reach 131 caps and pass goalkeeper Edwin van der Sar's total.
Sneijder was a second-half substitute in a 2-1 friendly win in Morocco last week after joining the squad on the eve of the game before flying back to Turkey to play for Galatasaray in their last game of the season against Konyaspor on Saturday.
He then hired a private jet to whisk him to the Netherlands after the game so he could play in the last 20 minutes of Sunday's 5-0 friendly win over the Ivory Coast in Rotterdam, where he equalled the appearance record.
"You could assume there would be further opportunity to overtake Edwin but there is only one chance to set a record for caps on your birthday. After so many years in the national team I think that's tremendous, very symbolic," Sneijder told Dutch media.
There had been some muted criticism of an unseemly dash for caps by Sneijder but he defended himself, saying: "The record is not the only reason I have been travelling around, I take every chance I get to play for the national team."
Advocaat, back in charge of the Netherlands after a season coaching in Turkey, confirmed Sneijder would start in Friday's Group A match where the struggling Dutch need a victory to keep up their hopes of a place at the 2018 World Cup in Russia.
They are fourth with seven points from five games, six adrift of leaders France and three behind second-placed Sweden.
"I saw almost all his matches this season. He was Galatasaray's best player and possibly the best in the Turkish league. He will play from the start against Luxembourg," said Advocaat, who was coach of Fenerbahce this season.
Advocaat, then in his second spell as national team boss, handed Sneijder his debut in a 1-1 draw with Portugal in 2003.
Turkey captain Turan quits national team after clash with journalist
Turkey captain Arda Turan said on Tuesday he was quitting the national team after a bust-up with a reporter on the squad's flight back from a friendly international in Macedonia.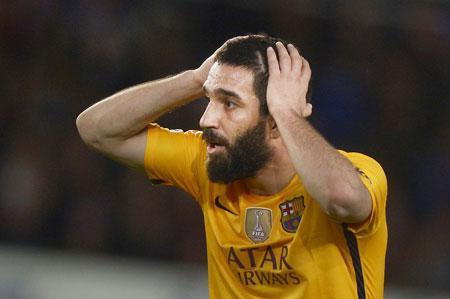 Speaking to reporters at Turkey's training camp in Slovenia, the Barcelona midfielder said he had made a mistake while representing his country, and was ending a career with the national team which saw him win 94 caps and score 17 goals.
But he said he did not regret the clash with Milliyet newspaper reporter Bilal Mese on the flight back from Macedonia, where Turkey drew 0-0 on Monday, saying Mese had insulted him during the Euro 2016 tournament hosted by France.
Broadcaster CNN Turk quoted Mese as saying Turan attacked him shortly after boarding the plane, hurling insults and swinging punches at him despite being restrained by another journalist, a security guard, and team personnel on board.
He said he would take legal action against Turan.
"At first, I thought he was joking...Then, one of his punches swung by," CNN Turk quoted Mese as saying.
Commenting on the events on the flight to Slovenia, where Turkey will train before a World Cup qualifier in Kosovo on Sunday, Turan said the reporter had spread rumours and slander and insulted his family values while covering Euro 2016.
"I made a mistake while wearing the national team uniform. It was something that should not have happened on the national team plane," he said, adding however that he felt no remorse.
"Do I regret it? No, I feel like a bird because I never forgot what was said about me," he said.
"I am putting an end to my national team career. I am speaking as someone who has served at every level of the national team, who loves his country and is in love with this jersey," Turan said.
Turan was widely criticised for a disappointing performance at Euro 2016. The most capped player in the squad, the 29-year-old joined Barcelona from Atletico Madrid in July 2015.
Turkey are fourth in the World Cup qualifying Group I standings with eight points from five matches, five points adrift of leaders Croatia and two behind second-placed Iceland.
Juventus coach Allegri renews contract until 2020
Juventus coach Massimiliano Allegri has renewed his contract with the Italian champions until 2020, the club said on Wednesday.
The deal comes four days after Juve lost 4-1 to Real Madrid in the Champions League final, prompting speculation Allegri might leave the Turin club, who won a sixth straight Serie A title this season.
"Since being appointed manager in the summer of 2014, the Bianconeri have won three Serie A titles, three Coppa Italia trophies and one Italian Super Cup," Juventus said in a statement.
"Despite defeat in last weekend's Champions League final in Cardiff, Allegri has undeniably transformed the club into a significant player on the continent."
Beckham clears another hurdle in Miami MLS bid
A group headed by David Beckham cleared another hurdle in their bid to establish a Major League Soccer franchise in Miami on Tuesday when the sale of a three-acre parcel of land for a stadium was approved.
The 9-4 vote by the the Miami-Dade Board of County Commissioners gives the consortium a total of nine acres on which to construct a soccer-specific 25,000 seat stadium in the Overtown neighbourhood of the south Florida city.
More than three years have passed since Beckham unveiled his plan to bring an MLS team to Miami, and it is not quite yet a done deal despite Tuesday's vote.
Zoning approvals are still needed from the city, while the league has still not given the franchise final approval.
MLS lured former England captain Beckham to the Los Angeles Galaxy in 2007 with a deal that included an option to purchase an expansion franchise at a discounted price.
But finding suitable land in crowded Miami proved difficult.
"We appreciate the support of the Mayor and the County Commissioners to assist in efforts to try to bring a Major League Soccer expansion team to Miami," MLS said in a statement after Tuesday's vote.
FA bans two England fans for life after Dortmund incidents
England's Football Association has handed two supporters life bans from attending away games following incidents during March's friendly match against Germany in Dortmund.
The bans come ahead of Saturday's World Cup qualifier in Glasgow where England will travel to face old rivals Scotland.
The two fans have received lifetime bans from the England Supporters Travel Club (ESTC), the official organisation for away support, the FA confirmed on Wednesday.
The ESTC is the exclusive provider of tickets for the away end at England matches and tickets must be picked up in person in the foreign city.
One of the banned fans was seen making a Nazi salute towards German supporters while another was viewed imitating an Adolf Hitler moustache and cut-throat gestures.
Another 25 supporters have been given bans and suspension of various lengths due to their behaviour in Dortmund.
The behaviour of England fans during the March game, where they taunted German supporters about World War Two, was widely criticised by British media.
England goalkeeper Butland aiming for the top
England's Jack Butland wants to be the best goalkeeper in the world and win trophies for his country, the 24-year-old has said ahead of the side's upcoming international matches.
Butland suffered a broken ankle on England duty in March 2016 and returned to action for Premier League side StokeCity after a 13-month long injury layoff. He kept two clean sheets in five appearances to help his club finish 13th.
Butland has been called up for England's UEFA Group F World Cup qualifier against Scotland on Saturday and their friendly against France three days later.
"I understand that I've only played five Premier League games, but I feel I've produced really good performances in those games," Butland told reporters.
"We all have team goals, individual goals. I want to be not just the best I can be, but I want to be the best in the world. I want to play with the best in the world. I want to look back on my career and have won things and been in successful teams.
"I have no greater desire than to dream about regularly winning things. If you can be part of something that can win European Championships and World Cups with England, it's the ultimate."
Image (bottom): Arda Turan reacts during a match
Photograph: Vincent West/Reuters