News of all that's transpired on and off the football field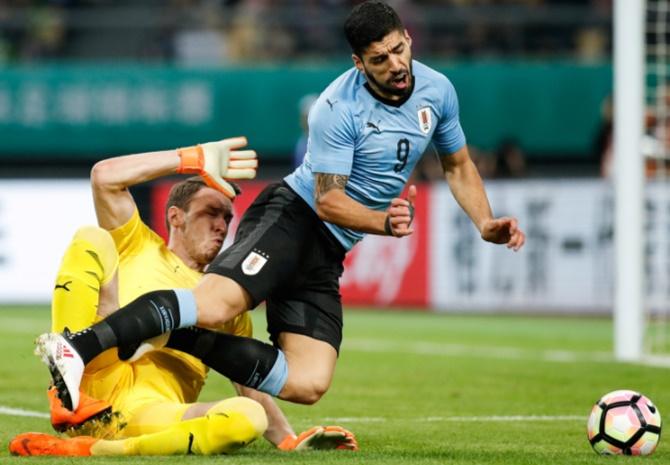 IMAGE: Jiri Pavlenka of Czech Republic and Luis Suarez of Uruguay in action. Photograph: Reuters
Uruguay forward Luis Suarez scored his 50th goal for his country when he won and converted a penalty in a 2-0 friendly win over the Czech Republic on Friday.
Edinson Cavani completed the win with an acrobatic effort before halftime as the impressive South Americans sounded a warning to World Cup group opponents Egypt, Russia and Saudi Arabia.
Suarez showed typical cunning as he won the penalty in the 10th minute, tumbling over the outstretched leg of goalkeeper Jiri Pavlenka as he chased a ball that was going away from the goal and posed no real danger to the Czech defence.
The 31-year-old, making his 96th appearance, fired the spot kick into the roof of the net.
With Suarez and Cavani proving a handful for the Czech defence, it was no surprise when the two-times world champions went further ahead in the 37th minute.
Nahitan Nandez headed the ball into the Czech area where Cavani, with his back to goal, produced a memorable scissors kick to fire past Pavlenka.
AIFF officials visit Minerva Punjab FC Academy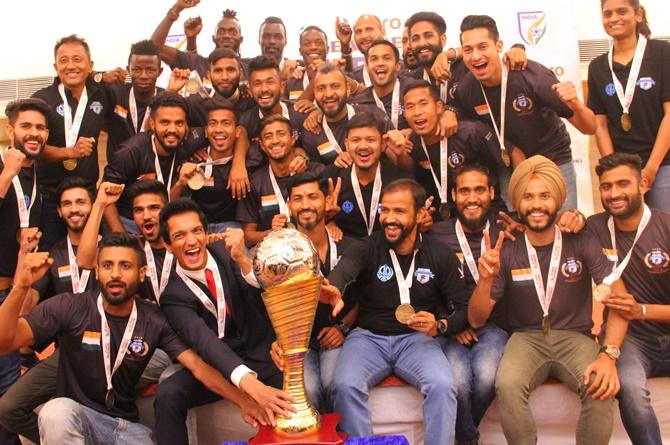 IMAGE: Minerva Punjab FC celebrate with the I-League trophy. Photograph: AIFF Media
All India Football Federation's top officials, including general secretary Kushal Das, visited I-League champions Minerva Punjab FC's academy here today, the two parties keeping their bickering aside for a change.
The Punjab-based side which brought the coveted title back to Punjab after 21 years has invested in their youth setup, which was instrumental in them winning the U-15 Youth League trophy for three successive seasons.
"I'm delighted to have visited the academy and participate in the I-League prize giving ceremony. I am fully convinced that right things are happening at Minerva Punjab FC," Das said.
"The results are there for everyone to see. They've won the youth league and now they've conquered the I-League. I believe they have the ability and determination to become a premier club in Asia," he added.
I-League CEO, Sunando Dhar, lauded Minerva Punjab's efforts to nurture the budding talents.
"It's great to see that time, money, energy and above all the passion have been put to develop such a fantastic facility. If only all professional clubs make similar investments, Indian Football will develop. Kudos to Minerva Punjab FC. Keep up the good work," he said.
Founder of Minerva Punjab, Ranjit Bajaj, was elated to welcome the AIFF officials.
"It's a dream come true for us that top dignitaries from AIFF have paid a visit to our Academy. It shows that we have come a long way since we started and their visit will only encourage us and all the young players of Minerva Punjab FC," he said.
This was a welcome change though, as the club often found itself at loggerheads with the country's apex football body over release of release of funds and other issues.
Japan equalise with last kick to draw with Mali in World Cup warmup
Japan's Shoya Nakajima equalised five minutes into stoppage time with the last kick of the match to secure a 1-1 draw against Mali in a World Cup warmup friendly on Friday.
Nakajima was unmarked at the back post to finish, as Japan were rewarded for their relentless attacking after falling behind just before the interval.
Abdoulay Diaby, who is the top scorer for Belgian league leaders Club Bruges, netted a penalty in the 43rd minute to give Mali the halftime lead in front of a largely empty stadium at the home of Standard Liege.
The match, which Japan hoped would give them an indication of the style of play they can expect from Mali's neighbours Senegal at the World Cup, kicked off at lunch time in Belgium to accommodate Japanese television.
Japan will continue their World Cup preparations at the same venue against Ukraine on Tuesday.
Japan play in Group H at the World Cup and face Senegal in Ekaterinburg on June 24. They play Poland and Colombia in their other two group fixtures.
Germany drop to third in FIFA women's rankings, US stay top
Germany dropped out of the top two in the FIFA women's rankings for the first time since 2009 after a poor run of results while the United States retained top spot.
The US team was unbeaten as they won this month's SheBelieves Cup on home soil, while Germany failed to register a single victory at the annual invitational tournament.
England's second place in the tournament under new manager Phil Neville secured them No.2 spot in the rankings for the first time.
France rose to fifth after finishing third in the SheBelieves Cup.
Netherlands remain at No.7 while Sweden rose to ninth after being named joint winners of the Algarve Cup. Canada, who finished fifth at the event, climbed to fourth in the rankings.
Japan, who won the World Cup in 2011 and finished runners-up in 2015, have dropped out of the top 10 for the first time since 2007 after losing two of their four matches this year.
Cyprus Cup champions Spain rose to 12th, their best yet.
Top 10 FIFA women's rankings (previous positions in brackets):
1. United States (1)
2. England (3)
3. Germany (2)
4. Canada(5)
5. France (6)
6. Australia (4)
7. Netherlands (7)
8. Brazil (8)
9. Sweden (10)
10. Korea DPR (11)