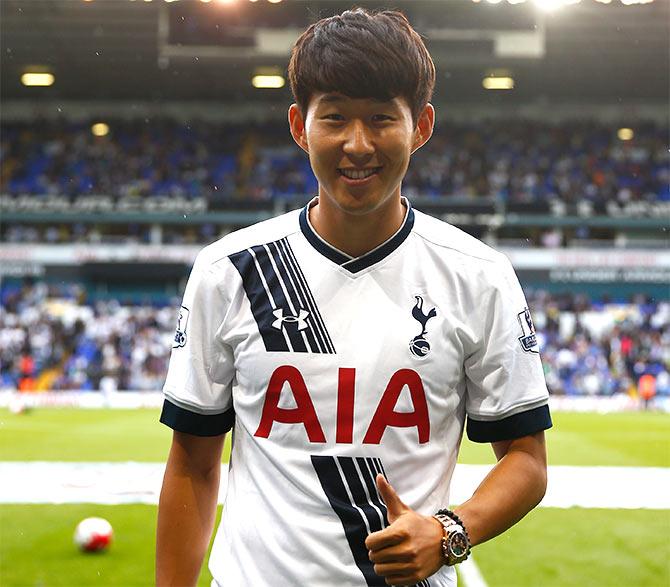 Tottenham Hotspur's Erik Lamela and Son Heung-min have signed new long-term contracts ahead of the 2018-19 campaign, the Premier League club said on Friday.
Argentine midfielder Lamela agreed a four-year extension while South Korean forward Son penned a deal until 2023.
Lamela, 26, returned to first-team action in November after over a year out with hip problems, and made 33 appearances during the second half of the campaign.
Since arriving at the north London club from AS Roma in 2013, he has scored 23 goals in 154 appearances.
The 26-year-old Son has netted 47 goals in 140 appearances for Mauricio Pochettino's side since his move from Bayer Leverkusen in 2015.
"It feels great," Son told the club website.
"I've learned so many things in the last three years and we're all looking forward.
"We deserve to win something and deserve to make some history. It's time to do it and to believe in ourselves. I'm always positive with the lads and looking forward to playing again in the Premier League and the Champions League."
Son became the top Asian scorer in the Premier League history, surpassing former Manchester United midfielder Park Ji-sung with a goal against Crystal Palace in November.
He took his scoring touch to the World Cup in Russia where he netted twice for South Korea, including the second in a memorable 2-0 group stage win over 2014 winners Germany.
Son will join the Spurs squad on their tour of the United States where they will play in the International Champions Cup against AS Roma, Barcelona and AC Milan.
He will be available for the opening league fixture at Newcastle United on Aug. 11 before he travels to Indonesia to represent his country at the Asian Games.
Having not signed any players in the close season, Spurs are looking to secure the long-term future of key squad members.
Striker Harry Kane and defender Davinson Sanchez also agreed improved terms ahead of the World Cup, along with Pochettino, as the club move to a new 62,000-seater stadium next season.
Leicester sign goalkeeper Ward from Liverpool
Leicester City have signed goalkeeper Danny Ward from Liverpool on a four-year contract, both clubs confirmed on Friday.
Financial terms of the deal were not disclosed, but British media reported Leicester paid around 12.5 million pounds ($16.41 million) for the 25-year-old.
Ward, who joined Liverpool from Wrexham in January 2012, made only three first-team appearances for the Merseyside club, and was the third-choice keeper behind Loris Karius and Simon Mignolet last season.
"I've come here to develop my all-round game and hopefully help deliver some more success," Ward told the LCFC TV.
"The club has had that in recent years and hopefully there's more to come in the future."
Ward, capped four times by Wales, will compete with first-choice Kasper Schmeichel and Eldin Jakupovic in manager Claude Puel's squad for the 2018-19 campaign.
Leicester kick off their Premier League campaign with an away game against Manchester United on Aug. 10.
($1 = 0.7620 pounds)
AC Milan cleared to compete in Europa League after court overturns UEFA ban
The Court of Arbitration for Sport on Friday overturned a decision by European soccer body UEFA to ban AC Milan from next season's Europa League competition, saying the Italian club's finances had improved after a recent ownership change.
UEFA said last month that AC Milan did not meet a break-even requirement under its Financial Fair Play regulations, adding the club had not provided sufficient evidence of its financial stability.
Since then, US hedge fund Elliott Management has taken control of the indebted soccer club from Chinese businessman Li Yonghong and promised to inject 50 million euros ($58.5 million)to help stabilise its finances.
Li bought the Serie A club last year from former Italian prime minister Silvio Berlusconi with the help of Elliott, but then failed to repay the fund.
In a statement, the court said that UEFA was not able to consider some important elements at the time of its decision, "in particular that the current financial situation of the club was now better, following the recent change in the club's ownership".
It referred the case back to UEFA to "issue a new proportionate disciplinary measure on the basis of the current financial situation of the club".
World Cup was right time to end Socceroos career, says Cahill
Australia's top goal scorer Tim Cahill knew the time was right to end his international career after the World Cup but the attacking midfielder said on Friday he wants to continue playing at club level.
The 38-year-old announced his international retirement on Tuesday while on holiday after playing in his fourth World Cup.
"For me, it was the right time," he told a media conference in Sydney on Friday. "I had an inkling. I thought four World Cups, Asian Cups, Olympics, 107 games, goals."
"It wasn't an easy decision. I don't want it to be a sad moment (and) ... it was a pleasure to retire at the age of 38."
Cahill retires as one of the greats of Australian football, with many of his 50 goals coming at crucial times in important matches — a feature of his 14-year Socceroos career.