News of all that's transpired on and off the football field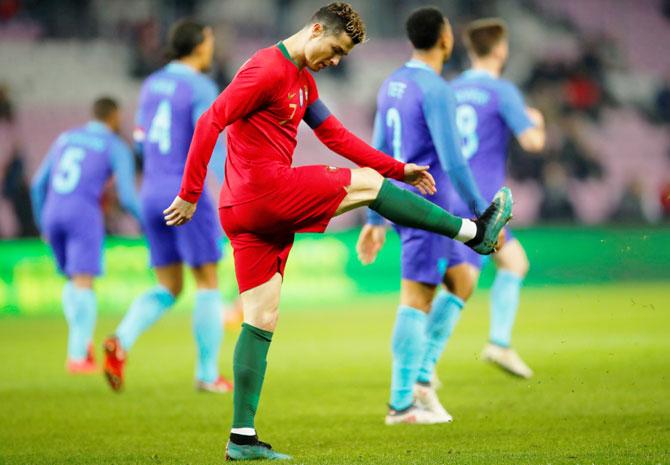 IMAGE: Portugal's Cristiano Ronaldo cuts a frustrated figure during their international friendly against Netherlands at the Stade de Geneve, in Geneva on Monday. Photograph: Denis Balibouse/Reuters
European champions Portugal suffered a first-half collapse and had Joao Cancelo sent off just past the hour in an embarrassing 3-0 World Cup warm-up defeat by the Netherlands on Monday.
Memphis Depay, Ryan Babel and Virgil van Dijk all scored by taking advantage of uncharacteristically slack defending by Portugal as the Dutch, who failed to qualify for this year's World Cup, secured a first win for new coach Ronald Koeman.
Portugal captain Cristiano Ronaldo began the match a hat-trick away from matching Hungarian Ferenc Puskas's record of 84 goals as Europe's all-time leading international marksmen but never looked like scoring one, let alone three.
Portugal coach Fernando Santos made nine changes from the team which beat Egypt 2-1 in a friendly on Friday.
Portugal, who face Spain, Iran and Morocco in their World Cup group, dominated possession for the opening few minutes but the Dutch struck first when Depay beat defender Jose Fonte to a loose ball and fired into the net after 12 minutes.
Babel was left unmarked to head in from Matthijs De Ligt's cross at the far post in the 32nd and it needed a superb save by Anthony Lopes to keep out a Depay header shortly afterwards.
There was no let-off on the stroke of halftime, however, when a Depay free kick was teed up by De Ligt for the unmarked Van Dijk to fire home the third.
Portugal tightened up in defence after halftime and escaped further embarrassment but they suffered more misery when Cancelo was shown a second yellow card for a late challenge.
The Netherlands, who lost 1-0 at home to England on Friday, brought on Justin Kluivert, the 18-year-old son of their former forward Patrick, for his international debut in the 78th minute.
You can't teach Messi anything new, says Argentina coach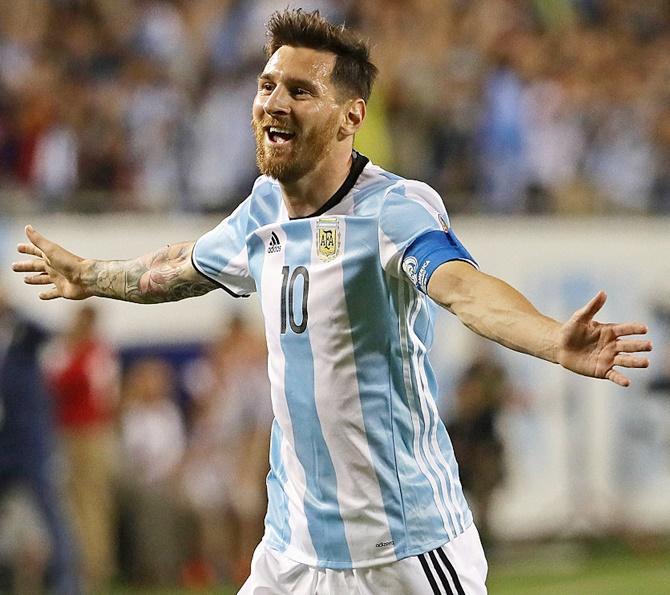 IMAGE: 'Lionel Messi's footballing mind is much more developed than the rest of us'. Photograph: Jonathan Daniel/Getty Images
Argentina coach Jorge Sampaoli has said it is futile "trying to teach Lionel Messi anything" new with the forward set to return from injury to face Spain in a World Cup warm-up on Tuesday.
"You can't teach him anything. He's untouchable, you need to understand that and try to create situations in training that fit around him and from there pick a side with a view to that," Sampaoli told a news conference on Monday.
"He's the kind of player that comes around not so very often. He's the best player in the world and we need to ensure that everything we do is geared towards him being comfortable. His (footballing) mind is much more developed than (the minds of) the rest of us."
There had been doubts as to whether the Argentina captain would be available for selection after a muscle problem kept him out of Saturday's 2-0 friendly win over Italy played at ManchesterCity's Etihad Stadium.
Sampaoli, however, said Barcelona's Messi was raring to go although their West Ham United forward Manuel Lanzini, who scored Argentina's second goal at the weekend, is doubtful.
"He (Messi) trained as normal today, with the group. He's fine to play," Sampaoli said. "If there was a risk, he'd have told us. In the last friendly he told us so.
"He trained yesterday and today and if he stays as he is there'll be no worries about him playing.
"We're keeping tabs on Lanzini to see if he'll be fit to play. We'll decide the starting eleven tomorrow night."
Spain will host Argentina in the first international to be played at Atletico Madrid's new Wanda Metropolitano stadium with both countries preparing for this year's World Cup in Russia.
Messi admitted Monday that his generation has a score to settle at the World Cup in Russia after a series of agonising near misses in major tournaments.
"The debt we owe is to ourselves, not to the people. We always give our all, we reached three finals. We haven't been far off," Messi said in an interview with Fox Sports.
Argentina lost the 2014 World Cup final to Germany 1-0 after extra time and then finished runners-up at successive Copa America tournaments, losing to Chile on penalties in both 2015 and 2016.
"We always take each World Cup as a big opportunity, and now more than ever because an important generation will move on, several players will change," Messi said, ahead of Tuesday's friendly against Spain in Madrid.
Argentina, who beat Italy 2-0 in Manchester last Friday, will play Iceland, Croatia and Nigeria in Group D at the World Cup.
The country last lifted the trophy in 1986 when Diego Maradona was named player of the tournament.
Iceland's leaders to boycott Russia World Cup over Salisbury attack
Iceland's leaders will not attend the soccer World Cup in Russia this year as part of an international response to punish the Kremlin for a nerve agent attack on a former Russian spy in England that the British government has blamed on Moscow.
Despite the tiny island nation of just over 300,000 people making it to the finals of the world's biggest soccer tournament, there will be no Icelandic diplomatic presence at the World Cup, the Foreign Ministry said on Monday.
"Among the measures taken by Iceland is the temporary postponement of all high-level bilateral dialogue with Russian authorities. Consequently, Icelandic leaders will not attend the FIFA World Cup in Russia this summer," a ministry statement said.
On Monday, British Prime Minister Theresa May said that more than 130 people may have been exposed to a nerve agent believed to have been used to poison ex-spy Sergei Skripal and his daughter in the English city of Salisbury on March 4.
May, welcoming the show of solidarity, said 18 countries had announced plans to expel Russian officials. Those included 14 European Union countries. In total, 100 Russian diplomats were being removed, the biggest Western expulsion of Russian diplomats since the height of the Cold War.
Russia has repeatedly denied responsibility for the nerve agent attack.
"So far, Russia's response has been severely lacking," the Icelandic Foreign Ministry statement said. "Russia must provide credible explanations on how a nerve agent originally produced in Soviet laboratories came to be used to attack civilians in the United Kingdom."
Keepers must get used to new World Cup ball - Spain coach
Spain coach Julen Lopetegui has said goalkeepers will have to get used to the World Cup ball before the tournament starts in June rather than complain about it following criticism from Germany's Marc-Andre ter Stegen and Spain's Pepe Reina.
"I know what the boys have told me, but it's the ball that's going to be used and anything else is merely to stomp your feet and make a fuss," Lopetegui, a former Barcelona and Real Madrid keeper, told a news conference on Monday.
"What we need to do is make the most of the positives, get over it and nothing else," he added ahead of Tuesday's World Cup warm-up match between his side and Argentina and after Spain drew 1-1 with world champions Germany in a friendly on Friday.
National teams are using the Adidas Telstar 18 for the first time during the current round of internationals and the lack of grip and excessive movement through the air has been criticised.
Napoli keeper Reina, who is likely to be in the Spain squad for the Russia finals, was apoplectic, telling Diario AS: "There's still time to change it" before the event kicks off.
"I bet you any money that there will be at least 35 goals scored from long range, because it's impossible to work out, not to mention it's covered in a plastic film that makes it difficult to hold on to," Reina added.
Local media reported that the view was shared by the other keepers in the Spain squad, David de Gea and Kepa Arrizabalaga, with the former saying simply "No" when asked if he was a fan.
Germany forward Thomas Mueller scored against Spain on Friday with a long-range strike that appeared to deceive De Gea mid-flight, while German goalkeeper Ter Stegen branded the Telstar as "complicated".
"Even though the ball's not always at fault, it's true that this one is a little bit complicated. You saw it in the goal we scored. It moves a lot and could be better," he said.
"We've got no other option than to get used to it, though," Ter Stegen added in agreement with Lopetegui.
Argentine prosecutor to widen investigation into alleged sex abuse
An Argentine prosecutor is to widen an investigation into the alleged sexual abuse of young players at Argentine top-flight club Independiente, saying she believes such incidents may be happening at other soccer clubs.
Maria Soledad Garibaldi last week opened an inquiry into reports that youth players were forced into prostitution by a 19-year-old player at Independiente, one of Argentina's most successful clubs.
"I am sure there are more cases and that this didn't just happen at Independiente," Garibaldi told local radio on Monday.
"It's possible that they are operating in other clubs and in amateur football."
Independiente, who raised the alarm with police after a teenage player told a club psychologist about the scheme, are cooperating fully with the investigation, the club said in a statement last week.
Garibaldi said on Monday three players had come forward to confirm the abuse since Independiente reported its suspicions last Thursday and another 60 would be heard this week.
The victims were said to be boys aged 15 and 16 who came to the club's youth teams from cities in the interior of Argentina. They were housed at a club facility on the outskirts of Buenos Aires, where the older player coerced them into sex acts.
Independiente on Monday declined to comment on the widening of the investigation.
Independiente is one of Argentina's most successful soccer teams, having won the Copa Libertadores, South America's equivalent of Europe's Champions League, a record seven times.