News of all that's transpired on and off the football field
Italy's talismanic goalkeeper Gianluigi Buffon will play his last match for Juventus when they host Verona in Serie A on Saturday, he told reporters on Thursday, according to Italian media.
"Saturday will be my last game for Juventus. I think it's the best way to end this wonderful adventure," the 40-year-old said. Buffon has been at Juventus since 2001.
However, the 2006 World Cup winner, close to tears at times, did not say whether he was retiring from the sport altogether.
"For now, I only know that Saturday I will play a game. Until a few days ago it was certain that I would stop playing. Now there are some interesting proposals," he said.
Buffon had planned to end his career at the 2018 World Cup, which would have been his sixth, but Italy failed to qualify.
Payet limps off; doubtful for World Cup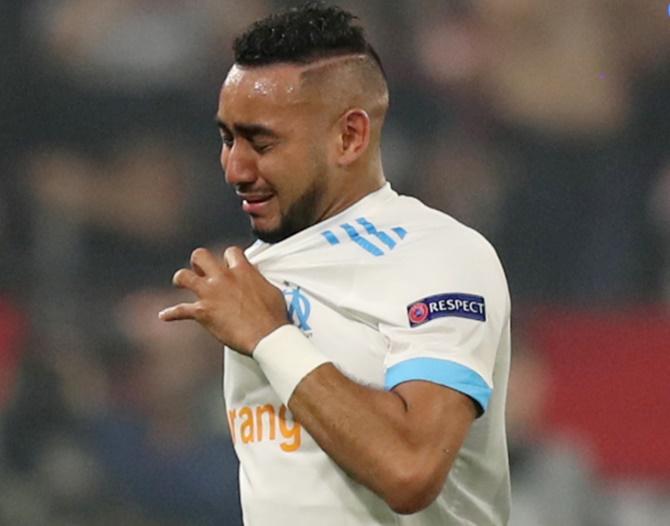 France international Dimitri Payet's hopes of playing in the World Cup were dealt a serious blow on Wednesday when the Olympique de Marseille captain limped off during the Europa League final with a suspected thigh injury.
Payet was a fitness doubt for the final against Atletico Madrid after missing Friday's 3-3 draw at Guingamp but declared himself ready to play the day before the showpiece game in Lyon.
He was crying as he left the pitch in the 32nd minute to be replaced by Maxime Lopez.
The former West Ham United midfielder was a key figure in France's run to the Euro 2016 final, although he has not featured for the national team since a 2-1 win over Belarus on Oct. 10.
The 30-year-old had made a strong bid for a recall by coach Didier Deschamps with an impressive run of form which included inspiring Marseille to the Europa League final, but his injury may have ended his chances of playing in the tournament.
Deschamps is due to make name his squad on Thursday.
Atletico charged by UEFA over 'racist behaviour', fireworks
Europa League winners Atletico Madrid have been charged with "racist behaviour" by UEFA for a banner displayed by fans during their 3-0 win over Olympique de Marseille in the final on Wednesday.
European soccer's governing body said in a statement on Thursday that it had opened proceedings against the Spanish side under Article 14 of its disciplinary regulations.
Marseille and Atletico also face punishment for setting off fireworks during the match.
The French team's famously passionate fans unleashed a whirlwind of flares and firecrackers moments before kickoff and the game began under a thick cloud of smoke.
Atletico set off a small number of flares in their end after each of Antoine Griezmann's two goals while the French supporters engulfed the air with another display of flares, some of which were thrown onto the pitch, near the end of the game.
Marseille fans also caused "acts of damage" at the Groupama Stadium, the home of rivals Olympique Lyonnais and the French club were charged by UEFA after their players returned late to start the second half.
UEFA's Control, Ethics and Disciplinary Body will deal with the case on May 31.
Lazio, Inter in dramatic clash for Champions League spot
Lazio and Inter Milan will be involved in a dramatic clash for Italy's final Champions League group spot when they meet in a match worth millions of euros on Sunday.
Lazio currently occupy the fourth and final Italian place in next season's group stage while Inter are three points behind them in fifth with the fixture list having thrown the pair together on the final day of the season for what is effectively a playoff.
Inter are desperate to end a six-season absence from Europe's showcase competition which they won in 2010 under Jose Mourinho. Their last participation was in 2011-12 when they lost to Olympique de Marseille on away goals in the round of 16.
Inter and Lazio drew 0-0 in their first meeting of the season, meaning that if Inter win on Sunday, they will sneak above Lazio on their head-to-head record.
Any other result will send Lazio straight into the group stage where they can expect to amass a fix minimum payment of over 12 million euros plus considerably more from the distribution of television and marketing revenue.
Lazio could have clinched their place last week, but were held to a 2-2 draw at relegation-threatened Crotone despite taking an early lead.
The Champions League was the very minimum Luciano Spalletti expected when he became Inter's 10th coach in seven years since Mourinho before the start of the season.
Inter led the Serie A table in December, but have been exasperatingly inconsistent since then.
Bournemouth to pay Blackburn compensation for Mahoney
Bournemouth have been ordered by the Professional Football Compensation Committee (PFCC) to pay an initial 425,000 pounds($574,217) to Blackburn Rovers for the transfer of winger Connor Mahoney, the Premier League club have said.
The south coast team signed Mahoney from third-tier League One side Blackburn last July after the 21-year-old's contract at Ewood Park ended but the clubs failed to reach an agreement over the transfer fee.
The clubs referred the player's valuation to a tribunal and the PFCC, appointed under EFL and Premier League regulations, met earlier this month to decide the fee.
"AFC Bournemouth must pay Blackburn Rovers an initial compensation fee of 425,000 pounds," the Premier League side said on their website http://www.afcb.co.uk.
"In addition to the initial payment, AFC Bournemouth are to pay a further sum of 100,000 pounds on the player making 10, 20, 30, 40 and 50 first team appearances - a potential further payment of 500,000 pounds."
Klopp surprised Alexander-Arnold with England call-up news
Liverpool defender Trent Alexander-Arnold said club manager Juergen Klopp surprised him with the news of his inclusion in England's 23-man squad for the World Cup.
The 19-year-old has had an impressive breakthrough campaign for Liverpool, featuring in nine Champions League matches, including the quarter-final win over Manchester City and the semi-final victory against AS Roma, and 19 league games.
"I found out this morning, just before we came out to Marbella. The manager came and spoke to me just as we were getting on the plane," Alexander-Arnold, currently in a training camp in Spain, told Liverpool's website.
"He asked me if I knew anything about the squad or anything yet. I said, 'no' and he said, 'Have you got anything planned around the time of the World Cup?' I was like, 'No, no holidays or anything...'
"He said to me, 'OK, good... You're in the squad!' It was a really proud moment. On England's behalf, it was nice of them to let the manager tell me."
Klopp, who handed Alexander-Arnold his Liverpool debut in 2016, was equally proud of the teenager and says the call-up was a great way to top off a special season.
Coach Roca leaves Bengaluru FC after two successful seasons
Bengaluru FC head coach Albert Roca on Thursday decided not to renew his contract which ends this month, leaving the side after two highly successful seasons.
The 55-year-old Spaniard, who took up the head coach's job in July 2016 for a two-year tenure, cited personal reasons for not renewing the contract which runs till the end of this season.
"Bengaluru FC and more importantly Indian football will always be grateful for the path that Albert Roca has shown us. Even in difficult situations he stayed true to his philosophy and brand of football and that is a testament to the manager and person he is," club CEO Parth Jindal said in a statement.
His decision came a day after guiding Bengaluru FC to the knock-out stages of the AFC Cup, courtesy a 4-0 drubbing of Abahani Limited Dhaka at the Bangladesh capital yesterday.
The next round -- inter-zonal play-off semifinals -- of the AFC Cup will be played in August.
Roca's impressive two-year spell saw Bengaluru become the first Indian club to make the final of AFC Cup in 2016.
His success was also highlighted by the Federation Cup (2017) and Super Cup (2018) titles that the club won to maintain the record of winning a trophy every season since its inception in 2013.
Under him, Bengaluru FC also finished runners-up in the Indian Super League in 2017-18 in the club's debut season.
Roca, a former Barcelona FC assistant coach who arrived in the country at the start of 2016-17 season, left a lasting impression on Indian football with his philosophy of possession-based and free-flowing game.
Roca said though short, his stint at Bengaluru FC would always remain a special story in his career.
"It was one of the toughest decisions I have had to make in my managerial career but it's the right one. Bengaluru FC has been an experience I will always carry with me, no matter where I go," he said.
Roca's first assignment for Bengaluru FC was the knock-out stages in the AFC Cup in 2016 and he went on to steer the 'Blues' all the way to final in Qatar where they went down 0-1 to Iraq's Air Force Club.
He put behind a disappointing fourth-place finish in the I-League to beat arch-rivals Mohun Bagan and win the Federation Cup.
Forced to rebuild the squad completely at the start of the 2017-18 season due to the Indian Super League draft, Roca got down to business and Bengaluru became the first Indian side to reach back-to-back semifinals at the continental stage.
After falling short against Tajikistan side FC Istiklol in the Inter-zone final in the 2017 AFC Cup, the 'Blues' arrived in the expanded ISL and finished the league stage in pole position with a record tally of 40 points from 13 wins and made their way into the grand final in their first attempt.
He helped BFC put aside the heartbreak of losing the ISL final against Chennaiyin FC in March, spurring them on to a triumphant Super Cup campaign last month.
In his two seasons in Bengaluru, Roca managed a staggering 60 per cent win percentage while achieving a record 15-match unbeaten run for the club early this year.
Ranieri to leave Nantes - club
Italian coach Claudio Ranieri will leave Nantes at the end of the season, the Ligue 1 club said on Thursday.
"The club and the coach have decided to part company by mutual agreement. We thank Claudio Ranieri and his staff for all the work done this season," club president Waldemar Kita said in a statement.
Ranieri, who previously coached Juventus, Chelsea, ASRoma, Greece and led LeicesterCity to a shock Premier League title triumph in 2016, joined Nantes during the close season.
Nantes are 10th in Ligue 1 with one game remaining.