News of all that's transpired on and off the football field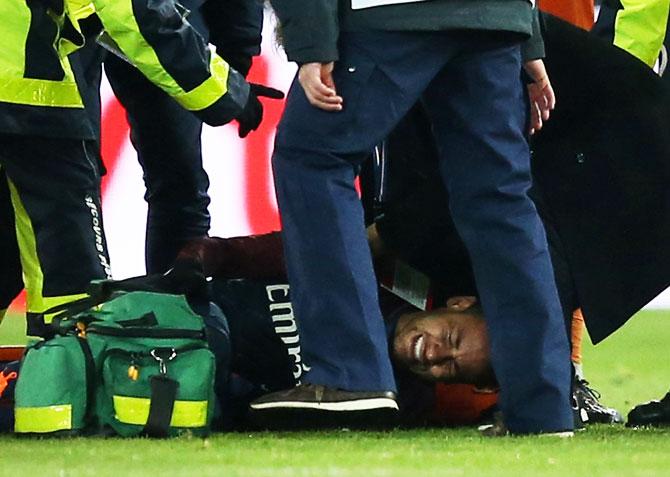 IMAGE: Paris Saint-Germain's Neymar receives treatment from medical staff after sustaining an injury during their Ligue 1 match against Olympic Marsielle at Parc des Princes Stadium in Paris on Sunday. Photograph: Stephane Mahe/Reuters
Neymar's broken foot and sprained ankle will keep him out of action for at least six weeks, his father said on Tuesday, but no decision has yet been made on whether surgery will be required to repair the damage.
The world's most expensive footballer suffered the injury during Sunday's 3-1 Ligue 1 win over Paris Saint Germain's arch-rivals Olympique de Marseille and the Brazilian was in tears as he was carried off the pitch at Parc de Princes.
His father said the damage was such that Neymar would definitely miss next week's Champions League encounter against Real Madrid.
"PSG know that they won't have Neymar in the next few games and that they won't have Neymar for the next six weeks at least," he told ESPN Brasil.
"Because this treatment is going to take six to eight weeks, we know that, whether it is surgery or conventional, it will be six or eight weeks."
Neymar Senior said his son and the French club were waiting to see the Brazil's national team doctor before deciding whether or not the forward needed surgery.
Brazil's most important player in recent years, Neymar is a key part of the squad that will head to the World Cup finals in Russia in June.
"They will decide together," Neymar Sr said. "It is a difficult time for us. We don't want to be in this situation. But we have to accept it and help Neymar as best we can."
The comments made live on air to a sports talk show contradicted those of Paris St Germain manager Unai Emery, who had said the 26-year old could be ready for the season-defining clash against Madrid.
PSG trail Real 3-1 ahead of the last 16 second-leg game in Paris on March 6.
Neymar has scored 28 goals and provided 16 assists for PSG this season.
Tottenham boss Pochettino sceptical about winter break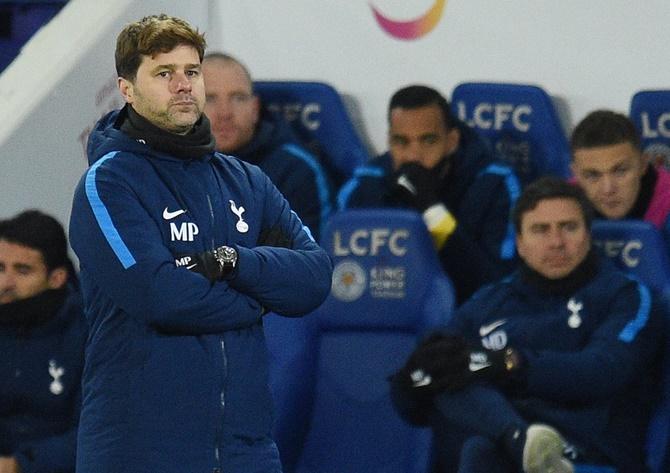 IMAGE: Mauricio Pochettino reacts. Photograph: Tottenham Hotspur/Twitter
Tottenham Hotspur manager Mauricio Pochettino has questioned whether the proposed winter break would work successfully in England, saying the Premier League was completely different to other European leagues.
British media reports say that the Football Association (FA), English Football League (EFL) and Premier League have discussed the possibility of top-flight teams having a staggered annual 13-day break in early February, starting from 2020.
The finer details of the proposal have yet to be sorted out but Pochettino said organisers would have a tough task on their hands.
"I think that the Premier League is the Premier League. It is different to other leagues. To keep the same dynamic is so important," Pochettino told a news conference on Tuesday.
"I don't know how it is going to work... In England you cannot stop playing on Boxing Day or in the New Year or in the Christmas period. I think this is the most beautiful period in England to play football.
"But in Spain, if you want to play in this period, the fans are not happy. It is cultural. Maybe in February it is going to happen. So okay, we will see if it is going to work but I'm not sure."
Clubs in Spain, Germany, Italy and France have breaks in December and January but English domestic competitions are spread out so there is no lull in action from the start of the season to the finish.
As a result, the proposed change would also require alterations to the FA Cup schedule, with media reports suggesting that the current idea would only work if FA Cup fifth round fixtures were played mid-week and without any replays.
Football League teams would not get a break as they play 46 games every campaign, leaving no room for a hiatus.
Tottenham, who are fourth in the league, host Rochdale in the replay of their FA Cup fifth round tie on Wednesday, with the teams drawing 2-2 at Spotland earlier this month.