News of all that's transpired on and off the football field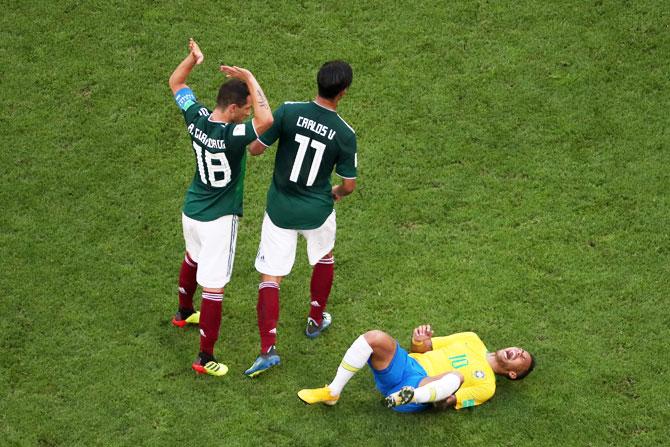 Ridiculed the world over for faking and diving during a disappointing World Cup campaign in Russia, Brazilian forward Neymar has admitted to "exaggerated" reactions saying he is still learning to deal with frustration.
In a 90-second video made for his sponsor Gillette and published on social media accounts and Brazilian television, Neymar sought to win back fans who criticised his behaviour.
"Studs on my calf, knee in my back, stamp on my foot," he said.
"You might think I exaggerate and sometimes I really do exaggerate. But the fact is that I suffer on the field.
"There's still a child inside me. Sometimes he enchants the world and sometimes he irritates the world."
The Paris St Germain striker had hoped the Russia World Cup would elevate him to a similar status enjoyed by thirty-somethings Lionel Messi and Cristiano Ronaldo -- the two players who have shared the FIFA World Player of the Year award over the last decade.
Instead, he bowed out at the quarter-final stage when Brazil lost to Belgium as fans focused less on his football and more on the dives, rolls and tears he produced.
The 26-year old former Santos and Barcelona player, who suffered a serious foot injury in February and returned to action just days before the start of the World Cup, told fans in his homeland he was working to become a better person and deal with the disappointments football threw at him.
"When I seem rude, it's not because I am a spoilt child, it's because I haven't learnt to deal with frustration," he said in a voiceover to the black-and-white video.
"It's taken me time to accept your criticism, it's taken me time to look into the mirror and transform myself into a new man. But I am here, with a new face and an open heart. I fell down but only those that fell down can get up.
"You can keep throwing stones or throw those stones away and help me stand. When I stand on my own two feet, all of Brazil stands with me."
Man City's Mahrez cleared to resume training after knock
Manchester City forward Riyad Mahrez has been cleared to return to training this week following an ankle knock sustained in Saturday's 3-2 win over Bayern Munich in the United States.
Mahrez, who joined the Premier League champions on a five-year contract earlier this month, was substituted after a tough tackle by Bayern defender Chris Richards in the first half of their final pre-season clash.
However, City allayed fears that the Algerian international, who returned to Manchester with his foot in a protective boot, would miss the start of the new season. City take on FA Cup winners Chelsea for the Community Shield on Sunday.
"A scan today has revealed no significant damage, and he (Mahrez) could be available for selection for this weekend's Community Shield against Chelsea," City said on their website.
Pep Guardiola's team then take on Arsenal in their opening league clash on Aug. 12.
Pizarro joins Werder Bremen for a fourth and final stint
Veteran striker Claudio Pizarro has rejoined Werder Bremen at the age of 39 for a fourth stint at the Bundesliga club which the Peruvian says will mark the end of his career.
Werder's sporting director Frank Baumann said the club has signed a performance-related contract with Pizarro, who is the highest-scoring foreign player in the Bundesliga's history with 192 goals in 446 appearances.
"I am delighted to have another chance to join the team and end my career at the club where I started out in Europe," said Pizarro.
Pizarro first moved to Bremen in 1999 from Alianza Lima in his homeland and spent two seasons there.
He returned in 2008, initially on loan from Chelsea before being signed outright, for another four seasons and came back for two more in 2015.
He has also had two stints at Bayern Munich and spent last season at relegated Cologne, scoring one goal.
"I'm looking forward to sharing my experience, but I won't hide the fact that I'm coming back to score goals as well," said Pizarro, who was overlooked by Peru for this year's World Cup - their first appearance at the tournament for 36 years.
"I am convinced that together we will be playing a strong season together."
Sturridge keen to revive Liverpool career after pre-season run
Daniel Sturridge is looking to put his injury troubles behind him and re-establish himself in the Liverpool side for the upcoming campaign.
The 28-year-old's career has been blighted by injuries, the most recent of which was a hamstring problem that limited him to six appearances on loan at West Bromwich Albion in 2018.
The England striker has impressed in Liverpool's pre-season matches, however, scoring in a 4-1 win over Manchester United on Sunday that prompted manager Juergen Klopp to say that Sturridge would have a role to play at the club "if he is fit".
"The hunger will never change. I'm taking every day as it comes with a positive mindset. That's all I'm going to do," Sturridge told reporters.
"Pre-season has been going great but, you know, I'm not getting too carried away. It's just great to be part of the club and helping and making sure that we can win games.
"I just want to help the team win something ... We have been close before a lot of times. I wasn't here for last season's Champions League (final) but it was so close, so close.
"We want to win something."
Liverpool face Italian sides Napoli and Torino in their remaining pre-season fixtures before kicking off their Premier League campaign against West Ham United on Aug. 12.
Luiz aiming to stay at Chelsea and flourish under Sarri
Chelsea defender David Luiz has dismissed speculation about a potential departure from the Premier League club and said he is aiming to win titles under new manager Maurizio Sarri.
The 31-year-old, who rejoined Chelsea from Paris St Germain in 2016, will have a chance to re-establish himself at Stamford Bridge following an injury-ridden season, when he made only 10 league appearances under former boss Antonio Conte.
His poor domestic run led to his omission from Brazil's World Cup squad for Russia.
"I came back to Chelsea to stay," Luiz told reporters.
"When I took my decision to come back here from Paris it was to win the Premier League and to do something again with Chelsea, so I am very happy here.
Luiz has featured in both of Chelsea's pre-season matches under Sarri, who has started his reign with victories over Inter Milan and Perth Glory.
"I love Sarri's philosophy," Luiz said.
"We play high, with a lot of possession in a technical way. He's trying to help us every single day to learn quickly his philosophy.
"A new philosophy always takes time. But it also depends on us. If we're dedicated every day and doing things every single day in training, we're trying to learn quickly."
Chelsea will face league rivals Arsenal and French top-flight team Olympique Lyonnais in their remaining pre-season fixtures before their Community Shield match against Manchester City on August 5.
The London outfit begin their league campaign against Huddersfield Town on August 11.
Sissoko injury is not serious, says Tottenham boss Pochettino
Tottenham Hotspur manager Mauricio Pochettino has allayed fears of a long-term absence for midfielder Moussa Sissoko, who suffered a hamstring injury during Sunday's pre-season defeat by Barcelona.
Frenchman Sissoko was replaced by Georges-Kevin N'Koudou in the first half of Tottenham's International Champions Cup tie against Barcelona. The reigning Spanish champions won 5-3 on penalties after the match ended 2-2 after 90 minutes.
"Yes, I think it's minor. Maybe he was a little bit tired, but I think it's not a big issue," Pochettino told Spurs TV.
"We will wait... the next few days to see what happened."
Tottenham midfielders Victor Wanyama and Erik Lamela also missed the Barcelona game.
"Erik (Lamela) was, after the game against Roma, a minor muscle injury, that's why he's here with us and we hope he can play against AC Milan," Pochettino added.
"Victor (Wanyama) has gone back with Tashan (Oakley-Boothe) to London to see the doctor. I think it was the same problem as last season in his knee. We will assess him in the next few days and see what happens."
Spurs play their final International Champions Cup match against Italy's AC Milan on Wednesday and face Girona in a friendly before their opening league fixture against Newcastle United on August 11.