News of all that's transpired on and off the football field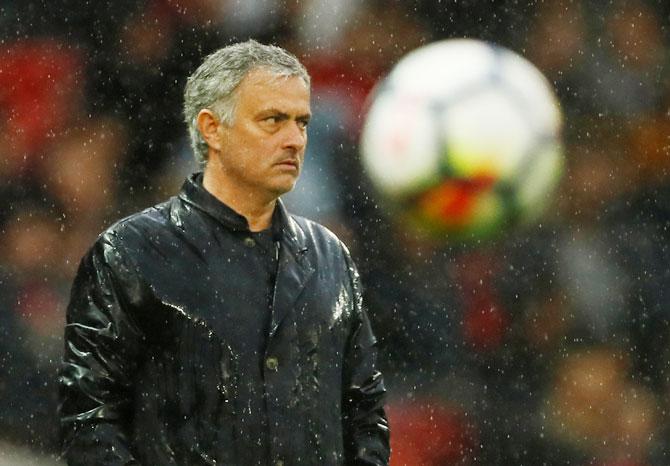 Manchester United manager Jose Mourinho is ready to drop established players for the FA Cup semi-final against Tottenham Hotspur on Saturday after the Old Trafford club's weekend defeat by Premier League bottom side West Bromwich Albion.
United suffered a shock 1-0 home loss to West Brom on Sunday, handing the title to ManchesterCity, and Mourinho said his team were the "masters of complication". They next visit Bournemouth on Wednesday before facing Spurs at Wembley.
Asked if he would rotate his players for the midweek league game on the south coast, Mourinho indicated that some of those who played against West Brom would feature again at Bournemouth because they had lost their place for the semi-final.
"Rotating is not the right word," he was quoted as saying by The Independent.
"If I play a player against Bournemouth and the player is phenomenal, he plays the semi-final.
"So is not rotating, because rotating looks like a player plays against Bournemouth to give a rest to somebody that is going to play against Spurs in the semi-final.
"So the word is not rotation, it is an opportunity for people, for some people, to play and to try to get a place in the team for Spurs. Some of the guys that played (on Sunday) don't have a place in that team."
Asked to clarify if he meant those who performed badly against West Brom would not play against Tottenham, Mourinho said: "Yeah. What is the criteria for a manager to choose a team? I only know one criteria: (it) is the way you play.
"Or do you want me to go for the price they cost, or their salary, or their beautiful face? The only way is to go with performance."
Ander Herrera was substituted at halftime against West Brom, while fellow midfielder Paul Pogba came off in the 58th minute, but Mourinho said that a yellow card had also been a factor in the Frenchman's replacement.
"It was not just him and he had a yellow card, so he was in a more difficult position than others," Mourinho said.
"And playing with only two midfield players, you cannot play with one player in risk of not being able to make a foul.
"You can do it if your team is not losing the ball, but our team was losing the ball so easy with the complication, everything was complicated, so we were losing lots of balls.
"Paul was out because of the yellow card, because in terms of the way he played, he was not worse than some others that were on the pitch for 90 minutes."
VAR awards penalty after players leave the pitch at halftime
The players of Mainz 05 and Freiburg were ordered back onto the pitch having gone to the changing room at halftime because the video assistant referee (VAR) awarded a penalty for a handball in an eventful Bundesliga game on Monday.
Referee Guido Winkmann, who was also on his way to the tunnel before the VAR intervened, ordered the players to return so that Mainz's Pablo De Blasis could take and score a penalty.
The penalty was given for a handball by Marc-Oliver Kempf that the VAR noticed after the halftime whistle had blown.
Freiburg coach Christian Streich, who was recently sent off for dissent in a league match, was on the sideline smiling and shaking his head in disbelief after being told to get his players back out on the pitch.
Kempf, who conceded the spot kick, was substituted at halftime.
There was a further 10-minute delay before the start of the second half as fans threw hundreds of toilet rolls onto the pitch in a protest against Monday evening matches.
Many German fans have opposed the introduction of Monday games, saying matches should be played on the weekend when most supporters can attend. Protests have taken place during most Monday games.
De Blasis eventually added a second goal for the hosts late in the game following a mistake by Freiburg keeper Alexander Schwolow.
Mainz climbed to 15th on goal difference above Freiburg who fell to 16th, the relegation playoff spot.
The VAR system has been used in the Bundesliga this season but not without controversy as it has been at the centre of several disputed decisions.
Dortmund's Batshuayi to miss rest of the season with injury
Borussia Dortmund loanee Michy Batshuayi will miss the rest of the domestic season with an ankle injury but the striker could still feature for Belgium at the World Cup, the Bundesliga club said on Monday.
The 24-year-old was taken off on a stretcher late on during Dortmund's 2-0 league defeat by Schalke 04 on Sunday.
"Michy Batshuayi sustained an ankle injury in the Ruhr derby against FC Schalke 04 and will probably miss the remainder of the season," Dortmund said in a statement.
"However, there remains a chance that he could still feature for the Belgian national team at the World Cup in Russia this (European) summer."
Batshuayi has been in impressive form for Dortmund since securing a January loan move from Premier League side Chelsea until the end of the season, scoring nine goals in 14 appearances across all competitions.
He now faces a race against time to feature in Roberto Martinez's Belgium team, who begin their World Cup campaign against Panama on June 18.
"I didn't think it looked like the kind of injury that he would be back from quickly," Dortmund manager Peter Stoeger told the club's website https://www.bvb.de/eng following the injury.
"I hope, of course, that I'm mistaken. I can't yet say anything specific, other than the fact that he's in pain and will now be examined in more detail. Hopefully it's not as bad as it looks."
Valverde leaves key Barca players out of Celta trip
Barcelona coach CLV-FCBhas left regular starters Gerard Pique, Sergio Busquets, Andres Iniesta and Ivan Rakitic out of his squad to face Celta Vigo on Tuesday in La Liga.
The Catalans are 11 points clear at the top of the table with six matches remaining, but face Sevilla in the King's Cup final on Saturday at the Wanda Metropolitano in Madrid.
Barcelona are unbeaten in a league record 39 games but will risk that streak ending as they head to Vigo with a weakened squad, which the club named Monday.
Last season Barcelona were beaten 4-3 at Celta in the league and suffered a 4-1 humiliation the year before that.
Lucas Digne returns to the squad after injury, while Aleix Vidal and Yerry Mina have been recalled after being omitted for the 2-1 win over Valencia in La Liga on Saturday.
Russia ready to cooperate with FIFA probe into racist chants
World Cup hosts Russia will cooperate with a FIFA investigation into racist abuse directed at French players by Russian fans during a friendly last month, a Russian soccer official said on Monday.
Alexei Smertin, the Russian Football Union's anti-discrimination inspector, said global soccer's governing body had informed it about the launch of an investigation into the incident.
"The Russian Football Union is ready to take an active part in it (the FIFA probe) and is already conducting an internal investigation," Smertin said in a statement carried by Russian news agencies.
Smertin told a news conference later on Monday that the perpetrators of racist abuse should be punished.
"We are looking for the people who were shouting," he said.
"They should not be at soccer stadiums."
A Reuters photographer at pitch level for France's 3-1 win over Russia in St Petersburg heard monkey chants directed at French players on several occasions, including when midfielder N'Golo Kante came to the sideline for a throw-in.
Russia has pledged to crack down on racism as the country faces increased scrutiny ahead of this year's World Cup, which it will host from June 14 to July 15 in 11 cities including Moscow, St Petersburg and Sochi.
There have been other reported cases of racist abuse, however, in the run-up to the tournament.
At CSKA Moscow's Europa League quarter-final match against Arsenal last week, a Reuters photographer heard monkey chants aimed at some of Arsenal's black players made by dozens of supporters.
CSKA dismissed the Reuters account and said in a statement that they were "outraged" by what they called a "slanderous" report.
European soccer's governing body, UEFA, told Reuters last week that no racist behaviour had been reported to it by match officials at the game.
Swiss club Sion given one-season European ban
Swiss club FC Sion have been given a one-season ban from European competition for breaching UEFA's club licensing rules, the European soccer body said on Monday.
UEFA said that Sion had failed to declare an outstanding bill of 950,000 euros ($1.18 million) owed to French club Sochaux when submitting documents ahead of their participation in this season's Europa League.
Clubs are not allowed to take part in European competition if they have unpaid bills to other parties.
"The club is excluded from participating in the next UEFA club competition for which it would otherwise qualify in the next two seasons (i.e. 2018/19 and 2019/20 seasons)," said UEFA in a statement.
Sion were also fined 235,000 euros.
"There can be no dispute that there were overdue payables which should have been included in the financial information submitted by the club," said UEFA.
UEFA recognised that Sion, who were kicked out of the Europa League in 2011/12 for fielding ineligible players in a qualifying tie against Celtic, had made an administrative mistake, rather than deliberately concealing the unpaid bill.
UEFA, however, said its financial board had "stressed on a number of occasions that a club's disclosures have to be "correct" and "accurate", otherwise the whole club licensing and financial fair play system would be undermined."
Sion entered this season's Europa League in the third qualifying round and were immediately eliminated 4-1 on aggregate by Lithuania's Suduva Marijampole.
Sion are currently ninth out of 10 teams in the Swiss Super League and fighting relegation although they are still only nine points off the European places.
Sion president Christian Constantin was banned for nine months -- later reduced to five on appeal by the Court of Arbitration for Sport -- for punching a television commentator who had criticised him in September.
Kazakh club FC Irtysh were also given a one-season ban, however UEFA said this had been suspended for a probationary period of three seasons. The club was fined 435,000 euros.
UEFA said that it had withheld 215,000 euros of Europa League participation bonuses from both Serbian club FC Vojvodina and Albania's KF Tirana for breaching licensing rules.
UEFA condemns online abuse of referee Oliver and his wife
UEFA has condemned the online abuse aimed at Michael Oliver and his wife after the English referee awarded a decisive stoppage-time penalty to Real Madrid against Juventus in their Champions League quarter-final, second leg last week.
"UEFA strongly condemns the abuse directed at Michael Oliver and his wife," European soccer's governing body said in a statement.
"We have been in contact with them to offer our support and we trust the relevant authorities to take action against those individuals who have behaved inappropriately both on and off social media."
Juventus, who had wiped out a three-goal deficit from the first leg, were furious when Oliver awarded a soft penalty for a foul by defender Medhi Benatia on Real forward Lucas Vazquez.
Cristiano Ronaldo converted the spot kick to make it 3-1 and send Real through to the semi-finals 4-3 on aggregate.
The BBC reported on Sunday that British police were investigating threatening text messages sent to Oliver's wife Lucy, whose Twitter account was also targeted with threatening and abusive messages.
The 33-year-old Oliver was bitterly criticised by some Juve players after the match, with goalkeeper Gianluigi Buffon saying the official was not prepared for such a high-profile game and should instead have been eating crisps in the stands.
Buffon, who was sent off for his furious protest, said that Oliver had a "garbage bin" instead of a heart.
On Saturday, Buffon said in an interview that he would repeat the comments all over again but in "more civil" language.
"I am a human being who puts passion, sentiment and anger into what I do," he said.
Former England forward Gary Lineker was among those who said that Buffon's comments were over-the-top.
"These vituperous attacks on Michael Oliver and his wife are repugnant," he said on Twitter.
"Big admirer of Buffon but his behaviour since has been inflammatory and out of order. Oliver was doing his job and hard to argue against his decisions. Understand the emotion but time to defuse it, Gianluigi."
FIFA task force arrives to inspect 2026 candidate Morocco
Morocco's bid to host the 2026 World Cup went under the microscope on Monday as a task force from global soccer body FIFA arrived for an inspection visit to assess the country's ability to host the tournament.
Morocco is the only rival to a joint bid to stage the event from the United States, Canada and Mexico with the FIFA Congress due to choose the hosts in Moscow on June 13.
Morocco's bid committee said in a statement that the five-man task force will visit several cities between April 17-19 as well as stadiums, training camps and fan fest sites, together with other venues related to the organisation of the competition.
The task force will use a point-scoring system to evaluate the two candidates and a bid which does not meet a minimum score on a number of different points will be disqualified before the final vote in Russia.
"Morocco is offering... an innovative and compact concept to ensure operational efficiency, outstanding profitability and a lasting legacy in Morocco and Africa," said Moulay Hafid Elalamy, president of the bid committee, in the statement.
He added that the visit would "strive to convey the vision of a humble, passionate, determined bid, but above all a professional and solid one."
Morocco's bid plays heavily on the country's passion for football and its fan culture, on its relatively compact size, its proximity to Europe and climate.
Morocco has already made four unsuccessful bids to host the tournaments for 1994, 1998, 2006 and 2010, although it was close on three occasions.
The country was second to the U.S. for 1994, behind France for 1998 and just lost out to South Africa for the 2010 finals, the only time the event has been held in Africa.
Some of FIFA's national associations have already publicly stated who they will vote for and Morocco received South Africa's backing on Monday.
South Africa Football Association (SAFA) president Danny Jordaan said that Morocco's bid was Africa's bid.
"It is an old myth that Africa doesn't have the capacity and naysayers should stop using the political argument," he said. "Africa hosted the best FIFA World Cup ever and with good support, Morocco can emulate South Africa."
FIFA has 211 member associations who all hold one vote at Congress although FAs cannot vote on World Cup hosting if they are part of a bid or if they are suspended from FIFA at the time.