News of all that's transpired on and off the football field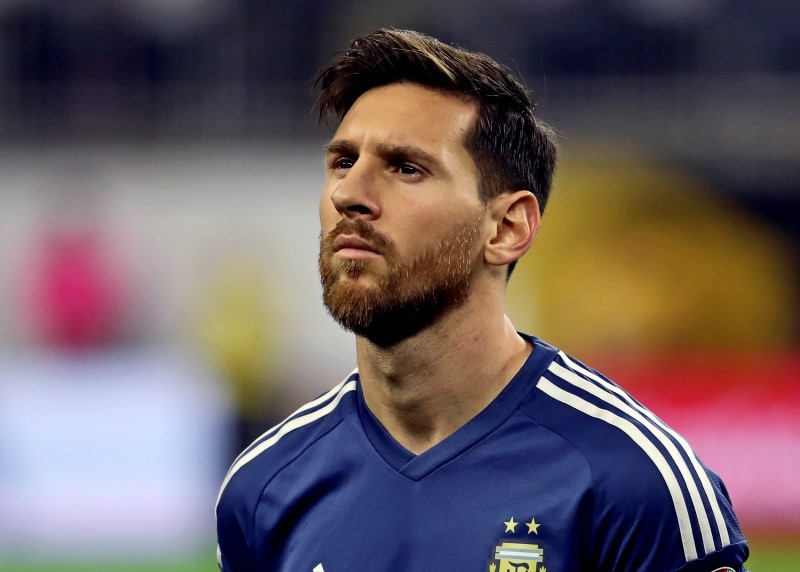 IMAGE: Argentina's Lionel Messi. Photograph: Kevin Jairaj-USA TODAY Sport/Reuters
Argentina captain Lionel Messi believes they need to improve if they are to stand a chance of winning next year's World Cup in Russia.
Argentina, who reached the final in 2014, struggled during qualification for Russia, going through three coaches before securing their place at the tournament thanks to a Messi hat-trick in a 3-1 win away to Ecuador in the final qualifier.
Messi's side will kick off their World Cup campaign against Iceland on June 16, before facing Croatia and Nigeria in their other group stage fixtures.
Next year's tournament may be the last chance for the 30-year-old Messi to win a major rophy with Argentina and the Barcelona forward says they need to make changes in order to overcome more fancied countries.
"We had a difficult time (in qualifying), but we had our moments," Messi told TyC Sports.
"But it's true that we need to improve if we want to be world champions. Right now we're not far off, but there are better sides than us such as Brazil, Germany, France and Spain."
As well as losing to Germany in the 2014 World Cup final, Argentina were also defeated by Chile in successive Copa America finals in 2015 and 2016.
Messi, however, believes they should have celebrated at least two victories.
"I never went back over the finals (we lost). We deserved to win them, despite not playing that well we still had the best chances, both in the World Cup and Copa America," he said.
"I'd have to watch them again to see what we didn't get right in order not to win them, but right here I believe they we should have won at least two of them."
Messi and his teammates have had a tumultuous relationship with the Argentine media, boycotting them 12-months ago due to what the national team perceived as unfair treatment.
He said that media criticism has created a culture of fear within the squad.
"Criticism went above and beyond what is normal and became personal," he said.
"The bitterness we feel is because we know what's coming if things don't go well for us. People want results and if they don't get them, they want to see fresh blood. We don't feel that way."
Brussels loses right to host Euro 2020 matches, Wembley gains four games
Brussels has lost the right to stage Euro 2020 matches following delays in the development of its new Eurostadium with the four games it was due to host going to London's Wembley instead.
UEFA president Aleksander Ceferin said on Thursday that those four matches would be in addition to the two semi-finals and final already scheduled to be played at England's national stadium.
Wembley was preferred to Cardiff and Stockholm, which were both among the original 19 candidate cities for the tournament and had also been named by UEFA as possible replacements for Brussels.
The 2020 tournament is being played in 12 cities across Europe, instead of one or two host nations, as a one-off to celebrate the tournament's 60th anniversary.
UEFA also announced that Rome's Stadio Olimpico would host the opening match.
The building of the Brussels Eurostadium had run into delays involving the applications for construction and environmental permits.
"We discussed with Brussels for quite a long time and they were not able to provide us with all the documentation. Today we don't know if they can build a stadium or not," Ceferin told reporters.
"They still don't have the documents... They didn't expect a decision until January and they did not know whether that would be yes or no.
"Experts from (our) administration felt it was a high risk for UEFA to wait. If the answer had been no, it would have been a problem for us to find a new stadium."
Koen De Brabander, chief executive of the Belgian Football Association, said in a statement that they did everything they could to make UEFA hold off.
"Missing out on Euro 2020 does not necessarily mean a death blow for our stadium plans," he said. "We absolutely need a new 45,000-seat stadium and we hope that the competent ministers will grant the permit in January so that a stadium for the 21st century can finally be built in our country."
UEFA also divided host cities into pairs, with each pair sharing matches in a given group.
It said that Group A would be played in Rome and Baku, Group B in St Petersburg and Copenhagen, Group C in Amsterdam and Bucharest, Group D in London and Glasgow, Group E in Bilbao and Dublin and Group F in Munich and Budapest.
UEFA said that each host nation that qualifies will play at least two matches at home in the group stage. None of the hosts qualify automatically.
The Welsh FA (FAW) said in a statement that it was "extremely disappointed" with the outcome.
"The concept of Euro 2020 to 13 different countries was devised to allow smaller countries, like Wales, to have a unique opportunity of being involved in staging a major tournament," it said. "Wales has never staged a Euro or World Cup Final and this was its one and only chance of doing so."