News of all that's transpired on and off the football field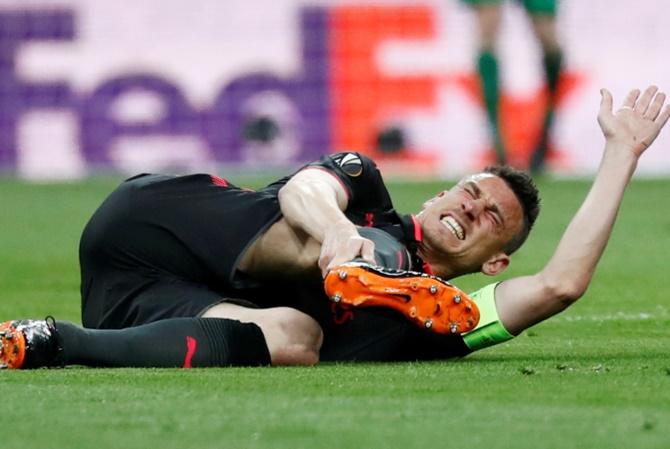 France defender Laurent Koscielny will miss the World Cup and faces six months out after undergoing surgery on an Achilles tendon injury he suffered in Arsenal's Europa League defeat at Atletico Madrid, his club manager Arsene Wenger said on Tuesday.
The centre back was withdrawn in the 12th minute of the semi-final second leg last Thursday after losing his footing at the Wanda Metropolitano as Arsenal were eliminated from the tournament following a 1-0 defeat in the Spanish capital.
"Koscielny is, of course, devastated because he had surgery," Wenger told a news conference ahead of Wednesday's Premier League trip to ninth-placed Leicester City.
"He will miss the World Cup... you will not see him until December at best.
"We always try to be positive, but overall you can only try to support people when they suffer. What is unusual in his case is that he had a tendinopathy for a long time and usually it does not rupture but in this case it went."
The 32-year-old Koscielny, who has earned 51 caps for France, made 25 league appearances for Arsenal this season and was expected to feature in Didier Deschamps' squad at the June-July World Cup in Russia.
Iniesta's move to China in doubt
Andres Iniesta's potential move to Chinese Super League side Chongqing Lifan has been cast into doubt after they said they will not pay the Barcelona playmaker a salary that would distort the market.
Barca captain Iniesta, 33, said in April he would leave the club he joined as a 12-year-old in the summer, with media reports suggesting he would be moving to Chongqing.
In a statement on social network Weibo on Friday, the Chinese side's president Jiang Lizhang said they are working with Iniesta in areas including marketing and youth education, but there is no deal for him to play.
Chongqing said they would adhere to rational investment and follow rules set by the government-controlled Chinese Football Association, which includes a salary cap.
Spanish reports had indicated Iniesta was close to agreeing a three-year deal with Chongqing, worth 81 million euros ($97 million).
Ozil out with back injury but expects to be fit for World Cup
Arsenal midfielder Mesut Ozil is not expected to return for the remaining two games of the Premier League season due to a back injury but the German is confident he will be fit for the World Cup.
Ozil, who played in Arsenal's 1-0 Europa League semi-final second leg defeat at Atletico Madrid last week, watched from the stands as Arsenal thrashed Burnley 5-0 at the weekend.
He wrote on Twitter that it was a "pity" he missed Sunday's match due to the injury.
"It'll need some time but I'm sure I'll fully recover in time for the World Cup," he added.
Arsenal wrap up the season against Leicester City on Wednesday and Huddersfield Town on Sunday.
Defending champions Germany begin their World Cup campaign in Russia against Mexico on June 17.