News of all that's transpired on and off the football field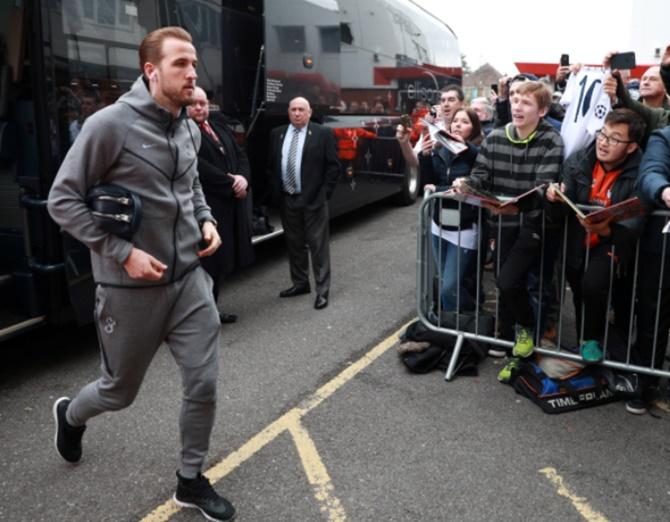 IMAGE: Tottenham's Harry Kane arrives before the match. Photograph: Ian Walton/Reuters
Tottenham Hotspur's eagerly-awaited medical bulletin on their England striker Harry Kane's right ankle provided good news on Wednesday with the club saying he could be playing next month.
When Kane hobbled away from Bournemouth's Vitality Stadium on Sunday having been substituted early in the 4-1 Premier League win, there were fears he had sustained serious damage.
However, the first update on his condition from Tottenham since the weekend offered a more optimistic scenario.
"Preliminary assessments have confirmed that (Kane) has damaged lateral ligaments in his right ankle," the club said in a statement on Twitter.
"The England striker sustained the injury following a challenge in our 4-1 win over Bournemouth on Sunday and is expected to return to first team training next month."
Kane has scored 39 goals for club and country this season and is expected to be England's main striker at the World Cup finals in Russia which start in June.
He will miss Tottenham's FA Cup quarter-final at Swansea City this weekend and England's friendly internationals against the Netherlands on March 23 and Italy on March 27.
England manager Gareth Southgate will select his squad for the two friendlies on Thursday.
Kane, who is almost certain to miss Tottenham's next Premier League game away at Chelsea on April 1, spent two spells on the sidelines last season, both because of right ankle problems.
Russia official shrugs at British government boycott
It does not matter if British officials boycott the soccer World Cup, which will be hosted by Russia, Interfax news agency cited Russian Football Union Vice President Nikita Simonyan as saying.
"That's their problem. What matters is whether the team comes, and it wants to come. The World Cup is once every four years," Simonyan said.
Brazil soccer great Pele still recovering from two surgeries
Pele is still recovering from two surgeries that left him practically "out of the game," the Brazilian soccer great told an audience at the World Economic Forum on Latin America in Sao Paulo.
Pakistan's international ban lifted by FIFA
Pakistan's ban from international soccer has been lifted by FIFA following the end of "undue third-party interference" in the country's football federation (PFF), the world governing body said.
The ban, in force since October, had barred Pakistan's teams, including the senior national side, from playing in international competition while the PFF was denied access to FIFA development and training programmes.
FIFA said it lifted the ban after an administrator appointed by the Lahore High Court was directed to hand control back to the PFF.
FIFA said the PFF had "successfully taken back control of the PFF offices along with the PFF accounts on March 1" and added that it was still closely following the situation at the federation.
According to FIFA records, Pakistan, 203rd of 211 teams in the world rankings, have not played a full international since a 0-0 draw with Yemen in a World Cup qualifier in March 2015.
Pakistan have never qualified for the World Cup.
Arsenal's Wenger understands Mertesacker's wish to retire
Arsenal manager Arsene Wenger says he understands club skipper Per Mertesacker's desire to stop playing next season because of the mental and physical toll the game has taken on the German.
The World Cup-winning defender, who has made only 11 appearances for Arsenal this season, said in an interview with German publication Der Spiegel that his "body was finished" and that he would rather sit on the bench or in the stands.
Arsenal had already announced the 33-year-old would take up a role with the Premier League club's academy next season.
Wenger was asked about Mertesacker's comments at a news conference on the eve of Thursday's Europa League last 16 clash at home to AC Milan which they lead 2-0 from the first leg.
"The quotes weren't a surprise for me," Wenger said.
"To be a pro footballer is high expectations. They are very demanding of themselves and that creates stress.
"There is huge expectation from the environment they are in and that creates stress. To play at the level they play you need a huge resistance to stress. You are depending on your body."
Wenger described Mertesacker, who he signed from Werder Bremen in 2011, as the model professional and said he could change his mind about playing again.
West Ham vow to ban pitch invaders for life
West Ham United say supporters who invaded the pitch and threw missiles towards the directors' box during Saturday's home defeat by Burnley will be banned for life.
At least two supporters entered the playing area during the second half in which Burnley scored three times to win 3-0 and leave West Ham in relegation danger from the Premier League.
One of the fans, a 61-year-old businessman, took a corner flag and planted it in the centre circle to protest the club's move from Upton Park Stadium.
West Ham co-owners David Gold and David Sullivan were verbally abused and had coins thrown at them in the directors' box as fans congregated below.
The club, which moved into the Olympic 2012 stadium, now known as the London Stadium, at the beginning of last season as lead tenants, have held emergency meetings with stakeholders.
"West Ham United are committed to taking decisive and positive action with the primary focus of ensuring London Stadium is a safe, comfortable and secure environment for supporters attending future matches," a statement said.
"Following the incidents which marred the second half of the Premier League fixture with Burnley, the Club is conducting a full and thorough investigation, and has attended a series of emergency meetings with London Stadium stakeholders.
"The Club is working in close conjunction with the Metropolitan Police to identify those individuals, who entered the pitch during the second half, and with stadium operator LS185, using London Stadium's high-quality CCTV footage, to identify those who threw missiles, both of which are specific offences under the Football (Offences) Act 1991."
"Any individual found guilty will be banned from attending any West Ham United fixture, home and away, for life and the Club will request the courts serve a banning order to prevent these individuals attending any football matches in future."