News of all that's transpired on and off the football field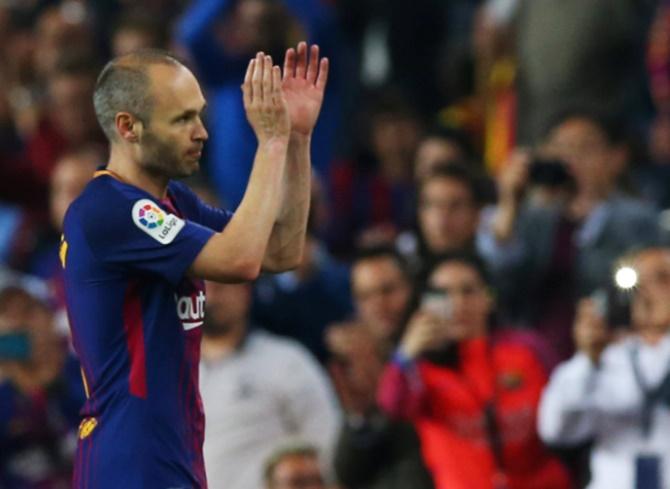 Spain midfielder Andres Iniesta kicked off a new chapter to his career when he signed for Japanese side Vissel Kobe, on Thursday, swapping La Liga for the J.League after 16 stellar years at Spanish champions Barcelona.
The 34-year-old former Barca captain, who had spent his entire career at the Nou Camp, was introduced at a news conference in Tokyo by Kobe owner Hiroshi Mikitani and will wear his familiar number eight jersey for the J.League side.
"This is a very special day. This is a very important challenge for me and my career," Iniesta said, noting that he had a lot of respect for Japanese soccer which had many high-level players.
"Therefore, I would like to contribute to my team and show my style of play. That is why I came to Japan and through my play I hope to make contributions for further development for the club and Japanese soccer."
Mikitani called Iniesta "the most respected soccer player in the world" and said his signing would not only contribute to the club but also help promote the league through his name recognition.
"I hope the J.League will grow into a league that the whole world wants to watch," said Mikitani, who is also the chief executive of Barca's main sponsor Rakuten.
The move will see Iniesta, who bid a tearful farewell when he played his final game for Barcelona on Sunday, link up with former German international Lukas Podolski, who joined the Japanese side last year.
Barcelona and Denmark great Michael Laudrup also played for Kobe for one season between 1996-97.
Iniesta will try to help Kobe, currently sixth in the J1 League after 15 games, win a first ever Japanese championship. The club's highest ever finish was seventh in 2016.
At Barcelona, he won nine La Liga titles, four Champions League titles and six King's Cups.
Napoli appoint Ancelotti in bid to end Juventus dominance
Napoli appointed the much-travelled and hugely successful Carlo Ancelotti as their new coach on Wednesday, handing him the job of trying to end Juventus' dominance of Serie A.
Ancelotti will replace Maurizio Sarri, who led Napoli to two second-place and one third-place finish during his three seasons in charge.
"SSC Napoli is delighted to announce that an agreement has been reached with Carlo Ancelotti for him to become the head coach of the first team for three seasons starting in 2018/19," the club said in a statement on its website.
Although Sarri's team won plaudits for their free-flowing, attacking football, they lacked the killer punch needed to unseat Juventus who have won Serie A for the last seven seasons.
Napoli amassed a club record 91 points in the season which finished on Sunday to become the first team to pass the 90-point mark but fail to win the title.
European clubs boss suggests Champions League overhaul
The head of the association representing Europe's most powerful clubs has suggested that the opening stage of the Champions League should consist of four groups of eight rather than the current format of eight groups of four.
Andrea Agnelli, chairman of the European Club Association (ECA), told the Guardian newspaper in an interview that Europe's top teams should play more matches in international club competition and fewer in their respective leagues.
Agnelli, also president of Serie A champions Juventus, said the ideas were being discussed among Europe's top clubs, including those from England's Premier League.
"We all want more international (European) games and less domestic, combined with an overall reduction of games because we don't want to go over a certain number," he said.
Agnelli suggested keeping the current 32-team group stage but rearranging it into four groups of eight. This would mean that teams play 14 matches instead of six at present.
"You could say that whoever participates has to play in the national league with six under-21 or under-23 players," he said, adding: "It's brainstorming because there isn't a project at the moment."
He was not suggesting a breakaway league.