News of all that's transpired on and off the football field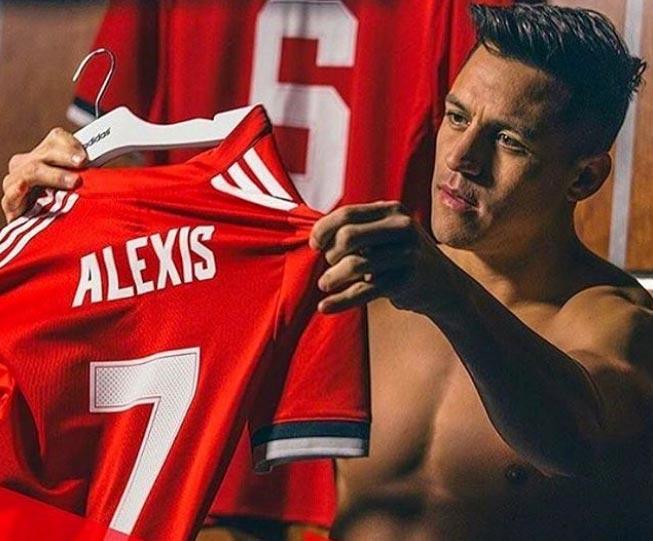 IMAGE: Alexis Sanchez checks out his new jersey after signing for Manchester United. Photograph: Alexis Sanchez/Instagram .
Manager Arsene Wenger said on Friday that Arsenal were responsible for striker Alexis Sanchez missing a drug test on the day he completed his move to Manchester United, and that the player's absence had been down to special circumstances.
Sanchez, 29, was due to be tested at Arsenal's training complex on Monday but had already travelled to Manchester to complete a swap deal that saw Armenia international Henrikh Mkhitaryan heading the other way.
"Honestly, on the administration side certainly it would still be our responsibility because, on the day, he had not moved, so maybe it will be down to us, to our responsibility," Wenger told a news conference on Friday.
"I don't know what happened but usually we try our best to get our players available and coordinate well."
Wenger said the club had not yet been contacted by UK Anti-Doping (UKAD) or the English Football Association (FA), but that Arsenal had nothing to hide.
"I'm quite relaxed because we have nothing to hide here. He has been tested so many times here, it is no worry he has any doping problem, just a bad day for him to be tested," the Frenchman added.
"It's a special event for him to miss a drugs test because he will certainly be somewhere else with his agent."
Sanchez could make his Manchester United debut against fourth-tier Yeovil Town at Huish Park in the FA Cup fourth round on Friday.
Zidane still motivated to manage crisis-hit Madrid
Embattled Real Madrid coach Zinedine Zidane said on Friday that he would resign immediately if he felt he was no longer able to get through to his players at the crisis-hit club.
The stumbling European and Spanish champions were sent packing from the King's Cup by Madrid minnows Leganes after losing 2-1 at the Santiago Bernabeu on Wednesday.
They sit fourth in the league standings, a remarkable 19 points adrift of runaway leaders Barcelona.
"If I thought my message wasn't getting through I would leave here tomorrow," Zidane told a news conference ahead of Real's game away to Valencia on Saturday.
The Frenchman was only recently hailed as a master manager of Madrid's famously tempestuous dressing room for leading the team to historic back-to-back Champions League triumphs as well as ending a five-year wait for a league title.
His qualities as a coach have been thrown into doubt this season, however, as he has been unable to resuscitate his side, who have lost three and drawn two of their last eight games in all competitions.
Real's only realistic chance of saving their woeful season is in the Champions League, where they face runaway Ligue 1 leaders Paris St Germain in the last 16.
"Football is full of good and bad moments and I have to try and turn this situation around and I still feel strong," Zidane added.
"If I didn't, then there would be a problem. I am going to try and continue doing this job with hope and keep trying to improve as a coach. No-one is going to take away my enjoyment of working until the last day.
"It's the same for the players, this is not their fault. There are many factors to consider, not just the result."
Valverde, Iniesta praise Coutinho after Barca debut
Philippe Coutinho has been tipped for a bright future at Barcelona by coach Ernesto Valverde and his new teammates after making his first appearance against Espanyol on Thursday following his club-record 142 million pound move from Liverpool.
Coutinho came on to a raucous reception from the Nou Camp when he replaced Andres Iniesta in the 68th minute of the 2-0 win over Espanyol that took Barca into the King's Cup semi-finals.
The Brazilian playmaker was unable to add to the scoreline but offered his new supporters a taste of what is to come by nutmegging an opponent shortly after coming on, and nearly getting an assist as he provided a pass to Luis Suarez, who was denied by Espanyol's goalkeeper Pau Lopez.
"When he is around the area you can feel the danger," Valverde told reporters. "His dribbling ability and his eye for passing will help us a lot. It wasn't an easy game but he has got off to a good start. Let's see what happens next; this is just the beginning."
Coutinho was sidelined with a thigh injury when he completed his move from Liverpool on Jan. 6 but after making his debut for the Catalans, his first start could come at home to Alaves in La Liga on Sunday.
"Coutinho will grow very quickly here with the talent he has and the environment he has arrived at," said Iniesta. "His quality is beyond any doubt and he will really benefit the team."
Gerard Pique added: "He has the style of a Barca player. He wants to have the ball a lot and he is similar in many ways to Andres and he will help us a lot."
Barca's Pique digs knife into Espanyol after derby win
Not content with dumping local rivals Espanyol out of the King's Cup in the quarter-finals, Barcelona captain Gerard Pique added insult to injury by mocking their city credentials.
"Espanyol de Cornella always make it difficult for us," he told reporters in a sly dig at the club's RCDE ground on the outskirts of Cornella, some 10km south-west of Barca's Nou Camp.
"Yes, of course, Espanyol de Cornella... they're from Cornella right?" he asked mischeviously after Barcelona won Thursday's second leg 2-0 to progress 2-1 on aggregate.
Espanyol moved to the 40,000-capacity RCDE in Cornella in 2009, previously playing at the Olympic Stadium, while their historical home was up in the hilly Barcelona town of Sarria.
They have won four major trophies compared to Barca's vast collection of silverware and base their identity on loyalty and local pride, calling themselves "the marvellous minority".
PSG's Alves banned for three games
Paris St Germain defender Dani Alves was banned for three games after reacting angrily at a referee's decision during a Ligue 1 game.
The French League's disciplinary commission also added a suspended one-match ban to the initial suspension.
Alves was sent off by referee Clement Turpin after almost going head against head with him during PSG's 2-1 defeat at Olympique Lyonnais last Sunday.