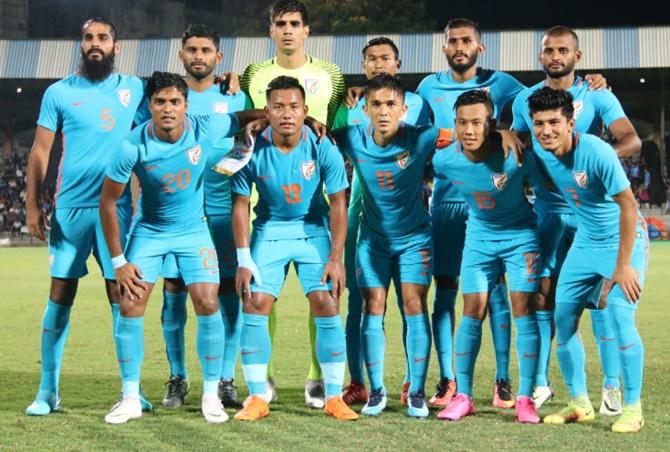 The Indian football team will not see any action this year with the Asian qualifying matches for the 2022 FIFA World Cup on Wednesday getting postponed to 2021 owing to the COVID-19 pandemic.
Qualifying matches in Asia for the 2022 Qatar World Cup have been postponed until next year, world governing body FIFA and the Asian Football Confederation said in a statement.
India's last international match was the joint qualifying round match against Oman in Muscat in November last year, which they had lost 0-1.
Though out of contention for a place in the next round of World Cup qualifiers, India are still in the reckoning for a spot in the 2023 Asian Cup. They were scheduled to play Qatar at home on October 8 followed by matches against Afghanistan (home) and Bangladesh (away) in November.
A third-place finish in the group will help India get a direct berth in the third round of the qualifiers for the 2023 Asian Cup.
The second round of Asian qualifiers were originally scheduled to take place during the international windows in October and November but they would not go ahead due to the "COVID-19 situation in many countries".
It marks the second time the qualifiers, which also serve as the road to the 2023 Asian Cup in China, have been pushed back as matches in March and June were also postponed due to the pandemic.
"With the aim of protecting the health and safety of all participants, FIFA and the AFC will continue to work together to closely monitor the situation in the region and to identify new dates for the respective qualifying matches," the statement said.
"Further details on the new dates for the next round of qualifying matches for the FIFA World Cup 2022 and the AFC Asian Cup 2023 will be announced in due course."
The AFC also suspended its elite club competition, the Asian Champions League (ACL), in early March because of the virus.
Qatar will be the regional hub for matches in West Asia when the ACL resumes on Sept. 14. Malaysia was named the centralised hub in East Asia with matches in the region due to restart in October.
Spurs sign Southampton's Hojbjerg, Walker-Peters joins Saints
Tottenham Hotspur have signed Denmark midfielder Pierre-Emile Hojbjerg from Southampton on a five-year deal with full back Kyle Walker-Peters moving in the opposite direction on a similar contract, the Premier League clubs announced on Tuesday.
Financial details of the transfer were not disclosed but British media reported that Spurs have paid Southampton an initial fee of around 15 million pounds ($19.64 million) to sign the 25-year-old Hojbjerg who had a year left on his contract.
Hojbjerg made 134 appearances for Southampton in all competitions after joining the south-coast club from Bundesliga side Bayern Munich in 2016.
"What was very important for me is that I wanted to play in a club where I could see myself for many years," Hojbjerg said in a video posted on the Spurs Twitter account.
"Tottenham was just the one. I'm very proud... I think there's a fantastic future ahead for the club. And I wanted so much to be a part of that."
The Denmark international had been stripped of the Saints captaincy in June when he made his intention to leave the club clear to manager Ralph Hasenhuettl by refusing a contract extension.
Southampton confirmed that they had signed 23-year-old Walker-Peters, who spent the second half of last season on loan at the club. British media put the fee at 12 million pounds.
"It was not easy for Kyle when he arrived here. He needed some time to adapt to our style of play, and then we had this period where we could not be together as a team," Hasenhuettl said in a statement.
"But you could see from how he performed when we came back that he had worked a lot in this time, both on his physical condition and also on his understanding of our own game. It says a lot to me about this player that he was able to do this.
"He's a good fit for our style."
Spurs finished the season sixth in the standings under Jose Mourinho, securing a berth in next season's Europa League qualifiers, while Southampton came 11th.
The new Premier League season begins on Sept. 12.
Celtic and Aberdeen matches postponed after quarantine breaches - SPFL
Celtic and Aberdeen have had their next two Scottish Premiership matches postponed after players broke quarantine rules, the Scottish Professional Football League (SPFL) said on Tuesday.
Scotland's First Minister Nicola Sturgeon demanded the cancellation after Celtic's Belgian defender Boli Bolingoli played in a 1-1 draw at Kilmarnock on Sunday without quarantining on his return from Spain where he had travelled without informing the club.
Bolingoli's breach of the rules comes days after Aberdeen's trip to St Johnstone was called off due to two of their players testing positive for COVID-19, with six others self-isolating.
"These matches have been postponed in light of ongoing restrictions in Aberdeen and today's news of a breach of government public health guidance and football protocols involving the Celtic FC player, Boli Bolingoli," the SPFL said in a statement.
"During further discussions today with the Minister and government advisers, the Joint Response Group has offered to work on a range of measures – which will involve the whole of professional football in Scotland - to underpin a commitment to raising public health awareness and reaffirm the collective responsibility of the national game."
Scottish champions Celtic were scheduled to visit St Mirren on Wednesday, while Aberdeen were due to face Hamilton. Celtic were also set to host Aberdeen on Saturday.
Sturgeon said the incident involving Bolingoli was a "flagrant breach" of the guidelines.
"What I regret is some football players seem incapable of living up to their responsibilities," she said.
"At a minimum, you should not be expecting to see Aberdeen or Celtic play over the course of the coming week and we'll set out conclusions beyond that.
"Consider today the yellow card; the next time, it will be the red card."
Brazilian defender Eli Sabia extends stay at Chennaiyin FC
ISL team Chennaiyi FC on Wednesday extended its contract with Brazilian defender Eli Sabia for the 2020-21 season, the club said.
"I am delighted beyond words to continue my time at Chennaiyin FC. The love that my family and I have received from the club, fans, and the city of Chennai is unmatched," Sabia was quoted as saying by Channayin FC in a statement from his Santa Catarina residence in Brazil.
"We have unfinished business from last season after we fell just short in the final. We go again in the new season with renewed hope and determination to bring a third ISL title to Chennai," he added.
The experienced centre-back had started in 19 of CFC's 21 games last season as they put together a stunning run to the final, which included an eight-game unbeaten streak.
CFC co-owner Vita Dani said, "Eli (Sabia) is the embodiment of hard work, determination and consistency at Chennaiyin. We are glad he has extended his stay with us and we look forward to him continuing to excel in Chennaiyin blue."
With 59 appearances for CFC in all competitions so far, Sabia is preparing for a fourth season with the Marina Arena club by focusing on his fitness currently back home in Brazil.
He had his first stint at Chennaiyin in 2016 and after having returned to Brazil for a short spell at Sertaozinho FC before switching to Al Raed in Saudi Arabia. He re-joined the two-time ISL champions ahead of the 2018-19 season.