In the wake of the latest findings of the McLaren report, FIFA president Gianni Infantino has ruled out taking the 2018 World Cup from Russia.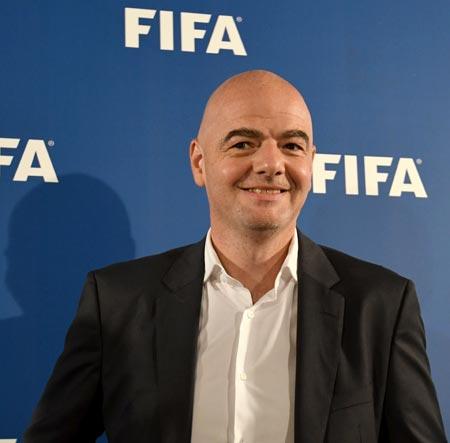 In July, measures against the country were imposed after the first part of a World Anti-Doping Agency (WADA)-commissioned report found evidence of state-sponsored doping.
Richard McLaren in his report stated that Russia's secret service and top sporting authorities conspired to cover up widespread doping, substituting doping-tainted samples with clean ones during the Winter Games in Russia.
"FIFA is not the world police and certainly not the world doping police," Sport24 quoted Infantino as saying.
"Our disciplinary bodies will take care of anything in the McLaren report which has anything to do with football."
The International Olympic Committee (IOC) earlier this month extended the doping sanctions against Russia "until further notice".
"Boycotts and bans have never solved any problems," Infantino said as he ruled out stripping Russia of the 2018 World Cup finals.
The measures imposed after McLaren had released an interim version of his report into state-sponsored doping in Russia included a ban on Olympic accreditation for officials from Russia's ministry of sport, the removal of IOC "patronage" to any sports event in Russia, the reanalysis of every Russian sample from the 2014 Winter Olympics and a request to all sports federations to "freeze their preparations" for major events in the country.
The FIFA president further said that the world's football governing body is still waiting for the 'relevant information' from the McLaren reports which mentions 31 tampered doping samples from footballers.
"If measures need to be taken, they will be," he said pointing to the work FIFA is already doing to combat doping.
"Testing was not implemented by Brazil in 2014 or by South Africa in 2010 and won't be carried out by Russia in 2018, but by FIFA," he added.
Infantino further asserted that if something goes wrong, it would be their responsibility, our fault, before expressing confidence on the anti-doping measures.
The FIFA president also spoke about the recent 'Football Leaks', reported by several publications including Der Spiegel, which alleged tax evasion by high-profile stars including Cristiano Ronaldo and Jose Mourinho, and said it's a matter for individual national federations.
"It is naive to believe that FIFA can know everything from Zurich which goes on during every transfer in the world," he said.
"So it makes sense to give the responsibility to the unions and federations.
"They should check the transfers, which take place in their own country."
"When someone hasn't paid their taxes, drives too fast or is drunk behind the wheel, then FIFA is not responsible for that," he added.
IMAGE: FIFA President Gianni Infantino
Photograph: Claudio Villa/Getty Images