Forget famous goal celebrations such as 'The Robot' by Peter Crouch and 'The Dive' by Juergen Klinsmann, here comes the South African 'Diski dance'.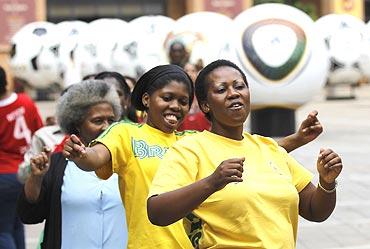 The Diski dance, which is performed through heading and kicking an imaginary ball, may be a goal celebration to watch in this World Cup.
South Africa's Siphiwe Tshabalala and his team mates displayed this distinctive dance when they celebrated his goal against Mexico in the opening World Cup game on Friday.
The dance is already popular on YouTube and many soccer fans may want to learn the moves.
For a video, click http://www.youtube.com./watch?v=fML326GXJPY
Even South Africa's President Jacob Zuma has learnt the Diski dance which could surpass Cameroon Roger Milla's iconic corner flag dance celebration in the 1990 FIFA World Cup.
US actor John Travolta performed the dance shortly after landing his Boeing 707 at Lanseria airport, north of Johannesburg, on Wednesday morning.
Goal celebrations are now part of the biggest sporting event and players plan them in advance just in case they find the back of the net.
The Robot goal celebration was so popular that England fans were dismayed when Crouch declared he "wouldn't be doing it any more unless England won the World Cup."
Another popular celebration is 'The Snort' by Robbie Fowler reacting to claims that he was a cocaine addict by sniffing imaginary cocaine off the lines on the pitch.
The word Diski is a township slang for soccer and may also describe the local style of football which focuses on dribbling and other tricks.