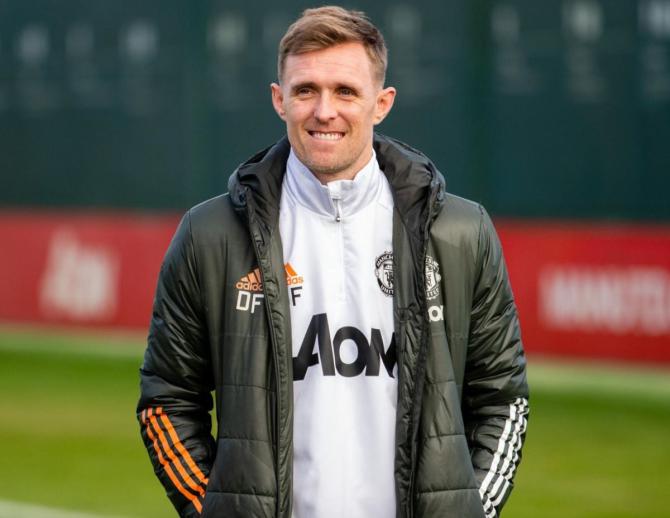 Manchester United on Monday announced that former player Darren Fletcher has joined the club's first-team coaching staff.
"Manchester United is pleased to announce that Darren Fletcher will join the first-team coaching staff," the club said in a statement.
Fletcher spent 20 years with the club as a player after coming through the academy to make over 340 first-team appearances between 2003 and 2015. He has been coaching the Under-16s since October and will now join the first-team staff full-time.
As a player, Fletcher won five Premier League titles, one FA Cup, two League Cups, the UEFA Champions League and the FIFA Club World Cup, as well as 80 caps for Scotland.
"Darren has the United DNA running through his veins and he knows exactly what it takes to be a Manchester United player. He is at the start of his coaching career and his experience both on and off the pitch along with his winning mentality, commitment and hard work will be a great addition to the staff," the club's official website quoted Manchester United coach Ole Gunnar Solskjaer as saying.
Commenting on the appointment, Fletcher said: "I am delighted to be returning to the club as a first-team coach. It's a very exciting time for this young team and I am looking forward to taking the next steps in my coaching career by working with Ole and his staff."
Uruguayan FA urges English FA to review Cavani ban
The Uruguayan Football Association (AUF) criticised their English counterparts for banning Edinson Cavani on Monday, calling his three-match sanction for alleged racism "a flagrant injustice that damages the morals of an unimpeachable man."
The AUF "exhorts the FA to review its sanction," it said in a statement. "We are convinced, through our profound knowledge of the person and analysis of the incident, that he does not deserve (the ban) nor the consequential moral aggravation."
The Manchester United striker was suspended last week by the FA and fined 100,000 pounds ($136,330) for a term he used in an Instagram post following his side's 3-2 win at Southampton on Nov. 29, before taking it down and apologising.
The FA did not immediately respond to a Reuters request for comment.
The Uruguayan FA's request came shortly after a similar appeal by Cavani's national team mates.
The Uruguayan players' union (AFU) said the English FA "committed a discriminatory act against the culture and way of life of the Uruguayan people".
The statement was shared on Twitter by Uruguay captain Diego Godin.
"Edinson Cavani has never committed any conduct that could be interpreted as racist," the AFU said. "He merely used a common expression in Latin America to affectionately address a loved one or close friend.
"The sanction shows the English Football Association's biased, dogmatic and ethnocentric vision that only allows a subjective interpretation to be made from its particular and excluding conclusion, however flawed it may be.
"We request the FA to immediately overturn the sanction imposed on Edinson Cavani and reinstate his good name and honour in the world that has been so unfairly tarnished by this reprehensible decision."
The Uruguayan Academy of Letters, which protects and promotes the Spanish language in Uruguay, also denounced the ban last week, calling the sanction an example of English football's lack of "cultural and linguistic knowledge."
Cavani, who has scored four times for United this season, missed Friday's 2-1 win over Aston Villa due to the suspension.
The 33-year-old will also miss their League Cup semi-final against rivals Manchester City on Wednesday as well as Saturday's FA Cup third-round match against Watford.
As part of its punishment, the FA also said Cavani must complete "face-to-face education".
City's Guardiola defends Mendy after COVID protocol breach
Manchester City boss Pep Guardiola has defended Benjamin Mendy after the full back breached COVID protocols on New Year's Eve, saying the Frenchman's critics were too quick to pass judgment.
Mendy apologised for flouting rules by hosting a party attended by at least three people outside his household. Under British government guidelines, those living in regions with Tier 4 restrictions are not allowed to mix with others outside their own household.
"Normally in this society we judge, but society will be better if we judge ourselves. I'm not justifying him -- he broke the rules. But don't give too many lessons to the other ones," Guardiola told reporters after Sunday's 3-1 win over Chelsea.
His comments come after some current and former players lambasted Mendy and other Premier League players for failing to act as role models and argued that clubs needed to be stronger and hand out punishments.
"You can't say 'deal with it internally' and still play them. That will fall on deaf ears. To make a real message, you have to drop them from teams," Derby County defender Curtis Davies told the BBC.
Guardiola said footballers should not be held to higher standards because they are viewed as role models.
"They have the same responsibility as everyone else. Mendy knows he made a big mistake, but it finishes here."
Mendy was an unused substitute in the game at Chelsea. City were without Kyle Walker, Gabriel Jesus, Ferran Torres and goalkeeper Ederson due to positive COVID tests.
Allardyce says post-Brexit rules adding to West Brom transfer woes
West Bromwich Albion manager Sam Allardyce believes the January transfer window could be the toughest of his career as he deals with post-Brexit regulations and the COVID-19 pandemic while looking to bolster his struggling side.
New rules that came into force from January 1 mean Premier League clubs will not be allowed to sign players from European Union countries without a work permit while foreign players under the age of 18 cannot be signed at all.
Allardyce, whose side are second from bottom with eight points from 17 games, said deals for three potential recruits had already fallen through as a result of the new rules.
"I have found three players already who were capable of coming here and they're not allowed. It's a shame," Allardyce told the British media.
The criteria to sign players is based on a points system which considers the number of senior and youth international appearances, club appearances as well as the quality of the selling club, its league position and the league itself.
"Due to the new regulations in terms of the permit they were unable to come to this country, whereas (previously) they would have done. I have to look at that and think 'can he qualify?'" Allardyce added.
"That has made life a bit more difficult. It's not so much the pandemic, it's the change of rules because of Brexit. We'll do what we can... finding a player in this pandemic is going to be the hardest window I have ever worked in.
"No disrespect to my players because they're all working as hard as they can but I do have to find better to lift the squad. Whatever player comes in, they have to be better than what we have and capable of going into the team almost immediately."