'I am willing to answer all their questions. But why only in India? And why after my passport has been revoked?'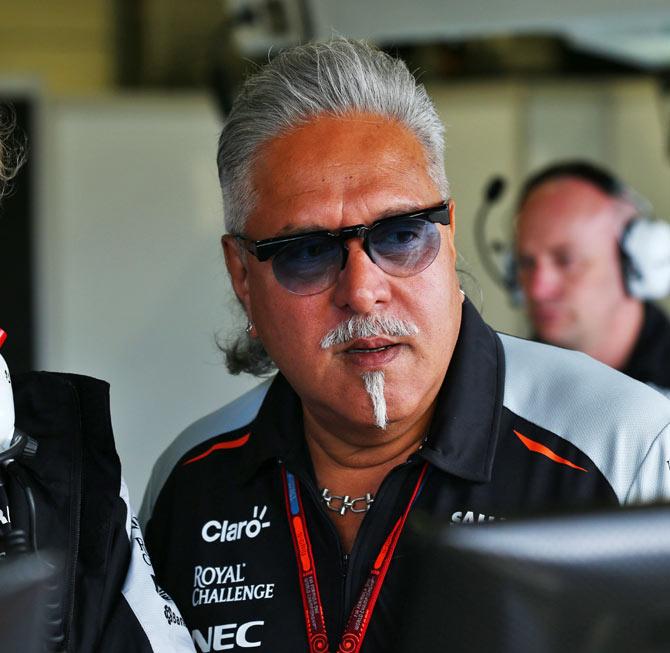 IMAGE: Sahara Force India owner Vijay Mallya during free practice at the Silverstone circuit on Friday. Photograph: Sahara Force India F1
Embattled Indian business tycoon Vijay Mallya, declared a proclaimed offender by a Mumbai court in a money laundering case, said "life must go on", as he made a rare public appearance on the Formula 1 racing track in Silverstone, in Northamptonshire, in the East Midlands region of England, on Friday.
The UB Group chairman, who is based in the UK since early this year and co-owns Sahara Force India, attended the free practice for the British Grand Prix.
He may be enduring tough times personally but his team has savoured two podium finishes this season, Sergio Perez finishing third in Monaco and Baku.
"I love racing, I'm a petrolhead, I'm passionate about it, that's why I bought this team in the first place. Monaco I missed terribly, I missed the bonus of the podium in Monaco, I missed Baku, which I believe is fantastic. To that extent I'd be lying if I said I missed nothing," he told motorsport.com.
"Having said that life must go on, and being based here and not travelling I have more time to devote to what I want to. Working out six days a week so I shed a few kilos and I'm feeling good and fit," he added.
The flamboyant liquor baron admitted that the inability to travel due to his passport being revoked by the Indian government is "frustrating".
"But, equally, it isn't the end of the world. England has always been a home to me; I've been resident here with leave to remain indefinitely since 1992, so I am very familiar with it. It isn't as if I am in some sort of alien land."
In an interview with Reuters, Mallya made clear about his reluctance to return "unless assured of a fair trial in India, if at all there needs to be a trial".
"I am willing to answer all their questions. But why only in India? And why after my passport has been revoked?" he added, saying any hearing could as easily be done in England or by video conferencing.
"For me, England is as much home."
"It's frustrating that you can't just get on a plane and go but hopefully the legal process will restore my rights sooner rather than later," added Mallya, who bought his country home from the father of world champion Lewis Hamilton.
In reference to Force India, he said the team is in a healthy state and will target fourth place this season.
"Fourth is the target; we'll do everything we can to get there. The finances of the team are vastly improved, and in fact have improved year on year. It doesn't cost the shareholders what it did five or six years ago," he said.
Force India, after a forgettable last race in Austria with both cars retiring mid-way into the race, are in fifth place with 59 points, while Williams are fourth with 92.
Mallya is currently wanted in India over loan default cases related to the now-defunct Kingfisher Airlines.
The Enforcement Directorate (ED) has published a court-issued proclamation for him to appear before the special PMLA court on July 29.