India football captain Sunil Chhetri, who will join Sporting Lisbon (Sporting Clube de Portugal) next season, arrived in Portugal on Thursday morning.
The striker was signed by the club that gave the world players like Cristiano Ronaldo and Luis Figo last week for the 'B' side.
'From 163rd (India's FIFA ranking) to playing in the fifth-ranked nation in the world, it's one opportunity I will never forget in my life,' Chhetri had said after the deal was made official.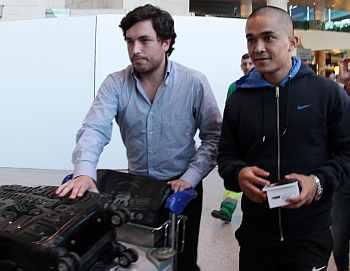 'I will have to do a lot of hard work. I will leave no stone unturned, so that I don't regret later in my life. When I am 40, I don't want to feel that I could have done better,' he added.
Chhetri is no stranger to Portugal. He was there a few times on a training-cum-exposure trip as part of the Indian squad.
'The training facilities there are excellent. Now I feel like a 14-year-old. I will not be Sunil Chhetri there (referring to his popularity in India).'
The deal was arranged by sports management firm Football One, the football arm of Wizcraft International Entertainment's new venture Sports One.
Chhetri is the second footballer from India to play in Europe after India's legendary Baichung Bhutia, who signed with English club Bury FC in 1999.
In the 2010-11 season, Chhetri briefly played for MLS side Sporting Kansas City.