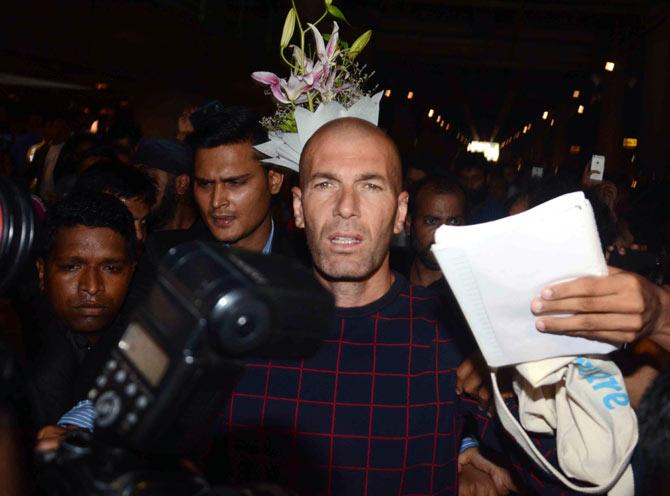 IMAGE: Zinedine Zidane at the international airport in Mumbai on Thursday. Photograph: Sahil Salvi
France football legend and Real Madrid coach Zinedine Zidane arrived in Mumbai on Thursday afternoon.
The French coach, who took over Real Madrid following Rafael Benitez's sacking in January is in the city to promote Mumbai-based real estate brand Kanakia Group, which is known for its themed residences.
It is the latest in the line of high-profile footballing signings by Indian entrepreneurs to promote their products.
A couple of months back Portugal and Real legend Luis Figo turned up in the Maximum City to promote Premier Futsal, a faster and more exciting variant of football.
Tata Motors turned to Argentina and Barcelona ace Lionel Messi when they relaunched their car Zica as Tiago.
The catchphrase 'It's Fantastico', that Messi mouths, has caught on well with the Indian audience.
Likewise, a few years back Argentina and Napoli legend Diego Maradona was roped in as the brand ambassador for Kerala-based jewellery group Chemmanur International.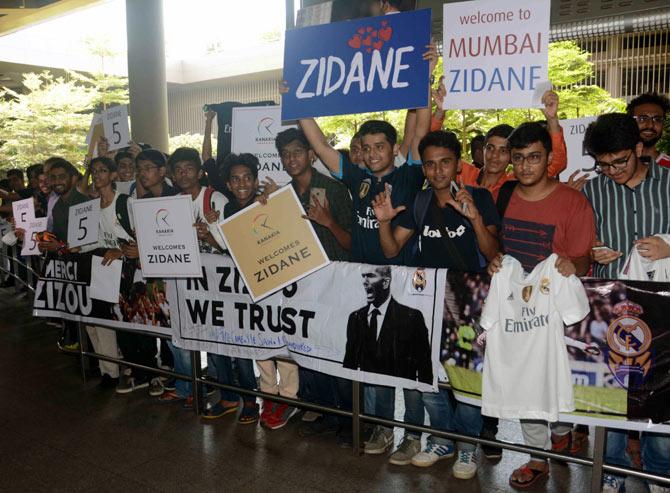 IMAGE: Football fans wait for Zinedine Zidane's arrival at the international airport in Mumbai on Thursday. Photograph: Sahil Salvi
Coming back to Zidane, he couldn't have come at a better time.
Having guided Real Madrid to an unprecedented 11th Champions League title, the 'undecima', Zidane was also part of the last French squad to emerge triumphant at the Euro Championships in 2000.
France is hosting the latest edition of Euro, starting Friday, also the day when Zidane will unveil the Kanakia project.
Over a thousand fans gathered to welcome the football icon at the international airport in Mumbai.
Kanakia Spaces, the real estate brand which has roped in Zidane, wants to make the Frenchman the official face of 'Kanakia Paris'.