Wrestlers narrate instances of sexual favours demand, sexual harassment, inappropriate touching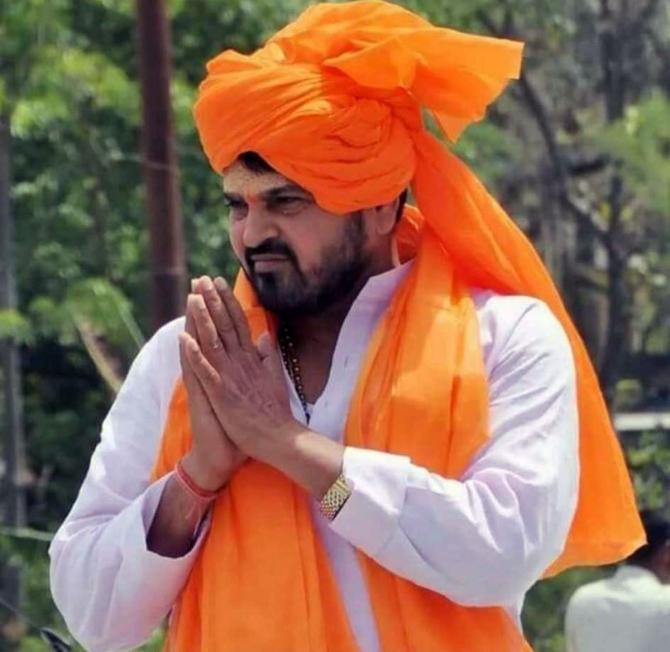 The two FIRs registered by Delhi Police against outgoing WFI chief and BJP MP Brij Bhushan Sharan Singh based on complaints of six adult wrestlers and father of a minor narrate several alleged instances of sexual harassment, inappropriate touching, groping, stalking and intimidation by him at different times and places including in foreign countries, over a decade.
The Delhi Police had on April 28 registered the two FIRs at Connaught Place police station, including one by the father of a minor wrestler invoking POCSO Act that entails prison term up to seven years on conviction.
The FIRs registered following a Supreme Court order have charged Singh under various IPC sections including assaulting a woman to outrage her modesty (Section 354), sexual harassment (354 A), stalking (354 D) that are punishable with jail terms of two-three years.
Some of the complainants also alleged that Singh made advances to seek "sexual favours" promising to help them in their professional careers.
Singh has denied all the charges and said he will hang himself even if a single allegation is proved against him. He has also maintained that all wrestlers are like his children and he will not blame them as his blood and sweat have also gone into their success.
The FIR filed by the six wrestlers also names Wrestling Federation of India (WFI) secretary Vinod Tomar as an accused.
In the FIR filed on the basis of complaints by the adult wrestlers, one of them alleged, "While I was training, the accused called me separately, to which I refused since the accused was touching other girls also inappropriately. However, I was again called by the accused who then pulled up my T-shirt and slid his hand down my stomach and put his hand on my naval on the pretext of checking my breath.
"It was during my stay in hotel that I noticed that all the female athletes used to travel in groups whenever they left their respective rooms in order to avoid meeting the accused alone."
The second wrestler alleged, "While I was stretching/warming up on the ground on a mat, the accused came there and stood on the side watching me."
"While I was lying down on the mat, the accused came near me and suddenly, to my shock and surprise, leaned in on me and in the absence of my coach and without seeking my permission pulled up my T-shirt and placed his hand on my breast and slid it down my stomach on the pretext of examining/checking my breathing and touched me inappropriately."
Another wrestler alleged she was harassed during a team photograph clicked.
"While I was standing in the last row and waiting for the other wrestlers to take their position, the accused came and stood alongside me. To my shock and surprise, I suddenly felt a hand on my buttock. I immediately looked back and to my horror, the accused had placed his hands on my buttock... However, when I tried moving away, I was forcibly held by my shoulder by the accused. Somehow, I managed to get free from the clutches of the accused," she alleged.
The wrestler number four stated, "During a medal ceremony, the accused called me and started asking me personal questions. Once the ceremony got over, he on the pretext of getting a picture clicked with me, forcefully against my will pulled me towards him by my shoulder tightly and forced me to get a picture clicked."
"In order to protect myself, I tried moving away from the accused and informed him that I didn't possess a mobile phone to get a picture clicked. The accused in response replied by saying that he possessed a mobile phone with him and the picture could be taken on his device," the FIR said.
The wrestler number 5 stated Singh tried to bribe her by offering to buy supplements.
"I won a medal in a championship. While I was resting in my room, a physiotherapist came to my room and told me that the president/accused is calling me in his room. I thought, since I had won the championship, the accused wanted to congratulate me."
"I went to the room where I met the accused. He made me talk to my parents on the phone, since at that time I did not possess a personal mobile phone," she claimed.
"However, after the phone call ended, to my utter shock and surprise, the accused called me towards his bed where he was sitting and then all of a sudden, he hugged me forcefully without my permission."
"He in order to further fulfil his sexual intentions, also tried to bribe me by offering to buy me supplements which I may require as an athlete in exchange for sexual favours," the FIR said.
The complaint by minor's father alleged that Singh forcibly pulled his daughter towards him and sexually harassed her after which she was "completely disturbed and haunted".
"Pursuant to winning the medal, the accused who is the president of WFI on the pretext of taking a picture with my daughter, forcefully pulled her towards himself and held her so tightly by her arms that she could not move or free herself from his grip."
"While holding her so tightly and pretending to get a picture clicked, the accused further squeezed her towards himself and pressed really hard on her shoulder and then deliberately slid his hand down her shoulder and brushed his hands against her breasts..."
The complainants levelled allegations against Singh citing different occasions during championship events as well as WFI office, including in India as well as abroad.