World champion Viswanathan Anand could not fetch a win till the very end as he settled for a draw with Russia's Sergey Karjakin in the 10th and final round of fifth Final Chess Masters to finish a lowly fifth, in Bilbao, Spain.
Having lost to Magnus Carlsen of Norway in the penultimate round after a spate of draws, Anand could not break through the defenses of Karjakin and settled for his ninth draw in 10 games apart from the lone defeat.
After a full-bloodied penultimate round that produced three decisive games, the atmosphere was a lot calmer in the playing hall as all the games ended in draws.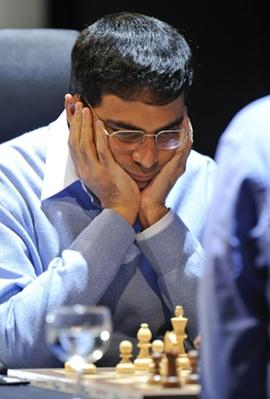 While Carlsen held his own against Levon Aronian of Armenia, who played white, Italian co-leader Fabiano Caruana signed peace very quickly with Francisco Vallejo Pons of Spain.
World number one Carlsen won the event blanking Caruana 2-0 in the blitz tie-break games that ensued after a tie between the two.
After the final round, Caruana and Carlsen had tied for the top spot with 17 points apiece in the soccer-like scoring system in place here that gave three points for a win and one for a draw.
With Carlsen first in the tie-breaker, Caruana finished second and Aronian had to be content with third place with 11 points in all.
Karjakin ended ahead of Anand on 10 points while the Indian was a point behind for his fifth-place finish. Not much was expected from Vallejo Pons, but the Spaniard showed enough character and but for a couple of missed chances, could have made a difference in the final standings.
Caruana, at first, could not capitalize on an advantage and later fell back on time to land in serious trouble. Carlsen knocked down a couple of pawns to register an easy victory.
In the return game, Caruana had to win as black but a blunder early in the opening saw the Italian collapse to a 17-move loss.
Results (final round): V Anand (Ind, 9) drew with Sergey Karjakin (Rus, 10); Levon Aronian (Arm, 11) drew with Magnus Carlsen (Nor, 17); Francisco Vallejo Pons (Esp, 6) drew with Fabiano Caruana (Ita, 17). Play-off: Magnus Carlsen beat Fabiano Caruana 2-0.
The moves (final round)
V Anand – Sergey Karjakin
1. d4 d5 2. c4 c6 3. Nf3 Nf6 4. Nc3 dxc4 5. a4 e6 6. e4 Bb4 7. e5 Nd5 8. Bd2 b5 9. axb5 Bxc3 10. bxc3 cxb5 11. Ng5 Nc6 12. Qh5 Qe7 13. Be2 b4 14. O-O bxc3 15. Be3 Bb7 16. Bg4 Ncb4 17. Nxe6 g6 18. Ng7+ Kf8 19. Qh6 Kg8 20. Bg5 Qf8 21. Bf6 Nxf6 22. exf6 Nd5 23. Bf3 Nxf6 24. Bxb7 Rd8 25. Ra6 Qxg7 26. Qg5 Rd7 27. Bf3 Ne8 28. Bc6 Rd6 29. Qe7 Qf8 30. Qxa7 Nf6 31. Qc5 Nd7 32. Qxc4 Nb8 33. Rb6 Nxc6 34. Rxc6 Rxc6 35. Qxc6 Qb4 36. Qe8+Kg7 37. Qe5+ f6 38. Qc7+ Kh6 39. d5 Qd4 40. d6 Qd2 41. d7 c2 42. h4 Qd1 43. Qf4+ Kg7 44. Qc7 Kh6 45. Qf4+ Kg7 game drawn.