Going by the hockey parent body's new data collection, India and Pakistan have met in only 47 head-to-head internationals and many more fails. Read on to find out how the history of this famed rivalry is being binned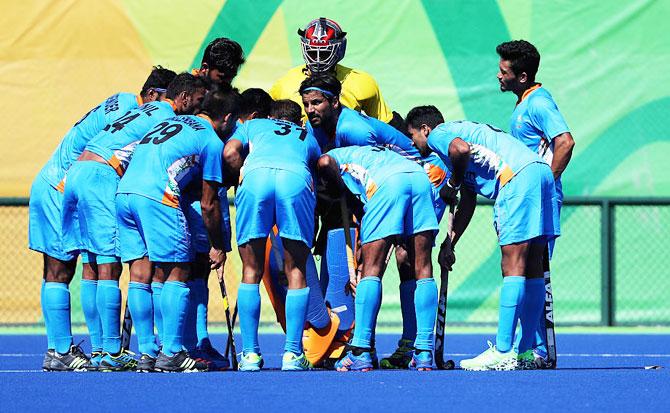 IMAGE: The Indian hockey team in a huddle. Photograph: Sean M. Haffey/Getty Images
An India-Pakistan encounter on the hockey pitch is one of the most intense rivalries, acknowledged and followed by millions, but the game's world body (FIH) seems to think otherwise, dumping a majority of this famed history into the dustbin.
An Indo-Pak crunch encounter provides the International Hockey Federation (FIH) its biggest audience, which in turn fetches millions of dollars in television rights.
Hosts at international tournament await an India-Pakistan match to boost their ticket sales.
The history of India-Pakistan hockey encounters goes back to their first clash in the Olympic Games final in 1956 at Melbourne.
And over the past six decades, the two have played each other 166 times at venues across the hockey world. India's 3-2 victory on Sunday was their 54th, while Pakistan have 82 wins to their credit, 30 matches have been drawn.
So much history rides on the subcontinental rivals, but the FIH has decided that a majority of this hockey history should be erased.
The 'TMS Data' that the FIH has compiled and circulated around the world only list 46 India-Pakistan matches before Sunday's match in the fourth Asian Champions Trophy being played in Kuantan, Malaysia.
The organisers at the ongoing Asian Champions Trophy are circulating statistics based on the FIH data, which seems to be a massive disservice to players who have toiled for decades, scoring goals and winning medals on the pitch.
Of the 321 goals scored by Indian players, just 98 are deemed official by the FIH – the custodian of the game's records.
By this logic, Indian players who celebrated when they scored the remaining 223 goals seemed to have wasted their effort and time on the pitch.
Similarly, only 110 goals Pakistan goals against India were worth the effort and skills exhibited on the pitch, as per the FIH. The remaining 276 goals may perhaps best be listed in computer games, if the FIH master list – called the TMS Data – is to remain the yardstick of hockey's glorious history.
The glory achieved on the field seems to have been struck off the historical roster by the wise men handling the FIH master-list.
Decades after their skills dazzled the world and earned plaudits from fans, the players or their friends may now have to write to the FIH to check if any of their goals scored in India-Pakistan encounters were worth the effort.
Incidentally, if the FIH is to be believed, India and Pakistan have met in only 47 head-to-head internationals, including Sunday's action-packed encounter.
In the governing body's book, India are supposed to have won 19 matches and Pakistan 25, with just three drawn encounters in six decades.