FIFA presidential candidate Luis Figo will hope to convince delegates at this week's Asian Football Confederation Congress that a vote for him would boost the region's chances of more places in future World Cup finals.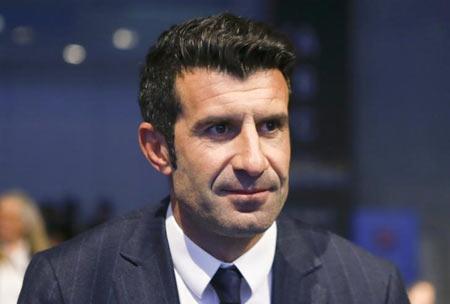 Figo told Reuters before he left for Thursday's congress in the Bahrain capital of Manama that he also wanted more non-Europeans involved in working for FIFA, which should become more of a multi-cultural organisation.
The former Portugal international, 42, said in an email exchange that the increased popularity of the sport in Asia and rising standards of play were just two reasons why he wanted to see the World Cup expanded.
"I think the growing popularity and quality of football in the different regions represented within AFC are arguments in favour of opening the debate around expanding the World Cup to 40 or 48 teams with additional teams weighted towards non-European nations," he said.
Figo's proposal for a larger World Cup is one of the cornerstones of his manifesto and he intends to tell Asian delegates exactly how they can benefit from his plan.
The 2022 World Cup in Qatar will comprise 32 finalists but nothing is yet written in stone for tournaments beyond that date with Asia currently allocated four guaranteed berths at finals and the possibility of a fifth via an inter-continental playoff.
Figo added: "I propose the FIFA Congress should study and decide on a new format for the best competition in the world.
"I'm convinced this is the future and I don't believe the World Cup quality would be affected.
"By increasing the number of teams participating in the World Cup, we not only make sure that we include more countries from across the world, but also enable FIFA to raise significant increased revenues that can be used to invest in the growth of the game globally."
FOOTBALL HUBS
Figo will also tell Asian delegates of his plan for what he calls "football hubs" involving localised regular meetings with presidents and general secretaries of national associations.
"I think these would benefit the AFC. Representing countries from the Middle East to Australia, the AFC is the confederation with more time zones than any other."
Figo, however, will have his work cut out in getting Asian delegates to vote for him when most have already pledged their support for incumbent Sepp Blatter.
A similar problem faces the other candidates, Prince Ali Bin Al Hussein of Jordan and Michael van Praag of the Netherlands, who will also be in Bahrain, but Figo believes the time has come for change.
"I also want to bring more people from non-European confederations into the FIFA staff," he said.
"A staff that would really represent the world and benefit from multicultural human resources. There are a lot of competent people in the AFC federations who could do a good job in FIFA," he added.
The presidential election takes place during the FIFA Congress in Zurich on May 29, where Blatter will be hoping to secure a fifth term at the helm of soccer's governing body.
Photograph: Leonhard Foeger/Reuters