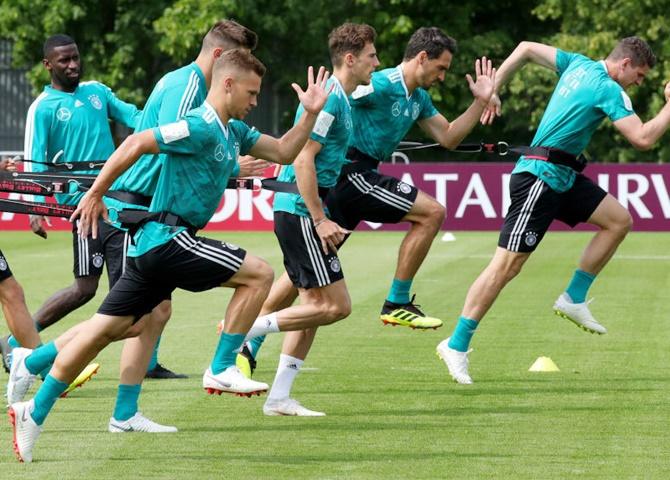 World champions Germany know they must up their game when they kick off their world title defence against Mexico on Sunday if they are to confirm their status as tournament favourites.
The Germans played a perfect qualification winning all 10 games, conceding just four goals in the process, and also clinched the Confederations Cup last year. But their recent form is far from World Cup-winning quality.
"We are aware that we need to improve our game," 2014 World Cup winner Toni Kroos said this week. "It is having the absolute will that is going to be the deciding factor and everyone of us needs to fill up on self-confidence. These two things will be decisive in this game."
Coach Joachim Loew's team have managed just one win in their last six internationals -- a lacklustre 2-1 win over lowly Saudi Arabia in the final warm-up game last week -- and only kept one clean sheet.
Their preparations were also overshadowed by the outrage in Germany caused by photos of midfielders Ilkay Gundogan and Mesut Ozil with Turkish President Tayyip Erdogan.
The two players of Turkish descent had to deal with whistles and jeers in recent matches and the affair has not subsided even after their arrival in Russia.
The photographs unleashed a storm of criticism from lawmakers across Germany's political spectrum and the country's football federation, all of whom argued that Erdogan does not sufficiently respect German values.
But given the Germans' stellar tournament record with at least a semi-final spot in each of the last four World Cups, few would risk betting against them being ready on Sunday, especially after crushing Mexico 4-1 in last year's Confederations Cup.
"We have often proved that we are there when it starts," Kroos said.
Mexico have had to deal with their own little scandal after eight players staged a late night party following a friendly against Scotland earlier this month, with the country's football association throwing their support behind the players.
The central Americans, who have reached the last 16 at each of the last six World Cups, will need to be quick on the break if they are to catch their opponents off guard, as other teams have successfully done recently, including the Saudis.
Mexico's top international scorer, Javier Hernandez, may not be an automatic starter these days but his speed will come in handy for Juan Carlos Osorio's team.
The Mexico coach has kept quiet about his strategies and in warm-up matches revealed very little on how he plans to stop the Germans. Mexico's only win in 11 games against them dates back to 1985.
"We should not underestimate them even if we beat them last year," said Germany midfielder Sami Khedira. "We take this game very, very seriously. We cannot rely just on our quality."
South Korea and Sweden are the other two teams in Group F.