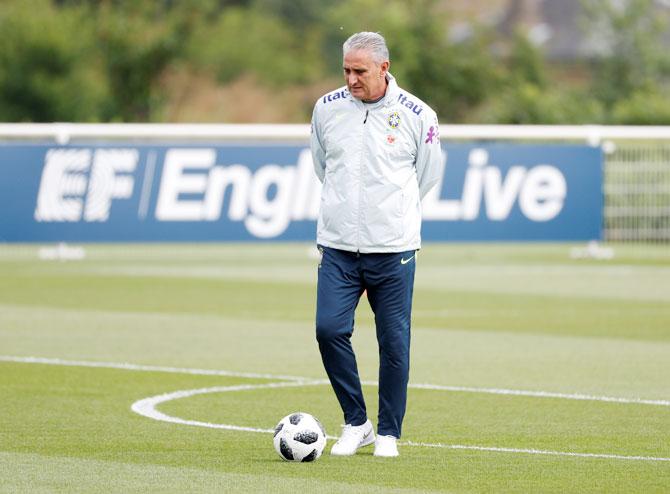 Brazil coach Tite angrily denied on Saturday that he had been in contact with Real Madrid over the possibility of replacing Zinedine Zidane, who resigned at the end of May, dismissing the suggestion as a lie.
Tite was asked about reports that he was set to take charge of the Champions League winners during a news conference ahead of Sunday's friendly against Austria, although it was not clear where they had originated.
"This is a disrespectful attitude and a lie," he said.
"I haven't been in contact with anyone. Gilmar Veloz (Tite's agent) hasn't been in contact with anyone."
"I'm doing what I like and I'm in the best possible place; I'm in a place that any other professional would like to be. I value this enormously, and that's why I'm upset."
Nigeria coach takes issue with 'lies' in pre-World Cup coverage
Nigeria coach Gernot Rohr has accused some reporters covering his team of unethical behaviour and coming up with lies in the build-up to their participation in the World Cup in Russia.
Rohr's latest comments come as the Nigerian Football Federation (NFF) attempted to quell a storm caused by an interview the coach granted the German newspaper Die Welt on Thursday.
"I have the utmost respect for Nigerian journalists, with whom I have had a warm relationship over the past two years that I have been in charge of this wonderful team," Rohr told the federation's website (thenff.com).
"Over the course of the past two years, I have met so many brilliant Nigerians including journalists who have offered great ideas and suggestions, but as in every profession, there are a number of bad eggs.
"For instance, someone reported that my captain, John Mikel Obi and his deputy, Ogenyi Onazi are at war, creating factions in camp. This is far from the truth.
"The other day, another person reported that I took money to include some players in the team. We are here preparing to do the country proud and someone come up with these lies."
In Die Welt, the German-born coach alleged that Nigerian media took bribes from players and agents for favourable coverage.
"There is often a lack of expertise," he answered in response to a question about the Nigerian media.
"In addition, players and their advisors like to use and gift journalists to put pressure on the coaching team, for example, if they want to be nominated for the squad. Nigeria has a lot of different media, but unfortunately not all are serious," Rohr was quoted as saying.
The NFF have since claimed Rohr, 64, was quoted out of context.
"Gernot Rohr shares our respect and regard for the media and would not make derogatory statements about the most vibrant media professionals on the African continent," NFF president Amaju Pinnick said in a statement on Saturday.
"I have spoken to him and he flatly denied calling members of the Nigeria media corrupt. Of course, he admitted saying in the said interview that some persons known to work in the media acted as agents and put pressure on his crew to include certain players in his World Cup squad.
"He did not say anyone was corrupt. He talked about pressure from certain quarters and some media representatives who posed as agents," added Pinnick.
Nigeria begin their World Cup finals Group D campaign against Croatia in Kaliningrad next Saturday.
Belgium's Boyata ready to step in for Kompany
Dedryck Boyata said he is ready to step in for Vincent Kompany if Belgium's battle-hardened defender fails to recover from his groin injury in time for their opening World Cup Group G game against Panama in Sochi on June 18.
Kompany, 32, was injured in a pre-tournament friendly against Portugal and did not train along with the rest of the team on Saturday.
"If I have the chance to play, of course I will be very happy," said Celtic defender Boyata, who came on as a substitute for Kompany last Saturday and would be again expected to fill in if the Manchester City defender fails to regain fitness for the tournament.
"I know he (Kompany) has been working very hard," Boyata told Sky Sports.
The injury is the latest in a long line of fitness problems for Kompany, who managed just 17 Premier League appearances for City last season. However, he told Belgian broadcaster RTBF he believes he will be fit in time.
"I am confident it will be okay," he said. "I feel good and have often fought back.
"The goal to play at the World Cup is in my head and I try to achieve that.
But Belgium midfielder Kevin De Bruyne suggested Kompany may only be available for later games.
"He may not be there for the first games in Russia but the team can play the group stage without him," he told reporters.
After their opener, Belgium face Tunisia on June 23 followed by a potential group decider against England five days later.