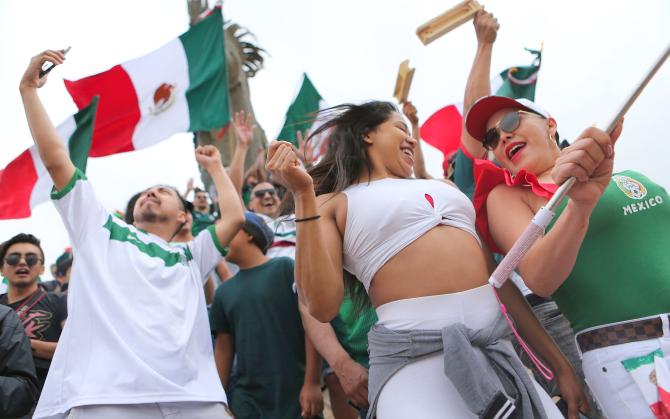 When a gay pride event and football fans come together only love wins.
This was proved in homophobic Mexico where thousands of Mexicans cheered in their capital city where a planned gay pride event was swept over by megafans enraptured by their national football team's World Cup win.
Mexico beat South Korea 2-1 in Rostov after goals from Javier Hernandez and Carlos Vela clinched on Saturday and placed one foot in the World Cup's last 16.
AFP reported, after the win, ecstatic football fans marched towards Mexico City's Independence Square which was already filled with thousands celebrating Mexico's gay pride march. No matter, the Mexico fans and LGBT marchers all had plenty to celebrate.
FIFA World Cup revs up television sales in India
As the month-long FIFA World cup moves towards knock out round in Russia, TV makers here in India such as Sony, LG, Samsung, Micromax and Intex are witnessing a spike in sales, with soccer fans buying new sets or upgrading to large screens to have a better feel of live matches.
To attract soccer fans, TV makers have launched new large screen size models in the market and have also come out with attractive financing schemes.
As part of their marketing strategies, companies are also investing into 360 degree football season campaign in June-July, which includes TV commercial, print ad and digital platforms and enhancing shop-front display, conducive to the football sentiment.
"There is an impressive sales growth in Kerala, Goa, West Bengal and other metro markets like Delhi-NCR, Bangalore and Mumbai. In certain markets, sales have doubled over last year," LG Electronics India Business Head-Flat Panel TV, Rishi Tandon, told PTI.
Micromax co-founder Rajesh Agarwal said: "As compared to last year, we have seen a 15 per cent increase in the television sales during the past two months. With the FIFA World Cup 2018 having kicked off, we expect sales to increase by 25 per cent by end of June."
Unlike previous FIFA cup matches, when the euphoria was limited only to select states and metros, this season makers are getting better traction from across the country.
Companies like Sony, which also aims to double its television sales vis-a-vis last year in regions such as Kerala, West Bengal, Goa and North East during the football season, has introdued big screen models.