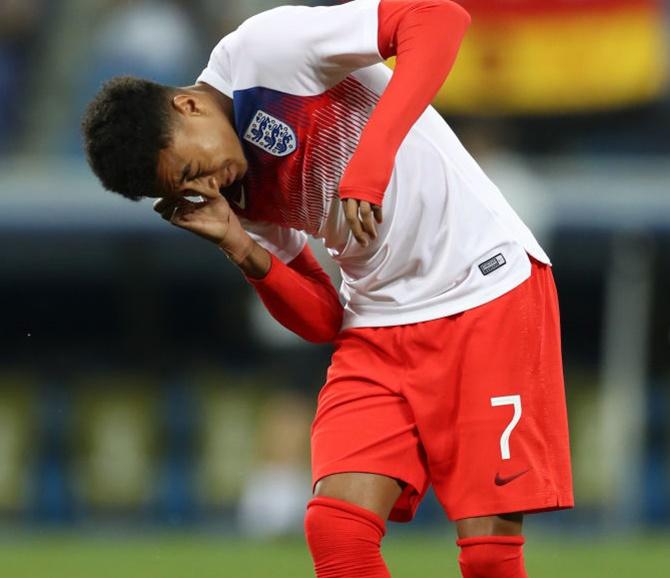 England and Tunisia players swatted away swarms of gnats that flew into their eyes and mouths during their opening World Cup game in Russia's riverside city of Volgograd on Monday.
The area around Volgograd is known for its swamps and wide rivers, the perfect breeding ground for insects during the hot and dry summer in the Russian south.
Russian media said authorities used planes in the months before the game to spray the area around the stadium, which is next to the massive Volga river, with a special substance designed to kill off the bugs.
Authorities also tried to regulate the flow of water at a nearby hydro-electric dam which locals believe has a direct effect on the number of insects.
Players still had to cover themselves with bug spray before the game and at halftime, but that seemed to have little effect.
"There were a lot more than I first thought... some of them in your eyes, some of them in your mouth," said England captain Harry Kane, who scored twice including a stoppage-time header to lead his side to a 2-1 victory.
His team mate Raheem Sterling looked particularly bothered by the tiny gnats circling his face before the start of the second half.
Tunisia's Ferjani Sassi was also pestered by them before the took a penalty - but he still managed to convert it and equalise for the African side.
The coaches were not distracted by the insects.
"I did not feel the midges because I was so focused on the team, on the game," Tunisia's Nabil Maaloul said.
Stranded Nigeria fans trickle out of Kaliningrad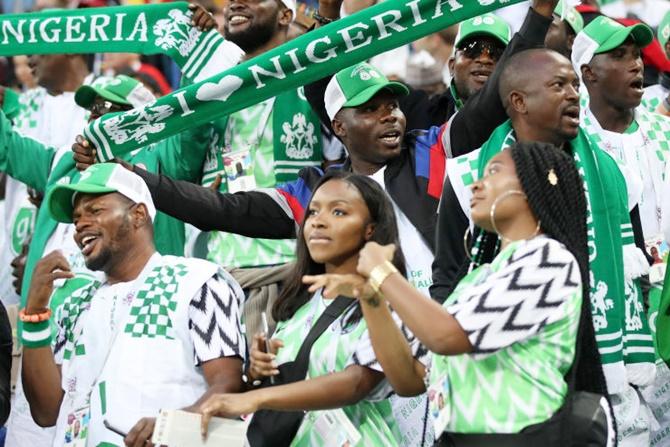 About 100 Nigerian soccer fans stranded in Kaliningrad following their team's loss to Croatia in their World Cup opener were finally on the move on Monday after what was described as a visa gaffe.
Most of the supporters had planned to take the train from Kaliningrad back to Moscow following the Super Eagles 2-0 loss on Saturday but did not have the necessary visas to pass through countries like Lithuania and Latvia.
Russian officials stepped in to help the marooned fans by arranging flights but they were not free.
Supporters said they were told flights would be found at the lowest possible fare but one fan told Reuters he was quoted a price of 28,000 Rubles ($442) which he declined to pay.
Eventually, he arranged a ticket for 6,000 Rubles ($95) but would not be able to leave Kaliningrad until Monday evening.
"I was not going to pay that for a flight that is one hour," Babajide Oke, a Nigerian who lives and works in Atlanta, told Reuters as he stretched out on a row of seats in the concourse while other supporters in their national jerseys wandered about. "I got on my laptop and found my own ticket.
"When I got to the train station they gave us the wrong information and they told us we should go to the airport and we can purchase tickets at a discounted rate," he said.
"I had to do it all myself but some here could not."
Many of those sitting around Oke said they had tickets but would not be able to leave until Tuesday evening.
A Kaliningrad official talking with the Nigerians, who did not want to be named, said 52 left for Moscow on Sunday and in total 70 had departed but at mid-day on Monday there were still a number waiting for confirmed bookings.
TASS News Agency, citing Andrei Yermak, Kaliningrad's minister for culture and tourism, reported around 80 Nigerians were unable to leave by train.
"Full support has been given to the Nigerian supporters who despite multiple warnings from FIFA and information alerts from the consulate, were not able to travel from Kaliningrad to Moscow on June 16," Kaliningrad government press services said in a statement.
"A large number of the Nigerians flew to the capital on June 18. Around 20 people already have plane tickets for the 19th."
Saudi soccer team land safely in Rostov after apparent engine fire
Saudi Arabia's national soccer team landed safely in Rostov-on-Don, Russia on Monday evening, after an apparent engine fire on the plane carrying the players to a World Cup match.
Russia's aviation watchdog Rosaviatsya said that during the landing there was a brief fire on one of the engines and that it would investigate the incident, Interfax reported. Social and Saudi media footage also appeared to show one of the engines catching fire, but a spokesman for airline Rossiya denied a fire had occurred and said the fault was due to a bird strike.
The team were travelling on a Rossiya Airbus A319 from St Petersburg to Rostov-on-Don, where they are due to play their second Group A match against Uruguay on Wednesday.
As it came in to land, the plane "suffered a technical fault with one of its engines, with a bird getting caught seen as the preliminary cause," a Rossiya airlines spokesman said in a statement.
Reports of a fire in one of the engines were incorrect, the spokesman added.
"Nothing threatened the safety of the passengers. The aircraft's landing took place in a routine fashion. No warning was sounded during the landing."
Videos shared on social media showed an aircraft that posters identified as the Saudi team's plane with its wing on fire while it was in the air.
The footage, which Reuters was unable to verify independently, was shared by civil aviation monitoring website Airlive.net, which said the fire broke out on the approach to Rostov airport.
A video on the social media account of Saudi local paper Al Yaum showed flames issuing from under the plane's starboard wing against the dark backdrop of the sky, with the wing glowing bright orange.
A photograph shared by state-owned Saudi television channel al-Ekhbariya, also taken from inside the plane, showed a flame shooting out from under the wing just as it was touching down on the landing strip.
The Saudi federation released photographs of the players smiling and looking calm as they boarded a bus for the Mercure Hotel in central Rostov.
"All the Saudi national team players are safe, after a technical failure in one of the airplane engines ... and now they're heading to their residence safely," it said in a statement on Twitter.
The team, who are making their first appearance at the World Cup since 2006, suffered the biggest defeat in the tournament so far when they were thrashed 5-0 by hosts Russia in the opening game in Moscow on Thursday.
"I want to reassure you that we got to Rostov safely, it was a simple technical fault in the airplane but thank God we are now in the hotel and things are good," Osama Hawsawi, captain of the Saudi team, said in a video shared on social media.
"The whole delegation is well," midfielder Hattan Bahebri said in a video shared on the team's official Twitter page.
"Of course, we were a bit frightened, but thank God," he added, laughing.