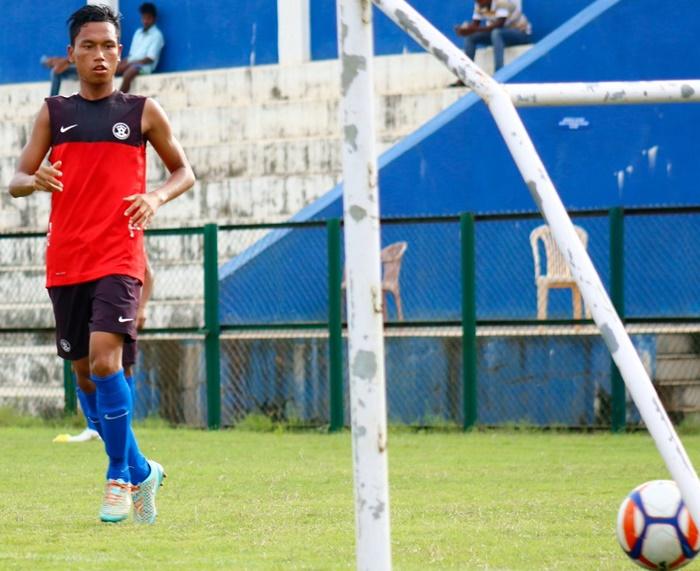 IMAGE: Amarjit Singh's family will be in New Delhi to cheer him. Photograph: AIFF Media/Twitter
India U-17 football team captain Amarjit Singh's confidence is set to get a boost during the World Cup as his full family will be in New Delhi to cheer him.
Amarjit belongs to a poor family in a village in Thoubal district of Manipur and his parents have expressed their inability to buy air tickets for them to travel to Delhi to watch their son play in U-17 World Cup beginning on October 6.
But financial help has come in from some quarters in the state after former India captain Renedy Singh took the initiative in this regard.
Besides an MLA, some private business houses have also promised financial help to all the eight players from Manipur who have been named in the 21-member Indian team.
Amarjit's elder brother Umakanta Singh said he will bring his parents and his sister also to Delhi to watch the India captain play in the FIFA U-17 World Cup.
"An MLA (from Sagolband) have given us Rs 20,000 in hand yesterday when he came to our house along with Renedy. He (the MLA) is going to give the same amount to all the eight players from Manipur who are in the Indian team," Umakanta said.
"Then, Imphal-based Eastern Motors will also give us some fund and my parents have gone to Imphal today (to collect the money). Moreover, through Renedy, Mumbai-based Tata Trust has also promised funds to all the players," he added.
Reports have said that the Manipur government has announced Rs 5 lakh each to all the eight players from Manipur but Umakanta said that his family has not been communicated officially on this.
"I read this in the newspaper but we have not received any official communication from the state government, orally or in writing," he said.
The All India Football Federation also announced today that it will make all logistical arrangements for the parents of all the Indian team members to come to Delhi.
The parents of Amarjit's first cousin Jeakson Singh, who is another member of the Indian team, will also be in Delhi during the U-17 World Cup, according to Umakanta.
Most of the players in the Indian team were from poor background and their parents have expressed lack of money to even buy air tickets to be in New Delhi to watch their children play.
"With five more days left for the FIFA U-17 World Cup India 2017 to kick-off, Indian U-17 World Cup team players on Sunday thanked AIFF for arranging all logistical arrangements for their parents to watch them play live at the Jawaharlal Nehru Stadium in Delhi," the AIFF said in a statement.
Captain Amarjit Singh sounded ecstatic and said: "On behalf of the team, I can say that the AIFF has already planned to get our families to Delhi and host them so that they can watch our games.
"Even during the AFC U-16 Championship in Goa (in September 2015), the AIFF had ensured that our parents were present during the matches and that made the occasion all the more memorable for us," said Amarjit.
Female assistant referee to be seen in U-17 WC for first time
The U-17 World Cup beginning in New Delhi on October 6 will set a record of sorts as it will see for the first time a female assistant referee in a FIFA men's competition.
FIFA, the world governing body of football, said it's time for elite female support referees to be involved in a men's competition.
"FIFA has selected seven support referees, but with a twist, for the first-ever time, FIFA has selected female referees for a men's tournament. The results and improvements seen in the joint preparations have shown the time has come for elite female referees to officiate in men's competitions together with their male colleagues," the FIFA said.
"We think it's time for elite female referees to be involved in a FIFA men's competition. They worked together with male match officials last year and now we want to see them working together in a competition," said FIFA's Head of Refereeing Massimo Busacca.
Seven female assistant referees from across the world (one from each continent) have been chosen by FIFA along with 70 male referees to officiate the 52 matches in the FIFA U-17 World Cup to be played in six Indian cities from October 6-28.
Meanwhile, 16 AIFF match officials, comprising eight referees and eight assistant referees, have been given a lifetime opportunity to train with the 77 enlisted FIFA officials who will be in charge during the U-17 World Cup.