Former Honduran President Rafael Callejas pleaded guilty on Monday to U.S. charges that he participated in bribery schemes that are under investigation at soccer's world governing body FIFA.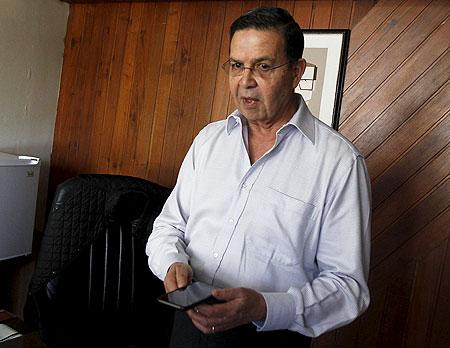 Callejas, who is also the former president of the Honduran soccer federation, admitted in federal court in Brooklyn, New York that he sought bribes in connection with awarding media and marketing rights for World Cup qualifier matches.
"I knew that it was wrong for me to ask for and accept such undisclosed payments," Callejas said in court.
Callejas, who pleaded guilty to charges of racketeering conspiracy and wire fraud conspiracy, agreed as part of a plea deal to forfeit $650,000. His lawyer declined comment after the hearing.
Sentencing was set for August 5 and the charges carry a maximum penalty of up to 20 years each.
The 72-year-old is one of 42 individuals and entities charged as part of a US investigation into more than $200 million in bribes and kickbacks sought and received by soccer officials for marketing and broadcast rights to tournaments and matches.
The investigation has sent Switzerland-based FIFA and other soccer governing bodies into an unprecedented crisis. Gianni Infantino, FIFA's newly elected president, has vowed to restore FIFA's image.
To date, 14 people and two corporate entities have pleaded guilty in the US case.
Callejas served as Honduran president from 1990 through 1994. He was the president of the Honduras soccer federation, FENAFUTH, from 2002 to 2015 and was also a member of FIFA's marketing and television committee.
He was indicted in December and came voluntarily to the United States later that month to face the charges. Callejas has been under house arrest as part of a $4 million bail package.
The indictment said Callejas took bribes from Media World, a Florida-based affiliate of Spain's Imagina Group, so that the company could obtain media and marketing rights for qualifier matches ahead of the 2014, 2018 and 2022 World Cup tournaments.
In court, Callejas said he accepted "hundreds of thousands" of dollars in bribes from Media World and used a "significant portion" of the money to pay delegates to FENAFUTH to ensure his re-election.
Brazil lawyers file new impeachment case against Rousseff
The Brazilian Bar Association (OAB) filed a request on Monday to impeach President Dilma Rousseff for obstructing justice, fiscal accounting tricks and granting international soccer body FIFA tax-exempt status during the 2014 World Cup.
Rousseff already faces an impeachment process over the alleged manipulation of government accounts that opposition parties maintain helped her win narrow re-election in 2014 by allowing her to boost public spending.
The OAB, which represents 1 million lawyers, listed a complaint that is shared by many Brazilians, that the Rousseff government hurt Brazil's interests by granting FIFA a generous blanket tax exemption when it held the World Cup in Brazil.
The World Cup generated revenues of $4.8 billion for FIFA, against expenses of $2.2 billion, according to FIFA's website.
Rousseff is struggling to save her presidency in the midst of the worst economic recession in a generation and the widening graft investigation that started at state-run oil company Petroleo Brasileiro.
The odds that the country's first woman president will be impeached could rise sharply on Tuesday when her largest coalition partner, the PMDB party, is expected to break with her government.
Image: Rafael Callejas
Photograph: Jorge Cabrera/Reuters