News of all that's transpired on and off the football field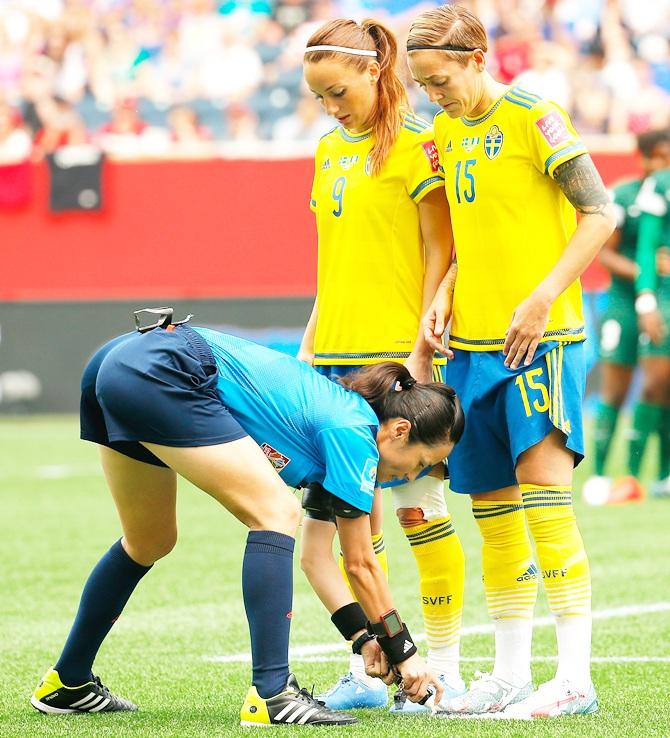 FIFA is to introduce new regulations to protect the rights of women players, including mandatory maternity leave, world soccer's governing body said on Thursday.
The reforms have been put forward by FIFA's Football Stakeholders Committee (FSC) and will go to FIFA's Council next month for approval.
While many players in Europe are already protected by employment law in their given countries, FIFA says its aim is to create "new global minimum standards" for female players all over the world, given the rapid emergence of new clubs and leagues globally.
The proposed rules include a mandatory maternity leave of 14 weeks, at a minimum of two thirds of the player's contracted salary and a guarantee that "no female player should suffer a disadvantage as a result of becoming pregnant".
The planned regulations also state that on their return to work after maternity leave, clubs must "reintegrate female players and provide adequate medical and physical support".
Women players' contractual rights were already covered by the existing regulations for all footballers but the changes are a bid to address specific concerns for female players and are viewed as a basic minimum that can be applied in all countries.
"As we try to accelerate the professionalisation of the women's game, which is one of our strategic objectives, it is really important that we evolve and adapt the regulatory framework around the game at the same time. This is a very good example," Sarai Bareman, FIFA's Chief Women's Football Officer, told reporters.
"We want to see more women being able to earn a living playing football whilst at the same time being able to have a family life and being mothers. It is important that we provide the necessary regulatory framework to protect those women," she added.
The new regulations also seek to address problems for coaches working internationally.
Until now coaches' contracts have been subject to the same regulations as players but FIFA wants to introduce specific language to deal with the rights of coaches.
"The aim is to protect contractual stability, achieve greater transparency and make sure that coaches also get paid on time," FIFA said in a statement.
Manchester City manager Guardiola extends contract to 2023
Manchester City manager Pep Guardiola has signed a new two-year contract that will keep him in charge until the end of the 2022-23 season, the Premier League club said on Thursday.
The Spaniard has guided City to two Premier League titles, three League Cups and an FA Cup since his arrival in 2016.
"Pep's contract extension is the natural next step in a journey which has evolved over many years," City chairman Khaldoon Mubarak said in a statement https://www.mancity.com/news/mens/pep-guardiola-signs-new-contract-63741384
"It is a product of the mutual trust and respect that exists between him and the entire club."
Guardiola's current five-year stay at City is his longest spell in charge of a club since he began his managerial career in 2008.
The 49-year-old managed Barcelona from 2008-12 and spent three years in charge of Bayern Munich before joining City.
"Ever since I arrived at Manchester City I have been made to feel so welcome in the club and in the city itself," Guardiola said in Thursday's club statement.
"Since then we have achieved a great deal together, scored goals, won games and trophies, and we are all very proud of that success."
Under Guardiola, City became the first English top-flight club to collect 100 points in a season when they cruised to the title in 2017-18.
They successfully defended their title the following season to become the first team in a decade to win back-to-back Premier League crowns.
Guardiola's City side are currently 10th in the Premier League with 12 points from seven games, six behind pacesetters Leicester City with a game in hand.
They visit second-placed Tottenham Hotspur on Saturday.
Arteta hurt by Ozil situation, but resigned to questioning
Arsenal manager Mikel Arteta says he is hurt by Mesut Ozil's situation at the Premier League club but is resigned to facing questions about the German midfielder after every defeat.
Ozil, 32, who is under contract with Arsenal until June 2021 earns a reported 350,000 pounds ($452,830) per week, but has not played for Arteta's side this season after being left out of the 25-man Premier League squad.
The playmaker, who last played for Arsenal in March, was also left out of their Europa League squad, leaving him only eligible for Under-23 games.
"I'm hurt because I don't like any player in my squad not to have the possibility to participate, or to compete, for me it is really sad because I don't think anybody deserves that," Arteta said in an interview with beIN SPORTS.
"But at the end of the day I'm sitting here to make decisions, to make the decisions that, in my opinion, are the best for the football club. And this is what I have to do," the Spaniard added.
Ozil's high-profile absence continues to be a major talking point around the club and Arteta said he was resigned to having to deal with the issue.
"The moment that you lose football matches his name is going to come up and when you win, it won't," he said.
Arteta has previously said that Ozil's situation is a "football decision" and that he has failed to get the best out of him but he accepted that some will find his absence difficult to accept.
Asked whether he could find his way back into the team, Arteta said: "Well everybody can and I think since I arrived here you see where some players have started and where they are right now, their careers are completely changed and they have earned that right. We gave them the opportunities and they took them.
"With Mesut at the moment, with the squad list, obviously he cannot be involved. I try to be as clear as possible with him and with all the media and fans because they deserve to know the reasons why and some people will understand and other people won't understand it because of what he's done for the club," he added.
Arsenal, who are 11th in the league, six points off leaders Leicester City, visit Leeds United in the Premier League on Sunday.
Ten years later, Prandelli begins new Fiorentina stint
Former Italy coach Cesare Prandelli begins a second stint with Fiorentina on Sunday, hoping that his return can lift both the club and his own career out of a rut.
The 63-year-old, who makes his debut on the bench when they host Benevento in Serie A, was recalled last week after Beppe Iachini became the second coach to be fired since the club were bought by American billionaire Rocco Commisso in June last year.
Prandelli was previously in charge from 2005-10, giving him the distinction of being the longest-serving coach in the club's history, and he has fond memories of that spell.
"In the last 15 years, I've always had Fiorentina in my thoughts," he said. "Wherever I've been, I've always loved this club because of how it welcomed me and gave me so much. I hope to be able to give just as much back in the next few months."
This time, he has only been given a contract until the end of the season and, even before his first game, there has already been speculation about a possible replacement -- something Prandelli has brushed aside.
"They will be offering me an extension after two or thee months," he said.
Prandelli went on to lead Italy for four years after leaving Fiorentina, guiding his country to the Euro 2012 final, but since then his career has stuttered with a series of short stints at Galatasaray, Valencia, Al Nasr and Genoa.
Meanwhile, eight different coaches have been employed by Fiorentina since his departure.
Although they have won only two Serie A titles, Fiore have had just four seasons outside the top flight since 1932 and boast one of its most fanatical followings.
The club's Artemio Franchi stadium, set against the backdrop of the Tuscan hills, has its own special charm despite its limitations.
However, things have yet to really pickup under Commisso and, after finishing 10th last season, Fiorentina are again mid-table in 12th place with eight points from seven games.
Commisso has so far seen his plans to build a new stadium and training centre frustrated by local bureaucracy.
"Will I leave if they won't let me do the stadium? It's impossible to answer this question now," he said. "I want to take Fiorentina to the level they deserve.
"There's too much criticism," he added. "Whatever we do is not good enough. But the fans still love Fiorentina -- I'm just asking for time."
Italy's Serie A accepts 1.7 billion euro bid for media unit stake
Italy's Serie A on Thursday agreed to sell a stake in its media business to a private equity consortium for 1.7 billion euros ($2 billion) as the top-flight soccer league seeks to prop up revenues hit by the COVID-19 pandemic.
At a meeting in Rome, the league's 20 clubs unanimously accepted the offer by CVC Capital Partners, Advent International and state-backed Italian fund FSI for a 10% stake in a new unit handling the league's broadcast rights.
Serie A Chairman Paolo Dal Pino told reporters the deal was expected to close in the coming weeks.
Two sources familiar with the matter told Reuters the economic terms of the offer had been accepted but some tax and legal aspects needed further checks.
The deal brings outside investors into one of the game's biggest leagues, whose revenue has plummeted during the pandemic with matches being played in empty stadiums as a safety precaution and broadcasters cutting spending on pay-TV deals.
Home to Cristiano Ronaldo's Juventus, Serie A has said the virus emergency will cost 600 million euros in reduced revenues this year, nearly a quarter of annual turnover.
Weighed down by a combined debt burden of 4.3 billion euros, many clubs' finances are under strain with wage expenditure having topped a critical threshold of 70% of revenue in recent years.
Serie A lags other major European leagues with revenues of 2.5 billion euros a year, according to consulting firm Deloitte, of which 1.35 billion comes from broadcasting rights.
England's Premier League receives 3.5 billion euros a year from media rights alone.
Serie A has said the arrival of private equity investors would improve governance at its media business and help expansion abroad.
The consortium will have a final say over the choice of the media unit's CEO while Serie A would have a one-seat majority on the board of the newly-created entity, sources have said.
CVC, which has a track record in sports investment, teamed up with Advent and FSI to up the ante after Serie A rejected an initial 1.1 billion euro bid in June for up to a 15% stake in the media unit.
The private equity consortium will split its investment into four tranches with a final 300 million euro payment at closing, a document seen by Reuters showed previously.