Guatemalan police on Tuesday arrested fugitive former national soccer federation president Brayan Jimenez in connection with a corruption probe into the sport's world governing body FIFA.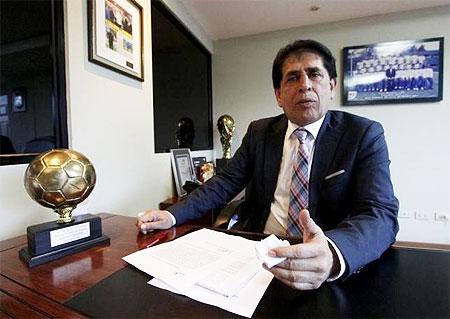 Police said they detained Jimenez in an apartment building called Torre Sol in an affluent neighbourhood of Guatemala City. He was due to appear in court later on Tuesday to be formally charged.
Guatemala's prosecutor's office previously said it received an order from the Foreign Ministry to proceed with the extradition of Jimenez to the United States once apprehended and had released an arrest warrant for him.
Jimenez has been accused of taking bribes along with Hector Trujillo, former secretary general of the Guatemalan soccer federation, who was arrested last month in the United States.
Jimenez's attorney told reporters at the courthouse, where he waited with the former soccer official before a court appearance, he was happy to bring the case to the United States.
"We are not going to ask for a substitute measure," defense attorney Francisco Garcia said.
"We will prove innocence in the United States courts."
Jimenez's appearance was dramatically different than the last time he was seen by the media at a news conference in December, when he had black hair and a shaven face. On Tuesday, he had white hair, moustache and beard.
Dozens of soccer officials have been charged by US authorities probing corruption in FIFA, in an investigation that has sent shockwaves across the soccer world.
Image: Brayan Jimenez
Photograph: Josue Decavele/Reuters