A former president of Guatemala's football federation pleaded guilty on Friday to charges he received bribes to award lucrative media and marketing rights for football matches, the latest development in the US corruption investigation into world football's governing body FIFA.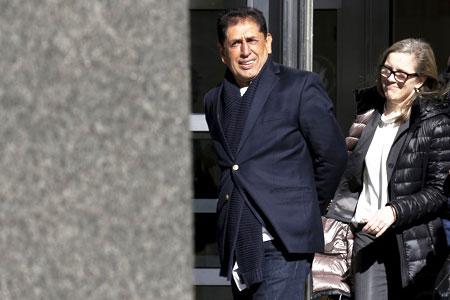 Brayan Jimenez said he was guilty of racketeering conspiracy and wire fraud charges at a hearing in federal court in front of US Magistrate Judge Robert Levy. Jimenez also agreed to forfeit $ 350,000.
Jimenez is accused of taking hundreds of thousands of dollars in bribes in exchange for authorizing "friendly" matches played by the Guatemalan national football team and for awarding contracts for media rights for the team's World Cup qualifier matches to the sports marketing firm Media World.
The company is a subsidiary of Imagina US, the Miami-based affiliate of Spanish media giant Imagina group.
"Over a period of years, Media World transmitted these bribes from its US bank accounts to the defendant and a co-conspirator, often using intermediaries in the United States and Guatemala," the US Department of Justice said in its announcement of the plea.
Lawyers representing Jimenez did not immediately respond to a request for comment.
Jimenez, who had been president of the country's football federation since 2010, was arrested in Guatemala in January and later extradited to the United States. He now faces a maximum sentence of 20 years for each count.
Jimenez is among 42 individuals and entities charged as part of a US investigation into schemes involving more than $ 200 million in bribes and kickbacks sought by football officials for marketing and broadcast rights to tournaments and matches.
Gianni Infantino, FIFA's recently elected president, has vowed to lead the organisation out of years of scandal even as US and Swiss corruption investigations continue.
Image: Former Guatemalan football federation president Brayan Jimenez (left) exits the Brooklyn Federal Courthouse in the Brooklyn borough of New York March 2, 2016
Photograph: Brendan McDermid/Reuters