'Our opinion is this report isn't in relation to Qatar, as a lot of people make it sound'
'I think there is reader fatigue in terms of this story'
'We just want to make sure at the end of the day the consensus is reached, whether it be summer or winter, spring, or the fall'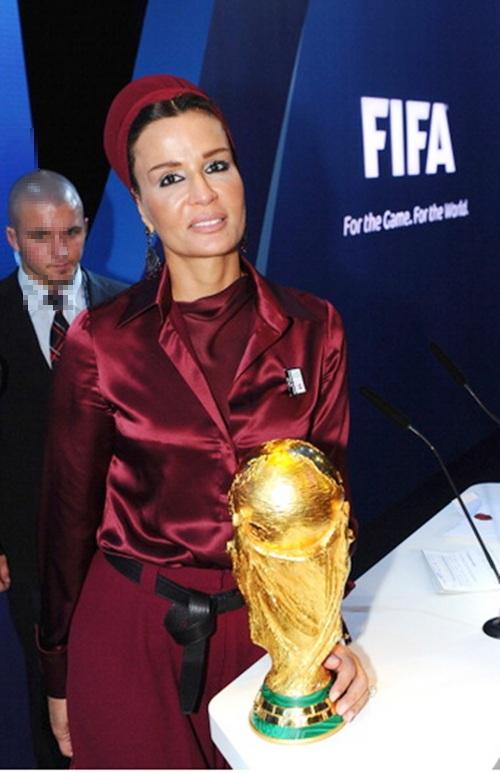 Sheika Moza bint Nasser poses with the World Cup trophy after Qatar were awarded the 2022 FIFA World Cup. Photograph: Getty Images
The public are growing tired of hearing about allegations of wrongdoing against Qatar's winning 2022 World Cup bid, according to organisers, with the Gulf state more interested in improving worker's rights than publishing Michael Garcia's report.
The 42-page summary of the ethics investigator's inquiry into the awarding of the 2018 and 2022 World Cup earlier this month has posed more questions than answers, and failed to quell the push for the vote for both tournaments to be restaged.
Qatar and Russia, both of whom have long pleaded their innocence, were cleared of wrong doing but the New York lawyer swiftly complained his work had been misrepresented by FIFA ethics judge Hans-Joachim Eckert, who delivered the summary.
The ethics committee did, however, open a number of formal cases against unidentified individuals and FIFA confirmed it had lodged a criminal complaint in Switzerland.
That, Qatar say, is not their issue.
"Our opinion is this report isn't in relation to Qatar, as a lot of people make it sound," Nasser Al Khater, member of the Qatar 2022 Supreme Committee, told reporters in the Filipino capital. "The report, I understand, they are looking at certain individuals."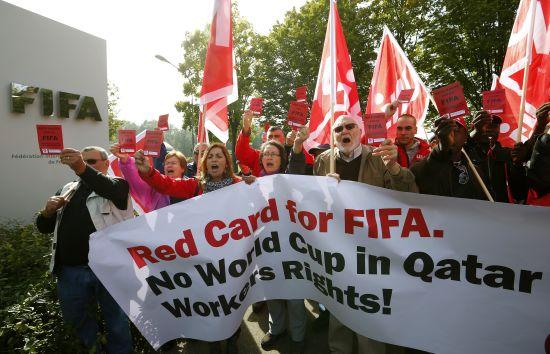 Members of the Swiss UNIA workers union display red cards and shout slogans during a protest in front of the headquarters of soccer's international governing body FIFA. Photograph: Arnd Wiegmann/Reuters
A report in British newspaper The Sunday Times said it had passed on a dossier revealing further allegations of corruption regarding the 2018 and 2022 World Cup bids, to a House of Commons committee and which were published on Saturday.
Al Khater, queried why they needed the protection of parliamentary privilege to make the 'tired' accusations.
"I'm pretty sure people are feeling tired of this story already, I think there is reader fatigue in terms of this story.
"I think the same stuff is being regurgitated so many times people are questioning the motive now, not the story."
Many have called for the Garcia report to be published in full, but FIFA President Sepp Blatter told members of the Asian Football Confederation on Sunday at their annual awards that no matter what was revealed, the tournament was going to Qatar.
Meanwhile, Qatar have their own report coming next week into welfare rights of migrant workers building infrastructure for the tournament, amid heavy criticism of the labour conditions.
"We recognise there are some problems but we recognise there has been tremendous progress on this issue as well," Al Khater said.
Likewise intensive work continues to go into the air cooling technologies, despite the general acceptance the tournament will be staged in the winter months to avoid the stifling heat of the Middle East in June and July.
Successful tests were completed in July on cooling fan zones, to following the work on keeping temperatures down in stadiums.
Qatar say they are ready to host in any month the football world deems best.
"I think for us, at this stage, it doesn't create so much of a concern. Its always better to have things cleared but whether they select the date end of 2022 or beginning it doesn't matter.
"We know its a sensitive subject, we just want to make sure at the end of the day the consensus is reached, whether it be summer or winter, spring, or the fall."