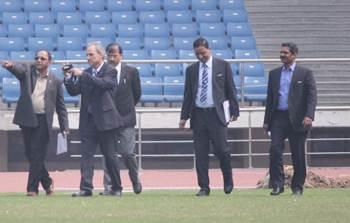 Satisfied with the infrastructure in place, a FIFA team, which is in Delhi to inspect stadia, said India has the potential to host a "tremendous Under-17 World Cup" in 2017. It, however, asked the AIFF to be proactive in its planning and execution.
"All the potential is there to make it a tremendous World Cup and leave a tremendous legacy for youth football in India," said Inaki Alvarez, Deputy Director and Head of Event Management Competitions Division, FIFA.
The All India Football Federation, though, surprisingly barred the media from interacting with the FIFA team after the inspection at the Jawaharlal Nehru Stadium, one of the eight venues shortlisted by the AIFF to host the event.
But before he got down to work, Alvarez had quite a few encouraging words to say as far as India's ability to host the mega-event was concerned.
"It's been a week and we have visited five cities. So far the experience has been very good, very positive... all infrastructure is there, organisation well done. I can say that we are heading in a very good direction," Alvarez said.
Asked what about his main areas of focus, he said, "There are number of aspects... infrastructure, stadium itself, dressing rooms, pitch, TV facilities and various other facilities.
"It's a long process, it's not about today, tomorrow. It will take several months if not years; we are going to analyse each stadium and infrastructure," he added.
The Spaniard said India has enough time on hand to get ready for the tournament.
"There is enough time, there is no emergency, but you should keep the urgency of what needs to be done. The time you have is good enough to complete everything in good manner. It's good if you set up a project plan to complete everything in time.
Asked if FIFA has a deadline in mind, Alvarez replied: "There are deadlines and this is what I meant when I said it's a long process; there are going to be normal delays but all that has been taken into account.
"We have met government officials, both at national and state levels, and it has been quite positive."
Indian football's Technical Director, Rob Baan, had recently spoken about the importance of organising a pre-World Cup event a year before the main tournament, and when Alvarez was asked about that, he said, "We can get the infrastructure ready one year in advance with good planning and execution. We are pretty comfortable with where we are
right now and this is the proper way to do it."
The FIFA team was accompanied by AIFF officials.
The team had visited the venues in Pune and the DY Patil Stadium in Navi Mumbai last Saturday followed by Goa. They also visited facilities in Bengaluru and Kochi before arriving in Delhi.
Guwahati and Kolkata are the other two cities that the FIFA team will be visiting.
The two-member team will submit its report, following which six venues will be finalised to host the six groups of four teams each.
Image: Inaki Alvarez, Deputy Director and Head of Event Management Competitions Division, FIFA, and Vijay Parthasarathy, Manager IT Competitions, during their inspection at the JLN Stadium in New Delhi.
Photograph: AIFF Media