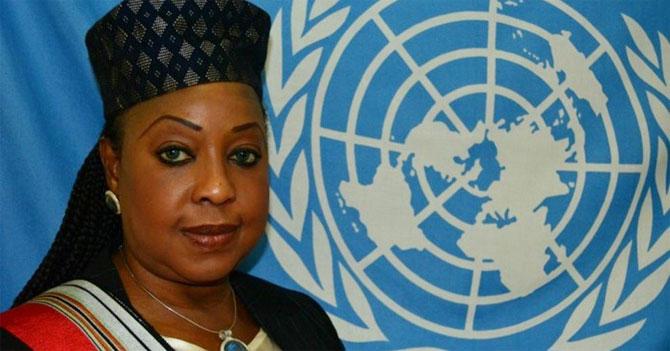 IMAGE: FIFA's new Secretary General, Fatma Samba Diouf Samoura. Photograph: FIFA.com
FIFA named an African woman with no experience in football administration as its second most powerful official on Friday, part of changes made by the sport's ruling body to move on from a major corruption scandal.
However, FIFA's Congress also passed a resolution which gives its board, known as the FIFA Council, the power to fire the heads of its independent committees at almost any time.
The Congress also voted to accept Kosovo and Gibraltar as the organisation's 210th and 211th members, opening the way for them to take part in the 2018 World Cup qualifying competition.
Fatma Samba Diouf Samoura of Senegal, the United Nations Development Programme Resident Representative in Nigeria, was appointed as secretary general and will be responsible for the day-to-day running of the organisation.
Samoura, 52, replaces Frenchman Jerome Valcke who was fired in January and has since been banned for 12 years for ethics violations that included using FIFA expenses for sightseeing trips and destruction of evidence.
Her appointment was suggested by Infantino and approved by the FIFA Council.
Samoura began her United Nations career with the World Food Programme in Rome in 1995 and has served as a representative or director in six African countries.
"FIFA is taking a fresh approach to its work and I am eager to play a role in making that approach as effective and lasting as possible," she said in a statement.
Samoura's appointment was announced by president Gianni Infantino, hosting his first Congress since he was elected in February to lead the scandal-plagued federation out of its crisis.
"Fatma is a woman with international experience and vision who has worked on some of the most challenging issues of our time," Infantino said.
"Importantly for FIFA, she also understands that transparency and accountability are at the heart of any well-run and responsible organisation."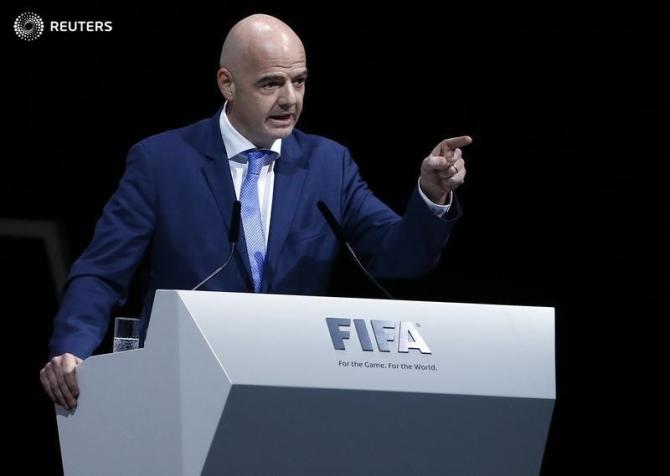 IMAGE: FIFA chief Gianni Infantino. Photograph: Arnd Wiegmann/Reuters
The Congress was the first since FIFA passed a raft of reforms aimed at avoiding a repeat of the corruption scandal that has seen 42 football officials and entities indicted in the United States.
FIFA has three independent watchdog committees but on Friday the Council was given the power to appoint or "dismiss any office holders of these committees", something that could only previously be done by the annual Congress.
This effectively gives the Council the right to fire ethics judge Hans-Joachim Eckert, ethics investigator Cornel Borbely and audit and compliance chairman Domenico Scala but Infantino dismissed suggestions that it was a loss of independence.
"We are trying to appoint the right people, people with high credibility, and the only change is to give the flexibility to the Council to dismiss and appoint members if the Council feel it is needed," said the president.
Although the next Congress is scheduled for October, it can be convened at short notice.
Infantino said FIFA would show "no mercy" to any federation that misused money allocated to it for football development.
"Don't betray us, use it for football," he told Congress.
Infantino added the FIFA Council had agreed to end Indonesia's almost one-year suspension from international football, imposed because of government interference in the country's football federation.
The Congress voted to continue the suspensions of Kuwait and Benin over the same principle.
FIFA's statutes demand that national football associations are completely independent of their country's governments.