- 'FIFA should have a leader with a lot of experience'
-'Prince Ali is a good man, I work with him, I was a main supporter in the past, he is like my brother. He has a good future but I think he was in a little bit of a hurry. I think he needed to take the trust of Asia first before he earned the trust of the international community'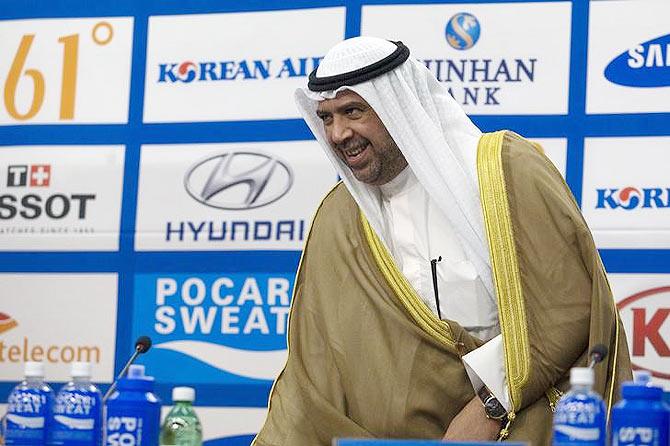 Olympic Council of Asia (OCA) President Sheikh Ahmad Al-Fahad Al-Sabah arrives at a news conference. Photograph: Rob Dawson/Reuters
FIFA president Sepp Blatter is the right man for the job and should be re-elected for another four years on Friday, Sheikh Ahmad Al-Fahad Al-Sabah, one of the most powerful men in world sport, has told Reuters in an interview.
- FIFA says Blatter to seek fifth term despite arrests
- Six officials arrested and detained in Zurich over FIFA graft
- FIFA: Swiss open criminal proceedings tied to 2018, 2022 World Cup bids
- Undeterred by arrests, FIFA boss Blatter plots another great escape
The Kuwaiti was speaking on the eve of Friday's presidential election where, despite the crisis currently engulfing FIFA, Blatter is expected to see off the challenge of 39-year-old Jordanian Prince Ali Bin Al-Hussein.
Sheikh Ahmad, elected to FIFA's executive committee last month at the Asian Football Confederation (AFC) congress, said the 79-year-old Swiss still had the support of the Asian bloc.
"FIFA should have a leader with a lot of experience," he told Reuters at the Baur au Lac hotel, where seven FIFA executives were arrested on Wednesday.
"Not only that, but someone who has shown a strong commitment to the AFC over many years and Blatter has done that.
"Prince Ali is a good man, I work with him, I was a main supporter in the past, he is like my brother.
"He has a good future but I think he was in a little bit of a hurry. I think he needed to take the trust of Asia first before he earned the trust of the international community."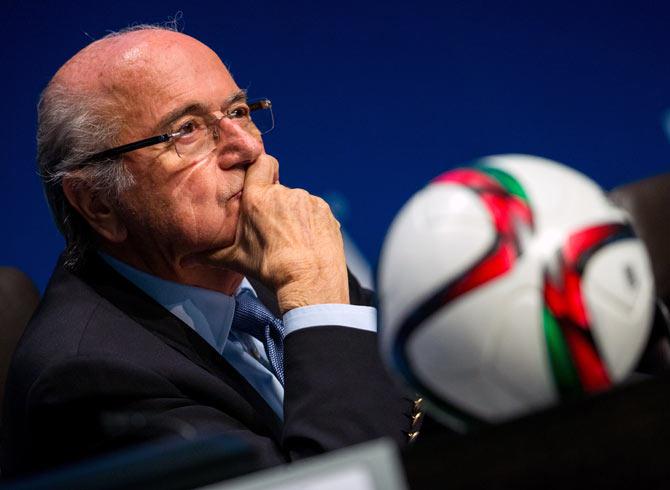 FIFA president Sepp Blatter. Photograph: Philipp Schmidli/Getty Images
The that fact Asia, barring Australia which announced its backing for Prince Ali on Thursday, is staunchly behind Blatter is likely to be a key factor in what should be a comfortable victory for the Swiss.
Asia accounts for 47 of the 209 member nations which will vote for the president in Friday's ballot after all other business at the annual FIFA Congress has been completed.
- Canada, US will not support Blatter for FIFA presidency
Sheikh Ahmad, president of the Olympic Council of Asia, is seen by some observers as a potential FIFA president himself.
While the 51-year-old might stand as a candidate at some point, his immediate concern is the problems that have beset world soccer's governing body.
FIFA was rocked on Wednesday when the seven officials were arrested in Zurich at the behest of the Federal Bureau of Investigation (FBI) and others indicted by the US Department of Justice in New York.
Swiss police, meanwhile, launched their own investigation into alleged corruption surrounding the 2018 and 2022 World Cups.
"SPLIT UNLIKELY"
That led UEFA president Michel Platini to hint that the powerful European confederation could break away from FIFA.
Ahmad believes a split would be wrong and is unlikely.
"I doubt this will happen," he said.
"I think the people who love the solidarity and unity and love football will use the mechanism of our institution and remain united.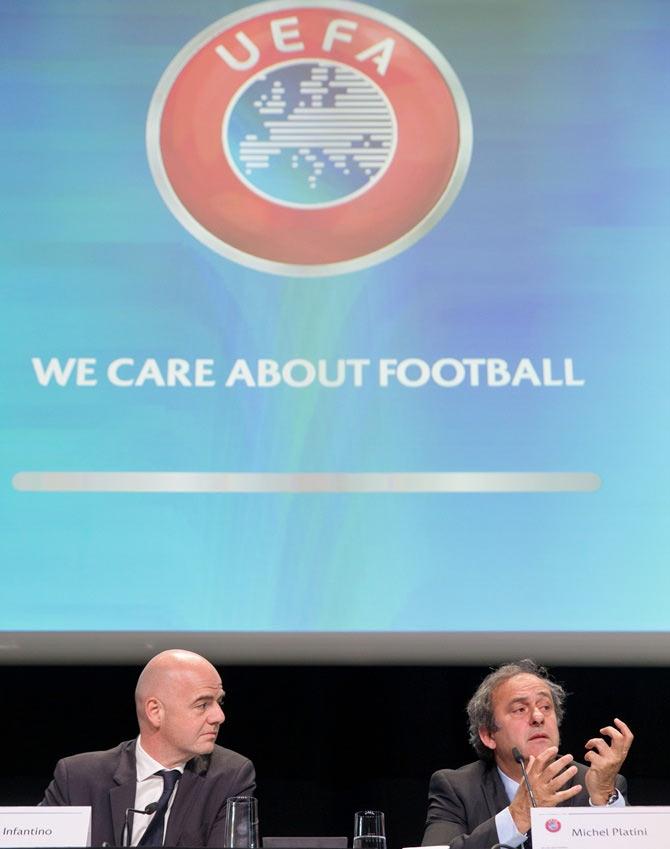 UEFA General Secretary Gianni Infantino, left, and UEFA president Michel Platini attend a press conference prior to the 65th FIFA Congress in Zurich. Photograph: Philipp Schmidli/Getty Images
"If people are seeking to break from the big family, I don't think this is a good concept for the movement."
"I understand what they are saying," he continued.
"I respect their opinions but they have to work harder, through our statutes, if they have another opinion.
"UEFA has the majority in the executive committee, they have the highest number of places in the World Cup, they have the biggest number in the Olympic Games. The big money is in Europe but a lot of sponsors are coming from Asia."
- Enough is enough, says emotional Platini
Sheikh Ahmad also queried why the arrests of officials mainly from the Americas took place in Zurich rather than at the recent meeting of CONCACAF, the confederation that runs North and Central America and the Caribbean islands.
"While I am very happy to be in Congress, it is not as quiet as we all expected because of the FBI and the procedure," he added.
"But it raises some questions. People are wondering why this happened here in Zurich, not in the CONCACAF assembly six weeks ago.
"We have to respect what is going on, because we need a clean environment for football, but also we don't like to be the focus for media stories.
"I don't think that is fair for FIFA, for the sport supported by billions of people.
"It was not the right time, it was better to do it in CONCACAF because the case is related to CONCACAF more than to FIFA.
"We want a clear house, better environment, anti-corruption, anti-illegal betting, anything that will help us decrease these problems will be welcomed."