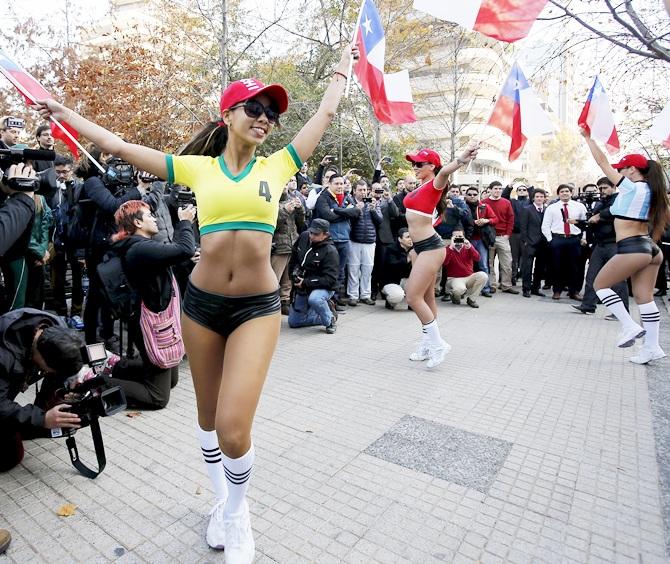 Models wearing soccer jerseys perform promotional activities for the Copa America in Santiago. Photograph: David Mercado/Reuters
It should be South America's showpiece football tournament. Instead the Copa America kicks off in Chile on Thursday as a widening US-led investigation lifts the lid on rampant corruption among the sport's top officials.
The probe has exposed a criminal enterprise running from racketeering and bribery to wire fraud and money laundering, and the list of suspects now facing extradition to the United States reads like a who's who of Latin America's football establishment.
On the field, stars like Argentina's Lionel Messi, Brazil's Neymar and Colombia's James Rodriguez are sure to provide enough magic to keep fans happy.
But the scandal has damaged football's reputation in a region widely seen as its spiritual home and the cradle of many of its greatest players.
"Unfortunately our Copa America is stained by these events which have little to do with football," Sergio Jadue, who heads Chile's football federation.
Four years ago, when Uruguay hosted the tournament, Nicolas Leoz ruled over South America's CONMEBOL football confederation, even securing legal immunity for the body's headquarters in Paraguay. Today, he is under house arrest in an upmarket neighbourhood of Asuncion.
Eugenio Figueredo, a FIFA vice president, was Leoz's deputy in 2011. He and Rafael Esquivel, the sport's boss in Venezuela, were among seven people arrested when Swiss police swooped on a hotel in Zurich on May 27.
So too was Jose Maria Marin, Brazil's former football chief.
In a region where the long arm of US intervention is often resented, football fans from Bogota to Buenos Aires have broadly applauded the international probe.
Many, however, are more sanguine about the prospects for ridding the sport of graft.
"This scandal changes little," said Jaime Riquelme, a stamp salesman in Chile's capital Santiago, where the Copa America kicks off with a match between Chile and Ecuador on Thursday night.
"We all knew money was changing hands. It happens in all sports, baseball, football, basketball."
Embarrassed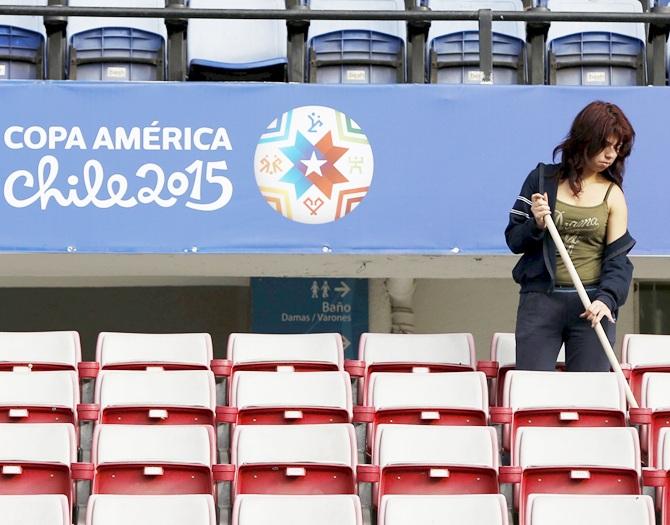 A woman cleans the stands at Chile's National Stadium in Santiago . Photograph: Carlos Garcia Rawlins/Reuters
South America's embarrassed football federations hope the Copa America will shift focus away from the scandal, which last week forced Sepp Blatter to announce his resignation as head of FIFA, football's governing body.
But Paraguay's Senate is likely to vote on Thursday to strip CONMEBOL's headquarters of its pseudo-diplomatic legal immunity, a protective shield that illustrates how FIFA and its affiliates have often been able to dodge justice.
If the vote goes as expected, Paraguayan police could soon be raiding the plush home of South American football in search of documents and computer files to aid the US probe.
At the centre of the scandal are TV and commercial contracts for the Copa America.
Sports media and marketing executives Alejandro Burzaco, Hugo Jinkis and son Mariano Jinkis, all Argentine nationals, are accused of winning the lucrative TV rights to the 2015, 2019 and 2023 tournaments by paying up to $110 million in bribes.
Three top CONMEBOL officials, including Leoz and the chiefs of the Argentine and Brazilian national federations, were to receive a total of $45 million in kickbacks with the rest to be disbursed among eight other unnamed CONMEBOL officials, according to the indictment.
The staggering sums have stoked long-held suspicions among fans that South America's football officials were lining their own pockets instead of developing the grassroots game.
As the US investigation broadens, fans and pundits are sure to scrutinize which top ranking officials travel to Chile.
"I think we'll see fewer leaders at the tournament than before because nobody wants to raise their head above the parapet," said Sergio Levinsky, an Argentine author who has written about the football business. He said the US probe has revealed "the enormous corruption and culture of impunity that had dictated decision making."
A CONMEBOL spokesman declined to comment on which federation bosses were expected to attend the Copa America.
Brazil beat Honduras but lose Danilo for Copa America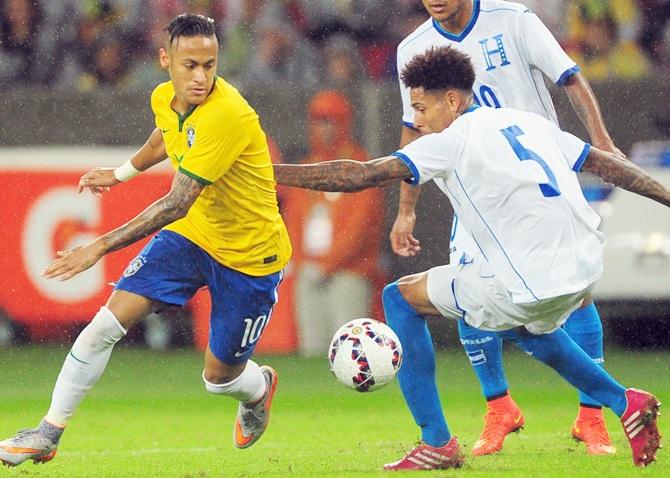 Brazil's Neymar, left, challenges Honduras' Henry Figueroa during their friendly soccer match in Porto Alegre. Photograph: Edison Vara/Reuters
A first-half goal from Roberto Firmino was enough to give Brazil a 1-0 win over Honduras in their last Copa America warm up match on Wednesday, but the South Americans lost first-choice fullback Danilo for the tournament.
Barcelona fullback Dani Alves, who was left out of Dunga's original squad, was called up to replace him, the Brazilian Football Confederation said after the game.
The change came after an uneventful 1-0 win in the southern city of Porto Alegre.
Brazil opened the scoring in 33 minutes with a lovely flowing move started by Filipe Luis in his own half.
The Chelsea fullback stormed forward, exchanged a one-two with Philippe Coutinho and laid the ball off to Roberto Firmino to slot home between the legs of the advancing goalkeeper.
It was one of the few exciting moments in what was an untidy match played in almost constant rainfall.
Striker Neymar, who was last to join the squad after playing in Barcelona's Champions League win over Juventus on Saturday, started on the bench but played the second half.
Santos striker Robinho was also given a run in an uneventful second half.
The result takes Brazil's winning streak to 10 games since Dunga took over as coach after the 7-1 hammering by Germany in the World Cup semi-final last year.
They have conceded just two goals in the year since.
Brazil play Peru in their Group C opener in Temuco on Sunday before meeting Colombia and Venezuela.
The tournament begins on Thursday when Chile play Ecuador.