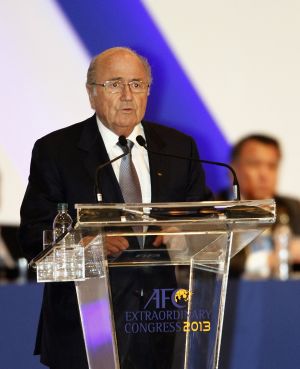 World soccer boss Sepp Blatter wants the International Olympic Committee to scrap its age limits for members, saying they should be voted out only if they are incapable of performing their duties.
Blatter said FIFA had conducted its own study and found age limits could be discriminatory and the IOC should scrap them.
"We concluded that imposing an age limit is an act of discrimination. What needs to be changed can be done by a democratic way," the 77-year-old told an IOC session in Sochi on Thursday.
"Simply not elect a member not because of age but because they are not able to do the work," the Swiss said. "It is not normal to impose age limits."
Changes implemented in the wake of the Salt Lake City Games bribery scandal mandate that IOC members must resign at 70 if they joined from 1999 onwards. Members who joined before 1999 have an age limit of 80.
Blatter became ex-officio IOC member in 1999, before the new rules came into force that year, following his election to the FIFA presidency the previous year.
He has yet to decide whether he will run for another term as head of world soccer's governing body.
Under current rules Blatter must step down in three years, according to the IOC.
He was not the only member to call for an extension of the age limit.
North Korea's Chang Ung, 76, joined in 1996 and said members should be able to stay on longer.
"That is not enough. I am 76 but I work more now than ever before," he said. "The lifespan of humans is extending all the time."
The IOC has been accused in the past of being out of touch with younger generations and an extension of the age limit would only increase that perception.
IOC President Thomas Bach has launched a wide review of the organisation as a way to revamp it.
Any decision on the age limit will be taken in December.
Image: Sepp Blatter
Photograph: Stanley Chou/Getty Images